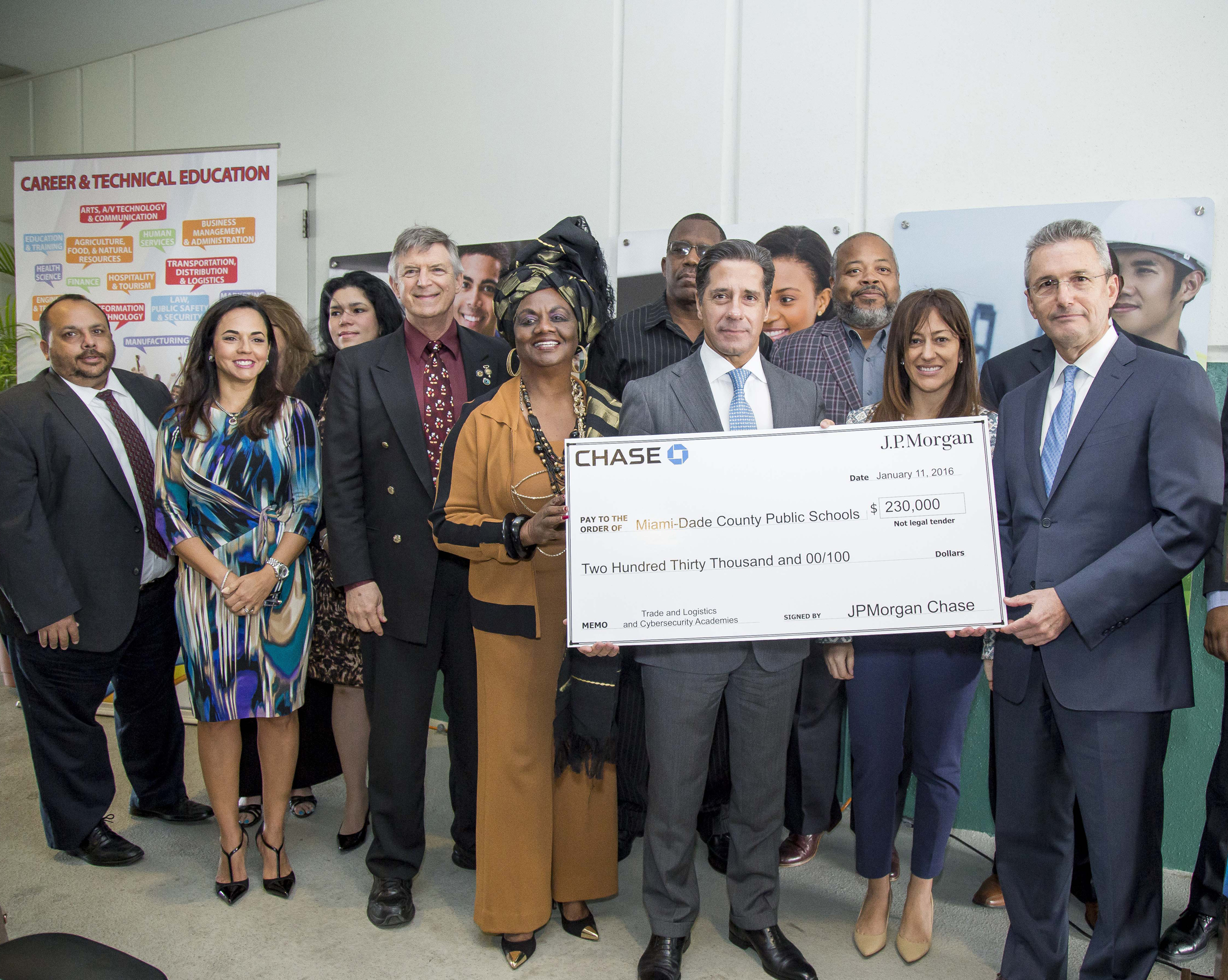 FOR IMMEDIATE RELEASE
Monday, January 11, 2016
CONTACT: Daisy Gonzalez-Diego
Miami-Dade County Public Schools
305-995-2060
Two New M-DCPS Academies Will Prepare Students at Three Schools For Careers In Cybersecurity, Trade & Logistics
Miami-Dade County Public Schools inaugurated two new academies today that will help students at Miami Central, Ronald Reagan/Doral and Alonzo & Tracy Mourning senior high schools gain skills to compete for jobs in cybersecurity and trade and logistics—two of the fastest-growing fields in Miami.

The creation of the academies is supported by a $230,000 grant from JPMorgan Chase as part of the firm's ongoing investments in workforce development in the city. A year ago the firm committed $5 million to local programs in support of its global New Skills at Work initiative that is working to close the gap between the skills employers need and talent's readiness to compete for available jobs.

The new NAF academies complement and complete the existing programs available throughout the district and that align with the seven industries prioritized by One Community One Goal as part of Miami's growth.  Students who participate in the programs will earn certifications that can get the ready for the workforce, or to purse post-secondary education.
"Every day we create hope and opportunity, building a stronger tomorrow for our students," said Superintendent of Schools Alberto M. Carvalho. "Through their financial commitment and classroom engagement, JP Morgan Chase continues to demonstrate their belief in the exceptional work of our students and teachers."
According to the New Skills at Work report produced earlier this year by JPMorgan Chase, cybersecurity and trade and logistics are two to the most in-demand industries locally and will produce the most middle-skills jobs in the next five years. Projections anticipate that there will be more than 1,000 annual trade and logistics openings through 2019 and similar numbers in cybersecurity. Entry level jobs in both industries earn salaries of more than $20 an hour.
 "Helping prepare our youth to succeed means innovating in creating opportunities that get them ready to earn strong wages in careers that are growing," said Guillermo Castillo, JPMorgan Chase market leader and head of the Chase Commercial Bank in South Florida. He mentioned the firm is focused on supporting the creation of pathways to prosperity through workforce development, small business workforce readiness, growing small businesses, improving consumer financial health and expanding the economic vitality of our cities.
M-DCPS and JPMorgan Chase have collaborated in projects such as The Education Effect work with FIU and Miami Northwestern Senior High. Through that work, the school developed an aquaponics lab and welding program, while increasing graduation and dual-enrollment rates. The banking firm has also been a big supporter of the Summer Youth Employment Program, investing to help increase the number of participants and opening the path to help them earn college credit.
PHOTO CAPTION: 
Guillermo Castillo, JPMorgan Chase market leader and head of the Chase Commercial Bank in South Florida, presents Schools Superintendent Alberto M. Carvalho with a check for $230,000 to support two new academies in Miami-Dade schools.