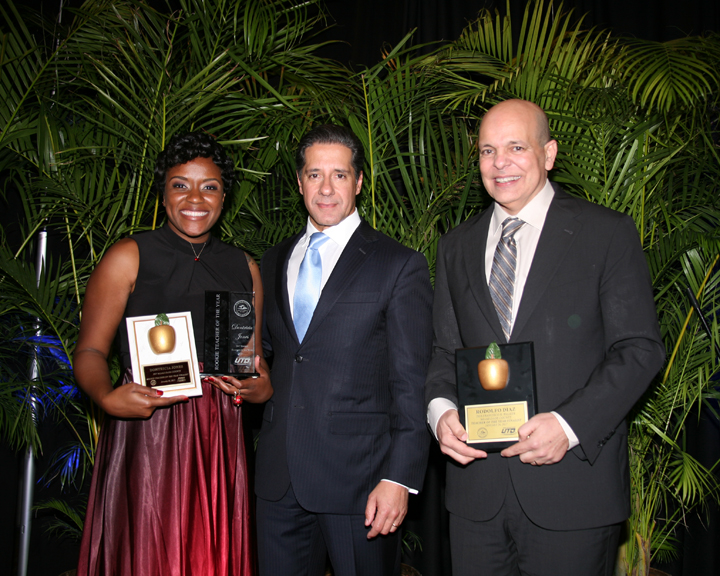 FOR IMMEDIATE RELEASE
Friday, January 27, 2017
CONTACT: Daisy Gonzalez-Diego
Miami-Dade County Public Schools
305-995-2060
Rudy Diaz Named M-DCPS Teacher of the Year, Dontricia Jones is Rookie Teacher
Rudy Diaz, a TV Production teacher at South Miami Senior High, was named the 2018 Francisco R. Walker Miami-Dade County Teacher of the Year in a ceremony at the DoubleTree by Hilton Hotel Miami Airport & Convention Center tonight. 
Four finalists vied for the coveted title this year, which included one nominee from each of the District's three regions, and one from Alternative/Adult Education.
During his 30-year teaching tenure, Diaz transformed the lives of many students in his school, whether they were in his program or not. He has helped students across disciplines with college portfolios, athletic videos and other special projects. His unique instruction style has made possible the professions of hundreds of young individuals. Diaz's students know from a very young age that their future may include careers as producers, writers, editors, cameramen, anchors and reporters.  Diaz's motto is "To inspire beyond the subject matter." Diaz did not start out as a teacher, but after years working in the private sector, he decided that his true vocation was in teaching others.
The runner-up was Laura Ortiz from Robert Morgan Educational Center.  Also recognized at the event were top rookie teachers. Dontricia Jones, a teacher at Norland Elementary, was named Rookie Teacher of the Year. Davalyn Suarez, a teacher at Miami Senior High was the Rookie Teacher of the Year runner-up.
The signature sponsors are Delta Dental Insurance, United Way of Miami-Dade, Kendall Toyota South Florida Educational Federal Credit Union, Nova Southeastern University's Abraham S. Fischler College of Education and Univision 23/UniMas 69. The supporting sponsors are Herff Jones, and Fox-Mar Photography.  This event is in partnership with United Teachers of Dade (UTD), Miami-Dade County Council of PTAs/PTSAs and the Dade Association of School Administrators (DASA). Kendall Toyota will present the winner with the keys to a new car.
PHOTO  CAPTION: Left-right - The 2017 Rookie Teacher of the Year Dontricia Jones, Miami-Dade Schools Superintendent Alberto M. Carvalho, and the 2018 Francisco R. Walker Teacher of the Year Rudy Diaz
###