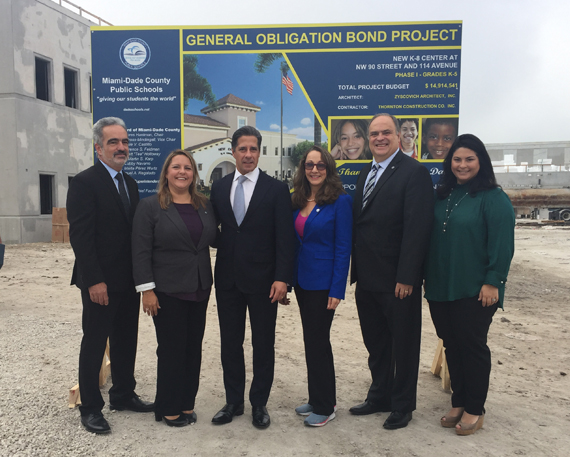 FOR IMMEDIATE RELEASE
Thursday, February 9, 2017
CONTACT: Daisy Gonzalez-Diego
Miami-Dade County Public Schools
305-995-2060
M-DCPS Hosts Bond Project Topping-Off Event At Doral K-8 Center
Superintendent of Schools Alberto M. Carvalho, Board Member Susie Castillo, City of Doral Mayor Juan Carlos Bermudez, and school and district staff gathered today to celebrate the completion of the external structure of Phase I of the Doral K-8 project. This event is a result of the overwhelming voter approval of the $1.2 billion General Obligation Bond.
The scope of work for Phase I encompasses a new 59,000 square-foot building including, administrative offices; 37 classrooms; three extended-learning areas; two resource rooms; language arts, music, and art labs; media center; and kitchen and dining area. Phase I also includes a P.E. covered shelter area, basketball courts, primary play area with a shade structure, parking and drop off areas, and other support spaces. The total value of Phase I is $15.1 million.
PHOTO CAPTION: TOPPING-OFF EVENT: (left-to-right) Chief Facilities Officer Jaime Torrens, Doral Councilwoman Claudia Mariaca, Superintendent Alberto M. Carvalho, School Board member Susie Castillo, Doral Mayor Juan Carlos Bermudez, and Doral Councilwoman Christi Fraga.