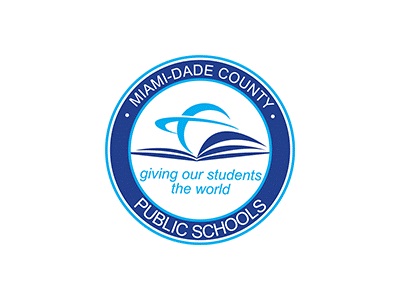 FOR IMMEDIATE RELEASE
Wednesday, April 26, 2017
CONTACT: Daisy Gonzalez-Diego
Miami-Dade County Public Schools
305-995-2060
M-DCPS High Schools Named among America's Best by U.S. News & World Report
U.S. News & World Report announced its annual list of America's Best High Schools and Miami-Dade County Public Schools (M-DCPS) was a leader both statewide and nationally. The district is home to seven of the top 100 high schools in the country, half of the schools in Florida's Top 20 and four - 40 percent – of Florida's Top 10.
Surrounded by Board members, principals, teachers, and students, Superintendent of Schools Alberto M. Carvalho made the announcement today during a news conference at the School Board Building.  "This is proof again of the stellar performance of Miami-Dade County Public Schools," said Carvalho. "Of the 75 districts in the third largest state in our nation, M-DCPS dominated, by far, the state's top schools."
The following is a list of the Florida Gold Medal winners:
School National Ranking State Ranking
Design and Architecture Senior High (DASH)  22 2
International Studies Charter High School  24 3

International Studies Preparatory Academy (ISPA)  31 4
Young Women's Preparatory Academy (YWPA)    52 8

Archimedean Upper Conservatory Charter School  81 11

Jose Marti Mast 6-12 Academy  88 12
Maritime & Science Technology Academy (MAST) 100 13

iPreparatory Academy (iPrep) 102 14

Doral Performing Arts and Entertainment Academy 115 15

Coral Reef Senior High School 185 19

New World School of the Arts (NWSA) 230 23

TERRA Environmental Research Institute 250 24

Mater Academy Charter High 255 25

Doral Academy Charter High School 330 28
Law Enforcement Officers Memorial High School 387 34
City of Hialeah Education Academy 440 37

Two schools, Jose Marti MAST and iPrep, made it to the Florida Top 20 for the first time. Additionally, DASH and ISPA were ranked among the top 10 magnet schools in the nation.
The Magazine gathered data on more than 28,000 schools across the country. They then evaluated the more than 22,000 schools that proved eligible to be ranked using a four-step analysis based on performance on state-required tests, whether their least advantaged students – those of black, Hispanic and low-income backgrounds – performed at or better than the state average, a graduation rate of at least 75 percent, and participation in and performance on Advanced Placement.
For the complete list visit, https://www.usnews.com/education/best-high-schools/rankings-overview. 

Follow us on Twitter at @mdcps and @miamisup, and on Facebook at @Miami-Dade County Public Schools and @Alberto Carvalho.