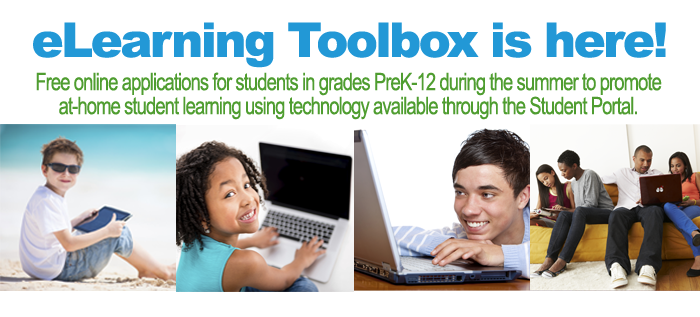 FOR IMMEDIATE RELEASE
Thursday, June 8, 2017
CONTACT: Daisy Gonzalez-Diego
Miami-Dade County Public Schools
305-995-2060
Learning Never Stops at M-DCPS, Access Fun, Digital Tools via the Student Portal
School's out, so what's next?  Starting on June 9th, students can have some fun as they continue to practice what they have learned and get ready for the upcoming school year that begins on August 21, 2017.  Students have the opportunity to stay academically engaged after the regular school year ends by participating in the many digital offerings with custom tailored activities for all grade levels. 
Miami-Dade County Public Schools (M-DCPS) students have access to a variety of fun, educational programs and resources offered via the eLearning Toolbox Online Resources available on the Student Portal. No registration is required.
Great prizes are available for students who participate in the Toolbox's Reading and Math Challenges.  Prizes include $50 gift certificates and Apple iPad Minis.
Looking for a good book for your child to read? Look no further! The District's K-12 Summer Reading Guidelines and Independent Reading Activities are available online to help parents and students select interesting and age appropriate books to enjoy during the summer. The K-12 Summer Reading Plan and promotional flyers are available at the following Web pages:

http://library.dadeschools.net/promotions.html 
http://languageartsreading.dadeschools.net. 
Parents can visit http://summerschool.dadeschools.net/parent_info.asp or  http://summerschool.dadeschools.net/ to learn more about exciting summer options.  
Follow us on Twitter at @mdcps and @miamisup, and on Facebook at @Miami-Dade County Public Schools and @Alberto Carvalho.