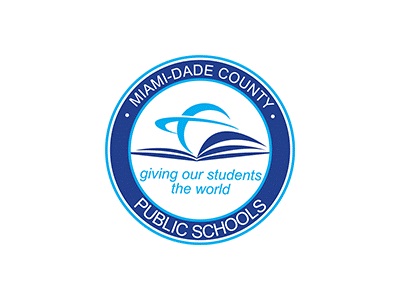 FOR IMMEDIATE RELEASE
Thursday, July 20, 2017
CONTACT: Daisy Gonzalez-Diego
Miami-Dade County Public Schools
305-995-2060
It's a Four-Peat for M-DCPS' 'TeamMiami' at NAF National Convention Miami-Dade County Public Schools had champions in each category!
Miami-Dade County Public Schools (M-DCPS) had a stellar night at the National Academy Foundation (NAF) national conference in Dallas, last week, with champions in each of the four categories.
Patricia Gregory, Lead Teacher at the Academy of Hospitality & Tourism (AOHT) at Miami Beach Senior High, was one of the three national winners of the Janet Linton Award. The prize, which recognizes outstanding academy directors and educational leaders, was created in 2006 in memory of Janet Linton, the late San Diego Academy Director. The award honors extraordinary contributions and leadership within the NAF network, at the school, district and state levels.
David Cesario, the General Manager at Marriott Biscayne Bay Hotel and AOHT Board Vice Chair, received the Advisory Board Champions Award. This prize recognizes those who have exercised extraordinary leadership in ensuring all NAF students have opportunities to participate in work-based learning activities. These projects are designed to prepare them for college and career success. 
Ana Medina, a graduate of the Academy of Information Technology at G. Holmes Braddock Senior High School in 2012, was honored with the Alumni Award.  This prize is bestowed on an NAF alumnus who has achieved success in either college or career, or has demonstrated entrepreneurial spirit that can be attributed in part to their academy experience.
Eric Jimenez, a student from Coral Gables Senior High School's Academy of Finance, was the first-place, national winner of the 2017 #BankOnIt Tournament.
NAF is a national network of education, business, and community leaders, who work together to ensure high school students are ready for college, career and their future. M-DCPS has exemplified significant strategic commitment to and investment in NAF academies and student enrollment goals, strong demonstration of the NAF model and outstanding leadership capacity within the network. M-DCPS' Department of Career and Technical Education (CTE) provides students with high quality, relevant, career technical education, giving students the skills and knowledge they need to succeed in college and careers for the new economy. For additional information, please contact CTE at 305-693-3030 or visit: http://dcte.dadeschools.net. 
Follow us on Twitter at @mdcps and @miamisup, and on Facebook at @Miami-Dade County Public Schools and @Alberto Carvalho.