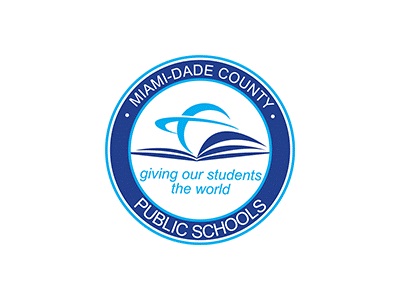 FOR IMMEDIATE RELEASE
Thursday, August 17, 2017
CONTACT: Daisy Gonzalez-Diego
Miami-Dade County Public Schools
305-995-2060
Innovation and Equity Drive M-DCPS' Bold 2017-2018 New Programs, Initiatives
Miami-Dade County Public Schools (M-DCPS) students and employees will begin the 2017-2018 school year with a host of new, bold programs that build on the District's goals of providing classroom innovation, academic rigor, and increased student access, as well as increased efficiencies in operations. Schools Superintendent Alberto M. Carvalho unveiled the District's new programs yesterday during a School Board Workshop.
"The rollout of new programs for the school year always creates an atmosphere of excitement for all us at Miami-Dade County Public Schools," said Superintendent Alberto M. Carvalho. "We unveiled a wide array of new course offerings and District programs that further cement our position as a school district at the forefront of instructional ingenuity, efficiency, equity and access. Our students, parents, education partners and community have come to expect vigorous, cutting-edge academic programs that prepare our students for success in and beyond the classroom.  Currently, 65.8 percent of Miami-Dade's public school students are enrolled in non-traditional programs.  Our goal is to achieve 100 percent choice in every zip code by 2020. The future is with us and we are ready."
Fifty-five new choice/magnet programs and 27 initiatives were created or enhanced for 2017-2018. These new courses bring the total of choice programs to over 950. 
New magnet programs include:
• Mega Magnet at Barbara Goleman Senior High, including AP Capstone: STEM, Financial Technologies, Digital Marketing, Cybersecurity, Information Systems Technology
• Visual & Performing Arts at Norland Middle, featuring Blackbox Theatre and Jazz Band
• Visual & Performing Arts at Miami Norland Senior High, featuring  Art, Dance, Music and Theatre
• Visual & Performing Arts at Hialeah Middle, featuring Dance and Theatre
• Visual & Performing Arts at Rainbow Park Elementary, featuring Drama and Theatre
• STEM: Business Innovation & Management, Design, Animation & Gaming and Mobile Applications Development at Miami Southridge Senior High
• STEM: Conservation Biology at Pine Lake Elementary
Non-magnet choice programs coming to several schools include:
• Cambridge Program and Spanish Language Immersion at Dr. Toni Bilbao K-8 Center
• Pre-Apprentice in Building and Construction Programs at Coral Gables Senior High, Miami Carol City Senior High, Miami Edison Senior High and Homestead Senior High
• Culinary Programs at American Senior High, Jose De Diego Middle and Nautilus Middle
• Hospitality and Tourism at Cutler Bay Senior High
• Hospitality at Georgia Jones-Ayers Middle
• Information technology Programs at Linda Lentin K-8 Center, Morningside K-8 Center, Redland Middle and Winston Park K-8 Center
• Technology Education at John F. Kennedy Middle
• King Carter Programs: Trade and Logistics at Miami Central Senior High (Academy Enhancement) and Miami Northwestern Senior High
• Health Sciences Medical Academy at South Miami Senior High
• Biomedical at Miami Coral Park Senior High
• Broadcasting Arts & Technology at Southwest Miami Senior High

• Multimedia Technology at Rubén Darío Middle
• Music Academy at Ben Sheppard Elementary
• Mandarin Chinese at Mandarin Lakes K-8 Center, Miami Palmetto Senior High, Palmetto Middle and Pinecrest Elementary
• STEM Programs at Calusa Elementary, Coral Park Elementary, Cutler Ridge Elementary, Dante B. Fascell Elementary, Royal Palm Elementary and Rubén Darío Middle
• Finance Program Enhancement at Aventura Waterways K-8 Center
• International Baccalaureate Program Enhancement at Homestead Middle
Additional new educational initiatives include:
Building Automation Systems Technology - This will be the first school in Dade/Broward counties to focus on a certification program aimed at training students for high-paying technical jobs in the smart building field in collaboration with Siemens, a world leader focusing on the areas of electrification, automation and digitalization. Students will be trained to repair, maintain and program energy management systems that will provide them with in-demand skills, which will improve their employment prospects while saving our natural resources.
Elementary School Drug Awareness Training (ESDAT) - The prescription opioid epidemic has affected many communities and has become a national health crisis. This training prepares elementary school students by providing them with the tools necessary to make healthy decisions.  The Elementary School Drug Awareness Training (ESDAT) is designed to instruct students on the dangers of opioids and other illicit drugs, how to identify dangerous drugs and what to do and who to contact if they see or encounter drugs/paraphernalia in their homes or neighborhoods.
Police Explorer Public Service Aide Certifications – This highly structured and disciplined program is regulated by Florida Statutes, the Florida Department of Education and the Florida Department of Law Enforcement.   Upon successful completion of the training, students are eligible to seek employment as Police Service Aides or Community Service Officers. Students also earn a workforce degree to assist them in securing employment upon high school graduation.   
The Betsy Kaplan Project: A Blueprint for Music Education 2.0 – This program will provide comprehensive music education to students in underserved communities within the South Dade and Homestead Senior High School feeder patterns in the South Region.  The schools that will be participating are: 
• South Dade Senior High 
• South Dade Middle 
• Redland Middle 
• Homestead Middle
• Homestead Senior High 
• Coconut Palm K-8 Academy
ELLEVATION - A cloud-based solution designed to support English Language Learner (ELL) instruction and compliance in school districts,  Ellevation will provide teachers with instructional strategies that can be assigned and tracked at the student level. It will also support teachers with instructional lesson planning and collaboration tools, grouping students based on English Language Proficiency (ELP) assessments.  This program will allow the District to provide individualized support to more than 72,000 English Language Learners to accelerate their English acquisition.
Pre-K Explorers – This program will integrate early education practices through second-grade curriculum and instruction to ensure that teachers, administrators and parents have the knowledge and abilities to help children achieve their full potential. Pre-K Explorers will address academic needs and emphasize family engagement to maximize early learning for children through STEM inquiries and language introductions.

myNAFTrack Miami - This initiative will provide an innovative and proven approach for M-DCPS students to partner with post-secondary institutions and local employment partners willing to provide special consideration to NAFTrack certified students. This will ensure that students in career pathways programs graduate from college, career and future-ready, so that they can enter the workforce and compete in the global economy.
All-in-Challenge - This districtwide campaign will provide equity and access to all students as they embark on taking college entry exams and/or prep for retake opportunities for high school graduation. The program will increase the use of Khan Academy's free, online, official SAT practice. Thanks to a College Board/Khan Academy partnership, students can link their PSAT/SAT scores and personalized instruction to boost their academic skills, with the ultimate goal of increasing students' acceptance into college/universities and other postsecondary educational experiences.
RAMPing Up Our School Counseling Programs – This districtwide initiative will build upon the success of the schools that have earned the Recognized ASCA Model Program (RAMP) designation from the American School Counselor Association (ASCA).  Schools employing this model have demonstrated the impact of school counseling programs on student achievement, attendance and behavior.
PAC: Parents Advancing Careers - PAC will provide coordinated services for parents to better understand what local community resources are available to them and how to use those to strengthen or renew their professional statuses. Helping parents advance career goals, along with students, will empower the family to achieve the American Dream together.
Sprint's 1Million Project - This partnership with Sprint and the Sprint Foundation will provide low-income, ninth-grade high school students who lack home Internet access, with mobile devices to bridge the digital divide. Each participating student will receive a free wireless device and free service for up to four years while in high school. Students who receive smartphones will have hotspot capability and unlimited calls/text while on the Sprint network. Students can connect their district-issued tablets or laptops to the hotspot to access the Internet and complete assignments, create projects, collaborate with peers or teachers and more.  
Virtual Home School – New legislation recently rescinded the restriction on applicants who had not attended public school the year prior to apply to a full-time, virtual school.  As of July 1st, all home school, private school and students who reside out-of-county, out-of-state and even out-of-country can apply to the District's full-time, virtual school program, Miami-Dade Online.
iBot: An Elementary Level Hands-on Curriculum Activity Enhancement - The launch of "iBOT" facilitates a commitment to expand coding/robotics programming. Twenty-seven elementary schools from across the District will be able to integrate introductory robotics/coding activities into their science curriculum.
Middle School Redesign:
Kitty Hawk: A STEAM Experience - The second phase of the Arsht Center's Learning through the Arts Program, "Kitty Hawk," is a live theater performance and STEAM learning initiative created for all 26,000 seventh-graders in M-DCPS. Through the American story of the Wright Brothers and the invention of flight, this production aims to educate a new generation about this historic, world-changing event, spark innovation and creative thinking, and equip seventh-grade teachers to reach beyond traditional teaching methods to use the arts for classroom learning. The program is fully funded by Boeing the world's largest aerospace company.
Middle School ELA Blended Learning Project: Amplify – This is an expansion of the District's current Amplify pilot to include eighth-grade teachers. Teachers will have access to tools that enable immediate, in-class, student progress tracking and support for efficient and targeted teacher feedback to students. Professional development will be provided to teachers on integrating the lessons and activities aligned to meet the rigor of the new Language Arts Florida Standards (LAFS) and on the best practices for a blended learning classroom environment.  

Digital Convergence 3.0 – This year will expand on the work that has taken place during the past three years. This year's implementation includes 12,000 mobile devices for the sixth-grade English Language Arts (ELA) Mobile Device Program; expansion of the Amplify ELA program and expansion of the iPrep Math Program.
Middle Schools Virtual Job Shadow - Virtual Job Shadow is an interactive career planning platform.  It has created an exceptional approach to sharing a wide array of career options that empowers students to see beyond the classroom and bring relevance to academics that will inspire them to see education in a more meaningful way. 
In addition to academic offerings, the District unveiled several operations initiatives aimed at increasing health and efficiency:
Telehealth Technology Initiative - Telemedicine has made it possible to bring patients and medical services together through online video sessions. This innovative technology can create the positive impact of increasing student in-school time thus reducing absenteeism.  In partnership with Nicklaus Children's Hospital and the Florida Department of Health in Miami-Dade, basic School Health services will be supported and expanded with Telehealth technology to 62 schools. These services will be enhanced through virtual visits by a Registered Nurse. The technology will be used to link children to advanced care providers to assess certain conditions of the skin, ears, eyes, throat and lungs, while the child is still at school. Experts will be able to use both visual and audio tools to assess a child's medical condition through the remote connection.
Districtwide Telemedicine Program - Implementing a Telemedicine program can lead to a reduction in absenteeism and a healthier and more engaged workforce.   The telemedicine program is an online video and/or telephonic conferencing medical service whereby employees can access healthcare from a board-certified physician at a cost significantly less than urgent care or the emergency room. There are two types of telemedicine programs - behavioral and healthcare. Employees can receive treatment for various conditions, including: sore throat, headache, stomachache, cold and flu.
Wellness Education and Awareness Program 2.0 - Through increased personalized engagement, this program supported by Well Way will effectively promote wellness awareness and healthcare education to achieve lasting improvements to employees' health and wellness through the launching of new programs including "Wellness Wednesday" and "Healthy YOU".
100 Billion Step Challenge - This initiative is an awareness and engagement campaign utilizing physical activity challenges to promote wellness and an active lifestyle. Employees' use of a mobile app will allow them to set goals and participate in individual and team competitions.
Online Enrollment – Development of a new, easy to use, web-based registration system will begin this year.  The full implementation of this program by 2018 will offer families a comprehensive, web-based registration application that will allow parents to register or re-enroll their children online, while reducing the costs associated with new and returning student registration.
Employment Clearing House – Designed to simplify information gathering regarding employment opportunities for job seekers, this initiative will provide a central online location that posts current district construction and maintenance projects, local workforce goals and employers' contact information.
Workplace by Facebook – "Workplace by Facebook" is a private social network for companies. It provides a collaborative platform that offers the social network's features in a secure corporate or organizational environment. This platform will enhance communication among colleagues, sparking innovation, collaboration, access, the sharing of instructional best practices and more effective and streamlined work practices. All M-DCPS employees will be provided a free Workplace account and they will be able to communicate via groups and chat with colleagues to share ideas.

Tele Planning - Tele Planning provides parents of gifted, special needs students and students with 504 Accommodations (accommodations designed to help students with learning and attention issues) the ability to review Individual Education Plans (IEPs); Educational Plans (EPs) and 504 Plans from home or work.  Parents will be able to participate in virtual meetings with their child's school using an online tool.
School Mobile App 2.0 – Enhancements will be made to the School Mobile App to improve access by parents and students to school specific information.  The app will allow parents and students to see and obtain pertinent information on what is happening at their schools such as back-to-school checklists, school news and a photo gallery of school events, as well as School Board Member information.
Clever Badges - Clever Badges will provide students in primary grades (Pre-K – 2) and those with special needs with a simplified mechanism to log in to the student portal to access their personalized online curriculum.  This will reduce the amount of time it takes the littlest learners and those with special needs to log in to the student portal, increasing valuable instructional time.
Click & Accept - This online application will allow employees to acknowledge and accept a variety of forms in an electronic format.  Employees will receive confirmation of acceptance of forms with a link to the individual forms for future reference or printing.  This reduces the need to print forms for physical signatures, and enhances the ability to track compliance. 
Temporary Instructor Preparation and Support (TIPS) Program - This program is designed to provide relevant and comprehensive professional development to temporary instructor candidates in order to develop a temporary instructor-to-teacher talent pool that cultivates the teaching profession.  Implementation will maximize instructional time and ensure optimal student learning experiences that mitigate the impact of teacher absenteeism on student achievement, with a focus on the District's most fragile schools
Treasurer Apprentice Academy - The Treasurer Apprentice Academy will provide best practices and technical training to prepare potential candidates in assuming the role of treasurer at the school site.  Academy participants will receive training in fiscal financial responsibilities to include, basic accounting principles, maintaining accurate financial records (Internal Funds, Financial Reports, Credit Card Reconciliation,) and fundraising collection activities.  In addition, participants will receive training in diversity and inclusion practices as it relates to the procurement process, ethics and customer service.  
Mentoring and Induction for New Teachers Plus (MINT 2.0) - Recent research indicates students may receive the equivalent of up to five months of additional learning if their new teacher is paired with a high-quality trained mentor who delivers frequent and meaningful feedback.  MINT 2.0 will provide new teachers - from non-education majors and career changers who are often times providing service to students in our most fragile schools - with differentiated sustained, school-site mentoring support to accelerate the new teachers' effectiveness at the earliest point in their career.