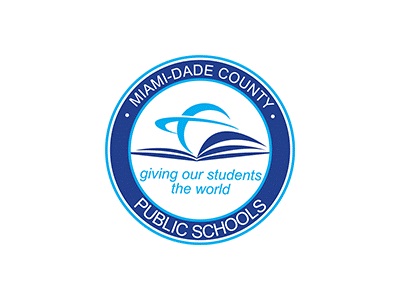 FOR IMMEDIATE RELEASE
Friday, September 29, 2017
CONTACT: Daisy Gonzalez-Diego
Miami-Dade County Public Schools
305-995-2060
M-DCPS Awarded $15M Grant by the USDOE's Magnet Schools Assistance Program
Miami-Dade is one of only four school districts in Florida to receive the grant.
The U.S. Department of Education's Magnet Schools Assistance Program (MSAP) announced this week that Miami-Dade County Public Schools (M-DCPS) was among the 32 grant award national winners for 2017.  M-DCPS was one of only four districts in Florida to win the award and one of only three districts nationally to receive the full award amount of $15 million over five years.

The primary aim of the Magnet Schools Assistance Program grant is to eliminate, reduce, or prevent minority-group isolation in elementary and secondary schools while strengthening students' academic achievement. This aim forms the basis for the award. The District will receive funding over five years to implement programming that supports the development and implementation of magnet schools that increase racial integration and promote academic opportunity and excellence.
The schools/programs for this grant cycle are Barbara Goleman Senior High, which will be restructured into a district-wide mega magnet configuration. New magnets include: Information Systems Technology; Digital Marketing; Financial Technologies (FinTech); Cybersecurity; and AP Capstone STEM.
Miami Southridge Senior High will be converted into a re-envisioned all-academy, magnet school with boundaries. Its new magnets will include Business Innovation & Management; Design, Animation & Gaming; and Mobile Application Development.
Boundary and magnet students at Pine Lake Elementary School will be offered the opportunity to engage in Zoology and Botany experiential hands-on, project-based learning opportunities. Pine Lake's magnet has been conceived as a thematic feeder for the ZOO magnet at Richmond Heights Middle and the Conservation Biology magnet at BioTech 9-12. 
Magnet school programs offer unique courses of study focusing on students' special interests, talents, and abilities and are available in five themes of study: International Programs; Liberal Arts; S.T.E.M. (Science, Technology, Engineering, & Mathematics); Virtual Learning; and Visual & Performing Arts. Since opening its first magnet program in 1973, magnet options have greatly expanded within M-DCPS. Currently, more than 69,000 students are enrolled in more than 380 magnet programs offered at 114 schools districtwide. For more information, go to: miamimagnets.org
For the most up-to-date information please download the Dadeschools mobile app on your iPhone or Android device.  Follow us on Twitter @mdcps and @miamisup and on Facebook at MiamiSchools and AlbertoCarvalho