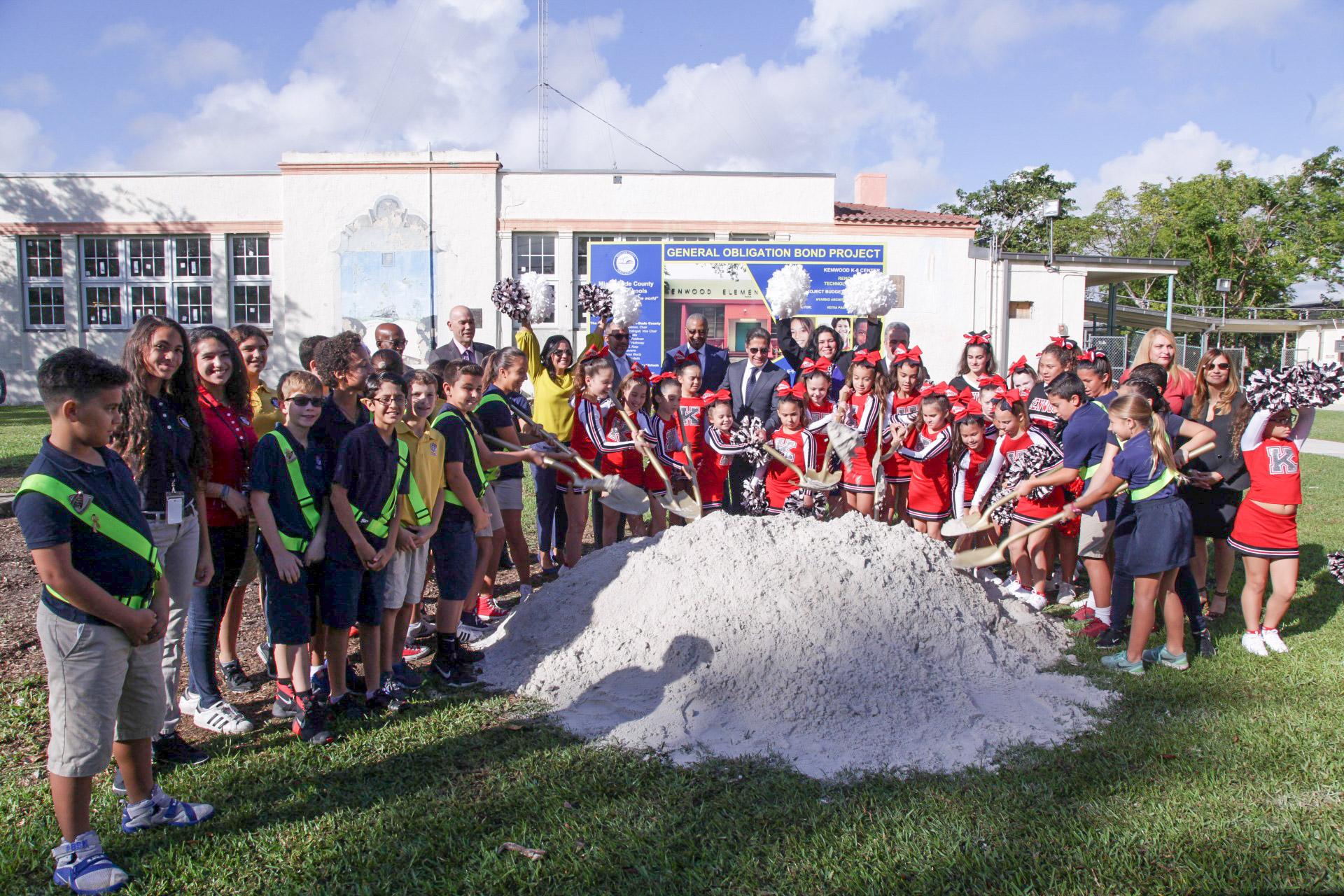 FOR IMMEDIATE RELEASE
Friday, December 8, 2017
CONTACT: Daisy Gonzalez-Diego
Miami-Dade County Public Schools
305-995-2060
Kenwood K-8 Kicks off GOB Project
Schools Superintendent Alberto M. Carvalho, School Board member Lubby Navarro, School Principal
Rodolfo Rodriguez, and District and school administrators joined students of Kenwood K-8 Center this
morning to break ground on Kenwood's General Obligation Bond (GOB) construction project. 
Slated to be completed February 2019, the total GOB investment of $4.3 million will provide for a number of improvements, including new classroom technology upgrades, new impact windows and window treatments, HVAC upgrades, restroom renovations, complete renovations to 10 classrooms in building 4, a new shade structure as well as painting of the playground's fence enclosure, a covered walkway at the cafeteria building, roofing in media center and new carpet flooring, security light upgrades, selective door and hardware replacement and exterior painting.
The School Board commissioned Nyarko Architectural Group and VPI as the architect and construction manager, respectively. The total sub-consultant Small Business Enterprise (SBE) participation for construction is expected to be 32.28 percent.
For the most up-to-date information, please download the Dadeschools mobile app on your iPhone or Android device.  Follow us on Twitter at @mdcps and @miamisup, and on Facebook at MiamiSchools and Alberto Carvalho.
Photo Caption: Schools Superintendent Carvalho (center), flanked by School Board member Lubby Navarro, School Principal Rodolfo Rodriguez, District and school administrators and students of Kenwood K-8 Center.