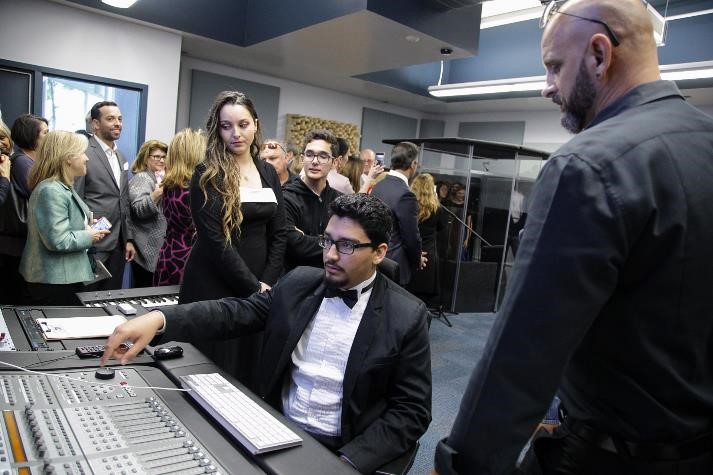 FOR IMMEDIATE RELEASE
Wednesday, January 31, 2018
CONTACT: Daisy Gonzalez-Diego
Miami-Dade County Public Schools
305-995-2060
José Milton Foundation Unveils New Recording Studio at Miami Arts Studio 6-12
Schools Superintendent Alberto M. Carvalho; School Board members Dr. Lawrence S. Feldman,  Mari Tere Rojas, and Dr. Marta Pérez; Miami-Dade County Commissioner Joe A. Martinez; Principal Dr. Miguel A. Balsera; Milton Foundation President Ana Milton; students, faculty and staff of Miami Arts Studio at Zelda Glazer 6-12 (MAS); and District representatives gathered at MAS this morning for a ribbon cutting celebration of the new recording studio made possible by a $100,000 donation from the José Milton Foundation.About the José Milton Foundation
The José Milton Foundation works to continue the legacy of founder, family patriarch and architect José Milton, reflecting his entrepreneurial spirit, generosity, common sense, determination, fiscal responsibility and love for South Florida with its rich cultural diversity, boundless potential.
From left United Property Management CFO Rex Barker, Miami-Dade County Commissioner Joe A. Martinez, Ana Martinez, Cecil and Ana Milton, Schools Superintendent Alberto M. Carvalho, School Board member Dr. Marta Pérez, Frank Milton, and School Board members Mari Tere Rojas and Dr. Lawrence S. Feldman.
Student performances took place throughout the morning.

For the most up-to-date information, please download the Dadeschools mobile app on your iPhone or Android device.  Follow us on Twitter @mdcps and @miamisup and on Facebook at MiamiSchools and AlbertoCarvalho.