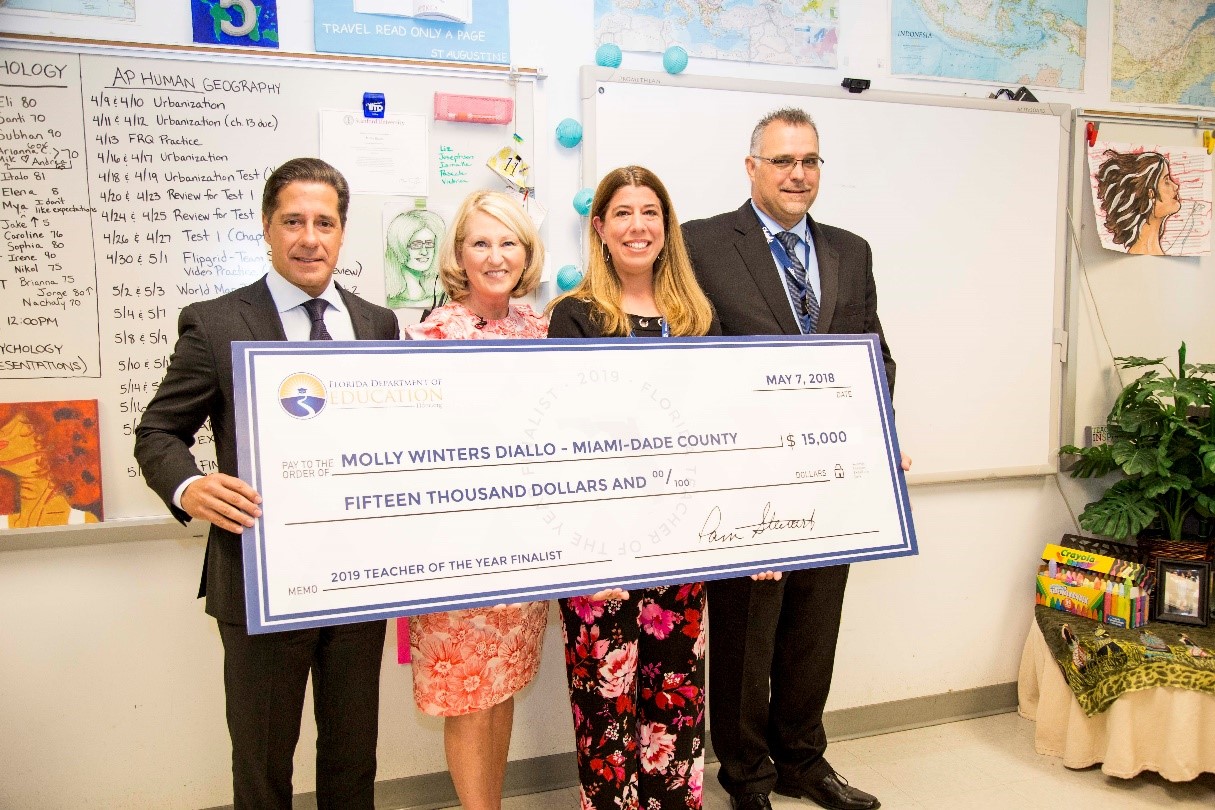 FOR IMMEDIATE RELEASE
Monday, May 7, 2018
CONTACT: Daisy Gonzalez-Diego
Miami-Dade County Public Schools
305-995-2060
M-DCPS Teacher Designated as Florida Teacher of the Year Finalist
Miami-Dade County Public Schools' (M-DCPS) 2019 Teacher of the Year Molly Winters Diallo, the Social Sciences Department Chair at Alonzo and Tracy Mourning Senior High School, was named one of five finalists for the 2019 Florida Teacher of the Year today during a surprise visit to the school by Commissioner of Education Pam Stewart.  Commissioner Stewart presented Diallo with the finalist designation and a check for $15,000.  The statewide Teacher of the Year will be announced at the annual Florida Teacher of the Year Gala July 13 in Orlando.
Holding check (left to right) Superintendent Carvalho, Commissioner of Education Pam Stewart and Molly Winters Diallo are joined by Winters' students and Principal Shinn
"This week, not only does Miami-Dade join the nation in celebrating teachers, but we congratulate one of our school district's shining stars," said Superintendent of Schools Alberto M. Carvalho. "The first of five teachers to be named a state finalist for Teacher of the Year, Molly Diallo is a brilliant educator who is a champion for her students, demonstrating an absolute dedication to their academic progress. She is a world-class professional with a heart for teaching."
Diallo teaches Honors U.S. History, Advanced Placement (AP) Psychology and AP Human Geography. Her students' pass rate on the U.S. History end-of-course assessment has averaged 90 percent, with last year's rate being 98 percent. In each of the other courses, her students' pass rate has exceeded the global mean pass rate. 
Diallo has been recognized by the Bezos Family Foundation and Stanford University; served as an AP reader for CollegeBoard; worked with the district's Division of Social Sciences to develop the district's U.S. History curriculum; and attained National Board Certification.
This year's five finalists were chosen from more than 198,700 public school teachers throughout the state. After each school district selects its Teacher of the Year, a selection committee representing teachers, principals, parents and the business community reviews each district application on the basis of outstanding ability to teach the subject taught, professional development, philosophy of teaching, and outstanding school and community service.
For the most up-to-date information, please download the Dadeschools mobile app to your iPhone or Android device.  Follow us on Twitter @mdcps and @miamisup and on Facebook at MiamiSchools and AlbertoCarvalho.
PHOTO CAPTION: Molly Winters Diallo, flanked (left to right) by Superintendent Alberto M. Carvalho, Commissioner Pam Stewart and Principal of Alonzo and Tracy Mourning Senior High Christopher Shinn (R), proudly displays the award check