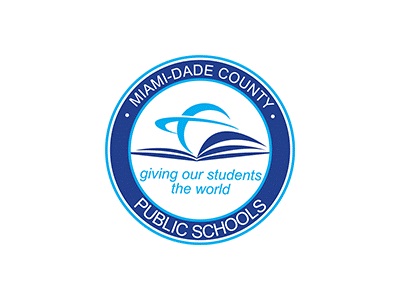 FOR IMMEDIATE RELEASE
Friday, July 13, 2018
CONTACT: Daisy Gonzalez-Diego
Miami-Dade County Public Schools
305-995-2060
M-DCPS Showcases Stellar School Year
Miami-Dade County Public Schools' (M-DCPS) showcases a stellar 2017-2018 achievements as it prepares to kick off a new school year.
"It has been a year of challenges – in some ways one of heartbreak – and yet it has also been a time marked by celebrations and pride in all that has been achieved by our students, teachers, and remarkable workforce. M-DCPS is indeed one of the finest school systems in this nation, and I am proud to serve as its superintendent," said Schools Superintendent Alberto M. Carvalho.
M-DCPS' ongoing tradition of achievement has garnered international, national and state honors. Innovation, rigor, access, and efficiency are at the core of M-DCPS' bold new education programs and initiatives. Among M-DCPS' growing list of accolades are the following:
Historic Achievement as M-DCPS Becomes A-Rated School District: For the first time in the history of Florida School Performance Grades, M-DCPS has achieved a district-wide grade of "A." For the second year in a row there are no "F" - rated traditional schools at M-DCPS. Higher percentages of Miami-Dade schools received "A" ratings in 2018 than statewide across all schools, and in all other large Florida districts.
Record-Breaking Graduation Rate: The 2016-2017 graduation rate reached an all-time high of 84.2 percent, exceeding the average of other large Florida school districts.
Students Continue to Shine on National Assessment: NAEP-TUDA is widely considered the Nation's Report Card and gold standard of assessments. Miami-Dade's results demonstrate that academic standards, instructional rigor, and student achievement continue to move on an upward trend, surpassing the nation on standardized assessments. Nationally, M-DCPS fourth graders ranked first in Reading, and second in Mathematics.
Safe Learning Environment:  M-DCPS has increased the number of school resource officers assigned to schools, improved surveillance efforts with security cameras, reduced the number of school entry points, strengthened protocols related to securing schools and classrooms in the event of an on-campus threat, and requested additional funding from the state to augment established security measures.
Magnet Programs Once Again Garner National Attention: For the seventh straight year, M-DCPS received more national magnet merit awards than any other district. In total, M-DCPS received 54 awards for the 2017-2018 award cycle, an increase of 12 additional awards.
Social, Emotional and Mental Health Education: M-DCPS has partnered with various organizations, including Sandy Hook Promise and Lauren's Kids to promote the well-being of all students beyond academics.

Unprecedented Access to the Arts: Thanks to a strong partnership with Perez Art Museum Miami (PAMM), students in grades pre-k to 12 are eligible for a year-round PAMM Student Pass, granting unlimited free admission to the museum with an accompanying adult.
For a full list of achievements, please visit: http://pdfs.dadeschools.net/featured/2018/17-18_Highlights.pdf
For the most up-to-date information, please download the Dadeschools mobile app to your iPhone or Android device. Follow us on Twitter @mdcps and @miamisup and on Facebook at MiamiSchools and AlbertoCarvalho