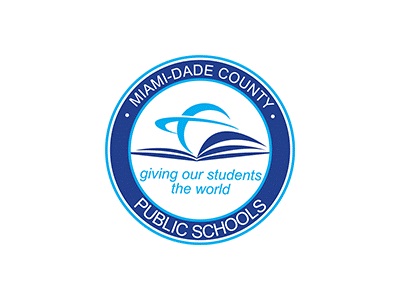 FOR IMMEDIATE RELEASE
Thursday, August 9, 2018
CONTACT: Daisy Gonzalez-Diego
Miami-Dade County Public Schools
305-995-2060
Miami-Dade County Public Schools' NAF Academies Win Big in Washington, D.C.
Miami-Dade County Public Schools (M-DCPS) brought home the gold in awards and scholarships at the NAF Next conference, a professional development experience that ignites innovation and spreads effective practices across the NAF network through unique learning and networking opportunities. This all-encompassing conference held in Washington, D.C. last month was attended by more than 60 M-DCPS administrators and teachers and post-secondary and industry business partners who support the NAF Academies.
At the conference, NAF announced that M-DCPS will pilot a local initiative, NAFTrack Miami to support the NAFTrack Certified Hiring Initiative created to provide special consideration to local job applicants. Wendy Kallergis, President & CEO of the Greater Miami & the Beaches Hotel Association (GM&BHA) said, "This is a win-win for business partners and students alike developing college and career ready students and keeping the talent local."
Following are highlights of M-DCPS' accomplishments at NAF Next:
• Hialeah Gardens Senior High School was awarded the prestigious JD Hoye Presidential Award, which recognizes the first high school in the NAF Network to have all five of its NAF-themed academies receive the highest designation of "Distinguished." A former Janet Linton Award Honoree, Principal Algaze's leadership led to all NAF Academies performing at the highest level of delivering high-quality educational experiences for its students.
• Four new Miami academies were added to the list of Distinguished academies continuing M-DCPS' distinction of having the most Distinguished career academies of any school district. Sixteen of the 68 nationally recognized high-quality academies demonstrating performance at the highest level in preparing students for college and careers are in M-DCPS. Additionally, 14 academies were recognized as Model programs.
• Kallergis, the CEO of GM&BHA, and Treasurer of the Academy of Hospitality and Tourism (AOHT) Board, was recognized as an Advisory Board Champion for demonstrating extraordinary leadership in ensuring that youth are prepared for college, careers, and active civic participation.

• Nashara Frazier, 1996, Alumna, Miramar High School and Secretary of the Miami AOHT Advisory Board and North American Area Manager, Expedia was awarded a coveted NAF Alumni Honoree Award. This award recognizes NAF alumni who have achieved success in college and career that can be attributed to their academy experiences.
Additionally, Miami's teachers, administrators, district staff, and industry leaders presented at Academy-themed learning seminars.
NAF is a national network of education, business and community leaders, who work together to ensure high school students are future ready for college and career. M-DCPS has exemplified strategic commitment to and investment in NAF academies and student enrollment goals, strong demonstration of the NAF model and outstanding leadership capacity within the network.
NAF began when business leader Sandy Weill saw an opportunity to connect young people to the increasing needs of the financial workforce. From this grew an educational model that celebrates 36 years of success in ensuring students benefit from high-quality educational opportunities linked to growing and emerging industries.
M-DCPS' Division of Academics, Department of Career and Technical Education (CTE) provides students with high quality, relevant, career technical education, giving students the skills and knowledge, they need to succeed in college and careers and for life. For additional information, please contact CTE at 305-693-3030 or go to: http://dcte.dadeschools.net
For the most up-to-date information, please download the Dadeschools mobile app to your iPhone or Android device. Follow us on Twitter @mdcps and @miamisup and on Facebook at MiamiSchools and AlbertoCarvalho.