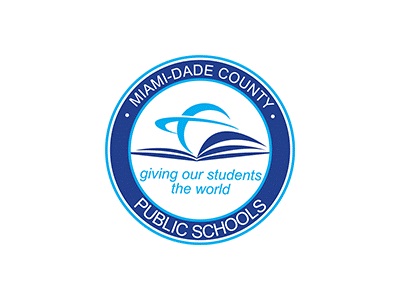 FOR IMMEDIATE RELEASE
Thursday, August 9, 2018
CONTACT: Daisy Gonzalez-Diego
Miami-Dade County Public Schools
305-995-2060
Beyond the Promise: Innovation, Reinvention Drive M-DCPS' Bold 2018-2019 Programs, Initiatives
Students and employees of Miami-Dade County Public Schools (M-DCPS) will begin the 2018-2019 school year with ninety bold, cutting-edge programs and initiatives that build on the District's goals of providing classroom innovation, academic rigor, and expanded student access, as well as increased efficiencies in operations. Schools Superintendent Alberto M. Carvalho unveiled the District's new programs today during a School Board Committee meeting.
"Miami-Dade County Public Schools has become one of the highest-performing urban school systems in the nation. We have reached this pinnacle by maintaining a singular focus on improving student achievement for each child we serve," said Superintendent Carvalho. "To meet this goal, we annually engage in a ritual of reinvention, which results in new bold initiatives or programs – launch pads for innovation and improvement – designed to enhance the teaching and learning experience and improve efficiency."
Choice Programs (All are in opening/implementation mode in 2018-19 or planning mode for a 2019-20 implementation.) – Sixty school choice options were created or enhanced for 2018-2019. This year's programs include: 
New Offerings:
• Information Technology at Charles R. Drew K-8 Center, Key Biscayne K-8 Center, Leisure City K-8 Center, Carol City Middle, Homestead Middle, and Madison Middle 
• Media Design at David Lawrence Jr. K-8 Center
• Dental Aide at Felix Varela Senior High
• Production Technology (Robotics) at South Dade Senior High 
• Allied Health Professions and STEM Education Academy at Southwest Miami Senior High
• Criminal Justice at Westland Hialeah Senior High 
• Early Childhood Education at COPE Center North 
• Business Academy (Microsoft) at Gateway Environmental K-8 Learning Center and Hammocks Middle
• Animation at Brownsville Middle 
Expansion/Enhancements of Existing Programs:
• Criminal Justice, Culinary, Construction Program, 911 Lab Replacement, Digital Media Lab Replacement, Performing Arts (Musical Instruments), Cosmetology (Expansion of Barbering) at Miami Carol City Senior High 
• Digital Media at Norman S. Edelcup/Sunny Isles Beach K-8 Center 
• Teaching Academy-Lab Renovation at Coral Gables Senior High 
• Teaching Academy; Secondary Strand and Partnership with FIU at John A. Ferguson Senior High 
• Code Skools at Miami Beach Senior High 
• Teaching Academy – Secondary Strand and EMR Lab at William H. Turner Technical Arts High 
• Project Lead the Way: Computer Science-Based Learning at Coconut Palm K-8 Academy, David Lawrence Jr. K-8 Center, Eugenia B. Thomas K-8 Center, Morningside K-8 Academy, Hammocks Middle, Horace Mann Middle, Kinloch Park Middle, Lawton Chiles Middle, Shenandoah Middle, and South Dade Middle 

• Course Embedded Virtual Reality at Ruth K. Broad/Bay Harbor K-8 Center, Carol City Middle, Hammocks Middle, John F. Kennedy Middle, Jorge Mas Canosa Middle, Lake Stevens Middle, Lamar Louise Curry Middle, Madison Middle, North Dade Middle, American Senior High, Hialeah Gardens Senior High, John A. Ferguson Senior High, Brownsville Middle, Felix Varela Senior, Ronald W. Reagan/Doral Senior, South Miami Senior, and South Dade Senior
New Initiatives – Thirty new and enhanced products and initiatives were unveiled to benefit students, employees, parents, and the community. These include:
M-DCPSafe (Launch Fall 2018) – Law enforcement presence will be provided at every school through partnerships among Miami-Dade Schools Police Department (M-DSPD), Miami-Dade County and various municipalities to ensure the safety and security of Miami-Dade students and faculty, and to adhere with the Marjory Stoneman Douglas High School Public Safety Act.
Miami-Dade County Public Schools Police Command Center (Launch Fall 2018) – The creation-of an M-DSPD Command Center to serve as the central point for various digital monitoring platforms that enhance safety and security measures for students and staff and increase the response rate of the M-DSPD and local law enforcement agencies.
Vigilant Schools: Enhancing School Security and Safeguards (2018-19 School Year) – The newly created Office of School Safety and Compliance establishes a bureau whose sole focus is to coordinate and deploy school safety best practices and trainings.
Middle School Redesign (MSR) (2018-19 Partial implementation at 40 schools) – This initiative at all 49 middle schools will focus on ensuring students develop social/emotional competencies, increasing elective offerings and empowering staff to use design-thinking strategies to improve the educational experiences for middle schoolers in our District. Data and surveys have revealed that there is a need to redesign the middle experience to ensure that the transition from elementary to middle school is successful and rewarding and leads to improved student achievement.
#EverywhereLearning (Full implementation by 2020-21 school year) – This campaign will increase school readiness by educating parents, enhancing community awareness of early learning practices and programs to increase the number of children who are Kindergarten-ready.
Pre-K Everywhere (2019-2020) – An initiative that provides additional early learning opportunities for four-year-old children within Miami-Dade County to increase 21st century learning and school readiness. 
Be the Change (BTC):  Measure Your Social Impact (2018-19 Pilot year in select senior high schools, 2019-20 Districtwide launch) – The District's Community Service Program will be modernized with an application that students can use to connect with community-based organizations to carry out social initiatives. Students will shift their focus from emphasizing accumulation of hours served to measuring their social impact. 
Pre-AP: Preparing for Advanced Placement Success (Phased in beginning Fall of 2018) – A new College Board program, this initiative offers instructional resources and classroom-based assessments. Participating schools will offer the following Pre-AP courses: Algebra 1, English 1, World History and Geography, and the Arts.  
SAT School Day – Path to Graduation (April 9, 2019) – This initiative will provide high school seniors, who have not met high school graduation requirements, the opportunity to take the SAT during the school day with 50 percent extended time resulting in increased graduation rates. This strategy yielded an additional 792 high school graduates last year.

Paid Academic Year Internship Program (2018-19 Planning year. 2019-20 Implementation year) – By participating in this program, students will spend an entire school year at one internship site, deepen their workplace learning, increase readiness for future career opportunities, and solidify relationships with their internship providers. 
College-Bound Miami Children's Savings Account Program (2018-19 Planning year. Implementation Fall 2019) – Strategies will be explored to boost college savings among low- to moderate-income families and help parents and students attain financial capability to support youth seeking post-secondary education.
Miami Codes – Roadmap to 2022 (Phased in 2021-22) – This initiative will increase M-DCPS middle and high school students' access to computer science education (coding, programming, and robotics) to ensure our community has the next generation of inventors, innovators, and leaders in STEM fields. 
iBot – An elementary-level, hands-on, curriculum activity enhancement designed to expand coding/robotics programming. Twenty-seven elementary schools from across the District will be able to integrate introductory robotics/coding activities into their science curriculum.
Bio-Med-Lab "BRIGHT" Initiative (Bio-medical Repair Innovative Global Healthcare Technician) (Lab retrofit by December 2018. Student enrollment January 2019) – Students will be trained to inspect, calibrate, repair, install and maintain technological equipment associated with the health care industry systems that will provide them with skills that are in high demand which will improve their employment prospects. M-DCPS will be the first public/private partnership of its kind for MedLab on a certification program aimed at training students for high paying technical jobs in the health care technologies field.
 "Don't Stall, Just Call" Campaign (August – September 2018) – Students will be provided resources to seek help for sensitive issues. Posters will be placed in bathroom stalls in secondary schools to provide anonymous, toll-free resources to assist students with challenges they may be facing.
E(liminate)-cigs Awareness Campaign (Fall 2018 Districtwide awareness campaign. January 2019 installation of e-cig detection devices in pilot schools) – This campaign seeks to increase public awareness on the negative consequences of tobacco use. It will also provide training opportunities for school-site administrators regarding best practices for electronic cigarette/vaping detection. 
Food Pantry Collaboration with Feeding South Florida (October 2018) – By expanding the current two school pantries to nine, as well as the existing pantry available at "The Shop," the District will assist its neediest students and families. 
New K-8 Center (Kendall Square) (Fall 2018) – Construction of a new, high-quality education facility with approximately 750 student stations will meet the needs of expanded residential development in the West Kendall area.
New iPrep Academy at Dr. Michael M. Krop Senior High (August 2018) – Construction of a new high school provides the northeast Miami-Dade County Area with choice option with approximately 600 new student stations.
Expansion of the iPrep Franchise (2018-19 Planning year. Launch 2019-20) – This initiative seeks to explore the demand for choice options aligned to the iPrep model in the southern area of the county to allow students the opportunity to engage in a globally-focused curriculum within the unique iPrep environment.

Capacity Amplification (Various occupancy dates during the 2018-19 school year.) – An initiative that increases school capacity in areas of residential growth to support grade reconfigurations and replace portable units with permanent educational space or replace facilities.
iWorldHC (Fall 2018) – This is a digital initiative using iPads to supplement curriculum, correlated to the Florida Standards, to be embedded in the Haitian Creole Language Arts program. Thirty-two schools and 35 Haitian Creole Home Language Arts teachers will have access to a private library of 210 digital lessons. The initiative will enhance Home Language Arts instruction for elementary Haitian Creole students and promote academic achievement through digital learning while simultaneously enhancing English language acquisition.
Single-Gender Educational Environments (2018-19 Planning year. Launch 2019-20) – Single gender educational options will be explored with the intent of allowing students to have the opportunity to pursue intellectual endeavors in a single-gender setting where they can gain self-confidence, leadership skills and a sense of responsibility.
Success by Design (Kick-off Synergy 2018 – June 2019) – An initiative that will continuously evaluate practices and current realities to improve school culture, academic programs and student achievement, and provide schools with a one-stop shop with all relevant data.
Recording Arts & Entertainment Technology (2018-19 Planning year. Launch 2019-20) – An initiative that seeks to explore the demand for additional choice options focused on entertainment technology within the northern area of the county to allow students to pursue their passion of creating and recording music, video, and other digital media.
We Rise Educational Initiative (Fall 2018) – The District will partner with the Urban League of Greater Miami to expand the parent outreach and support provided by the district to families and schools within the Liberty City neighborhood to leverage available resources and promote a culture of high achievement. 
Back to School EZ (August 2018 – Phased implementation in 9 schools. August 2019 – Expansion to all M-DCPS schools.) – Nine schools will implement an online platform to review and submit various back-to-school forms for new and returning students to provide accurate data, save time, money, and reduce our carbon footprint with less photocopying. 
School Quality Dashboard (Spring 2019) – An initiative that will result in a visually appealing and user-friendly, school-quality, customizable dashboard to provide users with quick access to important information about our schools.
dadeschools.NEXT Website Modernization Project (2018-2019) – The District Website Template is a website design and hosting service that allows schools and departments to both create and publish their websites on the Internet. This new service provides schools and offices with ease of posting content, while insuring that ADA, district, and security standards are met and enforced.
Virtual Badge for School Volunteers (January 2019) – A mobile-based application integrated with M-DCPS' portal-based, background-screening platform will allow for the validating, managing and monitoring of school volunteers on our campuses. Safety is paramount. Volunteers, who serve as mentors, tutors, PTA/PTSA members, chaperones, and in other roles engage daily with students to improve the student learning experience.

Passport to Teach Academy (August 2018 - June 2021) – This program is designed to recruit, educate, and support paraprofessionals on their path to becoming highly-effective ESE teachers. The Office of Human Capital Management is collaborating with Miami Dade College to recruit, educate and support M-DCPS paraprofessionals as they transition into full-time teaching positions.
Registrar Induction Support & Experiential (RISE) Academy (August 2018 - June 2019) – A career ladder opportunity will be established for newly hired and aspiring registrars in order to meet the needs of filling vacancies due to attrition (retirements, transfers, terminations and leave of absences), and provide relevant and comprehensive professional development so that newly assigned registrars can successfully perform all job requirements.
Home School Connections (August 2018) – Home Education families will be provided additional support to promote student success through the offering of curriculum products as well as educational resources.
100 Billion Step Challenge (Launched 2017. Awareness campaign has begun for the 2018-19 school year) – An expansion of an initiative that was launched last year to encourage physical activity by engaging our workforce in challenges that promote wellness and an active lifestyle, while helping to reduce the District's healthcare costs.  
Financial Wellness (Beginning September 2018 and continue through the school year.) – A Districtwide Financial Wellness campaign designed to educate our employees on the importance of managing debt, having emergency savings, creating a weekly budget and contributing to a supplemental retirement plan. 
Guaranteed Energy Performance Contracting (GEPC) (Advertise solicitation – end of 2018. Award contract Spring 2019) – The District will implement energy efficient capital improvements to support future cost savings, reduce the District's carbon footprint and promote eco-sustainability across M-DCPS.
For the most up-to-date information, please download the Dadeschools mobile app to your iPhone or Android device.  Follow us on Twitter @mdcps and @miamisup and on Facebook at MiamiSchools and AlbertoCarvalho