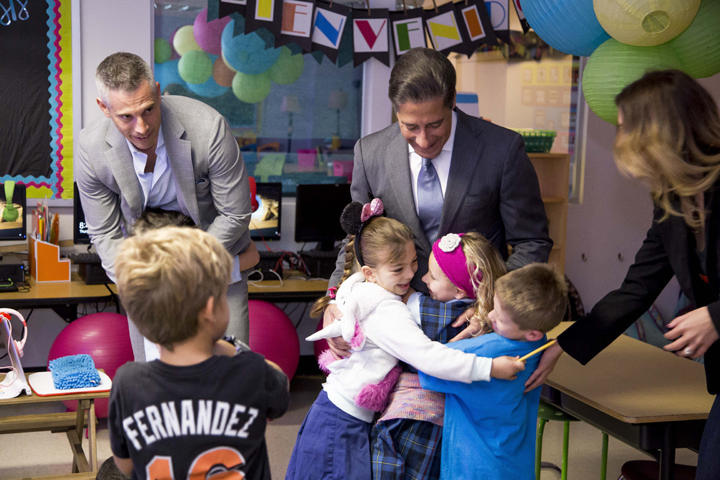 FOR IMMEDIATE RELEASE
Friday, December 7, 2018
CONTACT: Daisy Gonzalez-Diego
Miami-Dade County Public Schools
305-995-2060
Miami's Leaders Participate in 'Principal TODAY' Event, Inspire Students
More than 700 Miami-Dade business and community leaders participated in the 22nd Annual Principal TODAY event in schools throughout the district, yesterday. This event continues Miami-Dade County Public Schools' (M-DCPS) tradition of engaging business/community leaders to serve as a school principal.
Principal TODAY offers principals and business leaders the opportunity to build long-term partnerships that benefit our students. The event is held in partnership with Bank of America, Scholastic and FELD Entertainment.
Bank of America Senior Vice President Erin Sutherland, center, took part in the Carol City Middle School's luncheon/meeting to go over the Chiefs goals! Bank of America has been involved with Principal TODAY for several years and sponsored the annual kick-off breakfast last week.

Children's Trust CEO & President James Haj (third from right) visited Miami Southridge Senior High where he served as Principal for the day alongside Humberto Miret, (far left) the school's current leader and MDCPS's Principal of the Year.
During his stint as Principal of Miami Jackson Senior High, Miami-Dade NAACP President Ruben Roberts imparted words of wisdom to students, who were applying for colleges.
For more photos, please search for #PrincipalTODAY on Twitter and Instagram. For the most up-to-date information, please download the Dadeschools mobile app to your iPhone or Android device. Follow us on Twitter @mdcps and @miamisup and on Facebook at MiamiSchosls and AlbertoCarvalho
TOP PHOTO CAPTION - Schools Superintendent Alberto M. Carvalho hosted Marlins President of Business Operations Chip Bowers who served as principal at iPrep Academy.