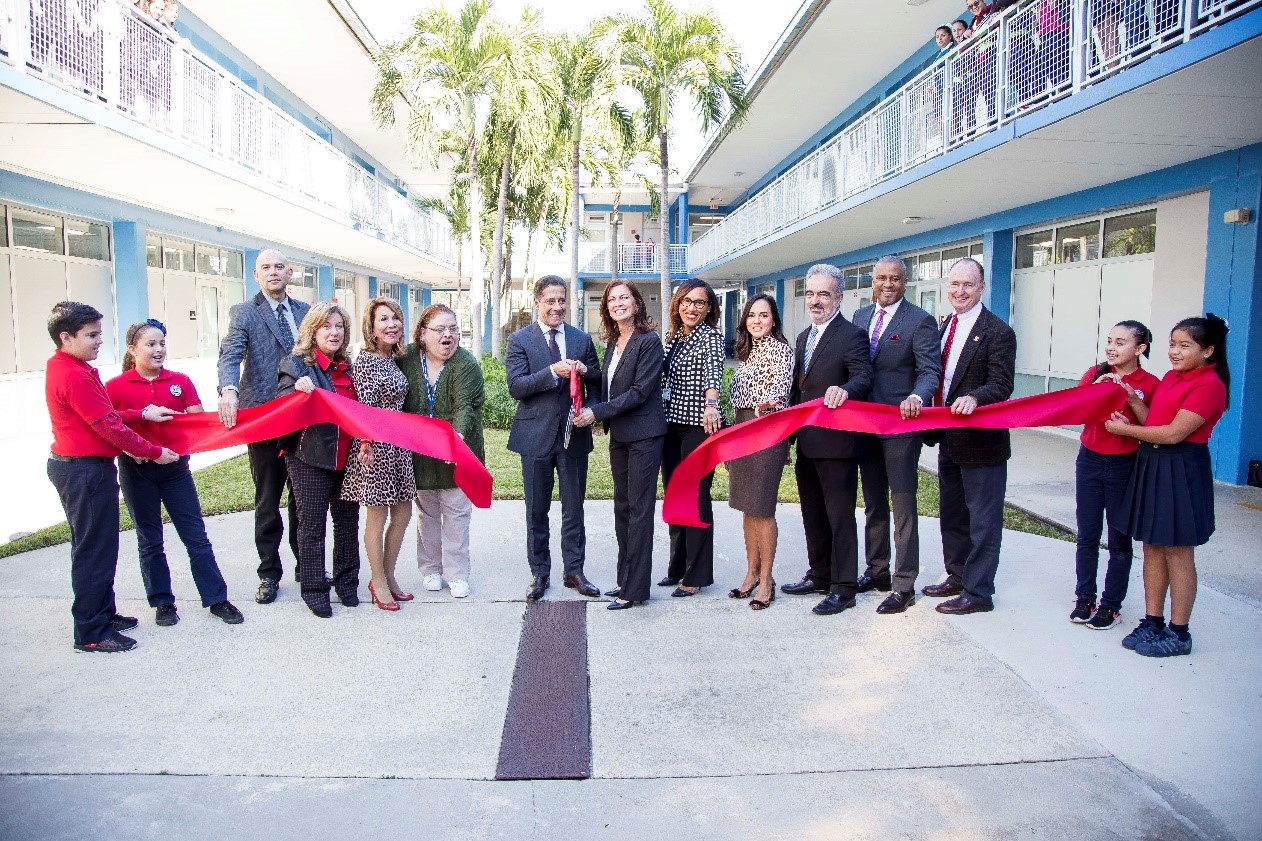 FOR IMMEDIATE RELEASE
Wednesday, December 19, 2018
CONTACT: Daisy Gonzalez-Diego
Miami-Dade County Public Schools
305-995-2060
M-DCPS Hosts GOB Ribbon Cutting at Rockway Elementary
Schools Superintendent Alberto M. Carvalho, School Board member Dr. Marta Pérez, community partners, District administrators and school staff and students gathered yesterday to officially unveil the new General Obligation Bond (GOB) construction project at Rockway Elementary School with a ribbon-cutting ceremony.
SR Architects and construction manager MAC Construction, Inc. completed the $6.2 million project, which includes classroom technology installation and upgrades throughout; new playground; new storefront windows and doors; heating, ventilation and air conditioning (HVAC) system-wide replacement with digital controls throughout classrooms; group restrooms renovation; new Americans with Disabilities Act (ADA) elevator, and access lift in cafeteria; new handrails, flooring, acoustical ceiling tiles, grid and lighting; selective exterior and interior painting; hardcourt resurfacing and stripping; fire alarm and public address system-wide replacement; selective electrical upgrades and miscellaneous improvements.
"The construction made at my school make me feel more like I'm at home. It makes me feel safe and comfortable. It makes me feel warmer too," said 5th-grade student Douglas Mejia.

"Rockway's renovations provide a safe and comforting environment for the kids," said parent and PTA President Wendy Ponce de Leon. "Any investment made for our students is an investment in their future."
The school bond projects resulted from voter approval of the $1.2 billion GOB. The bond is being used to modernize and construct school buildings throughout the District, expand student capacity, enhance facility safety, and provide technology upgrades at all schools.
To learn more about the General Obligation Bond's progress, visit http://gobprogress.com.
For the most up-to-date information please download the Dadeschools mobile app to your iPhone or Android device. Follow us on Twitter @mdcps and @miamisup and on Facebook at MiamiSchools and AlbertoCarvalho
PHOTO: Superintendent Carvalho and Principal Denise Vigoa (center) are joined by School Board member Dr. Marta Pérez (fifth from left), students, community partners, and District and school adminstrators at Rockway Elementary School to share in the celebratory ribbon cutting.