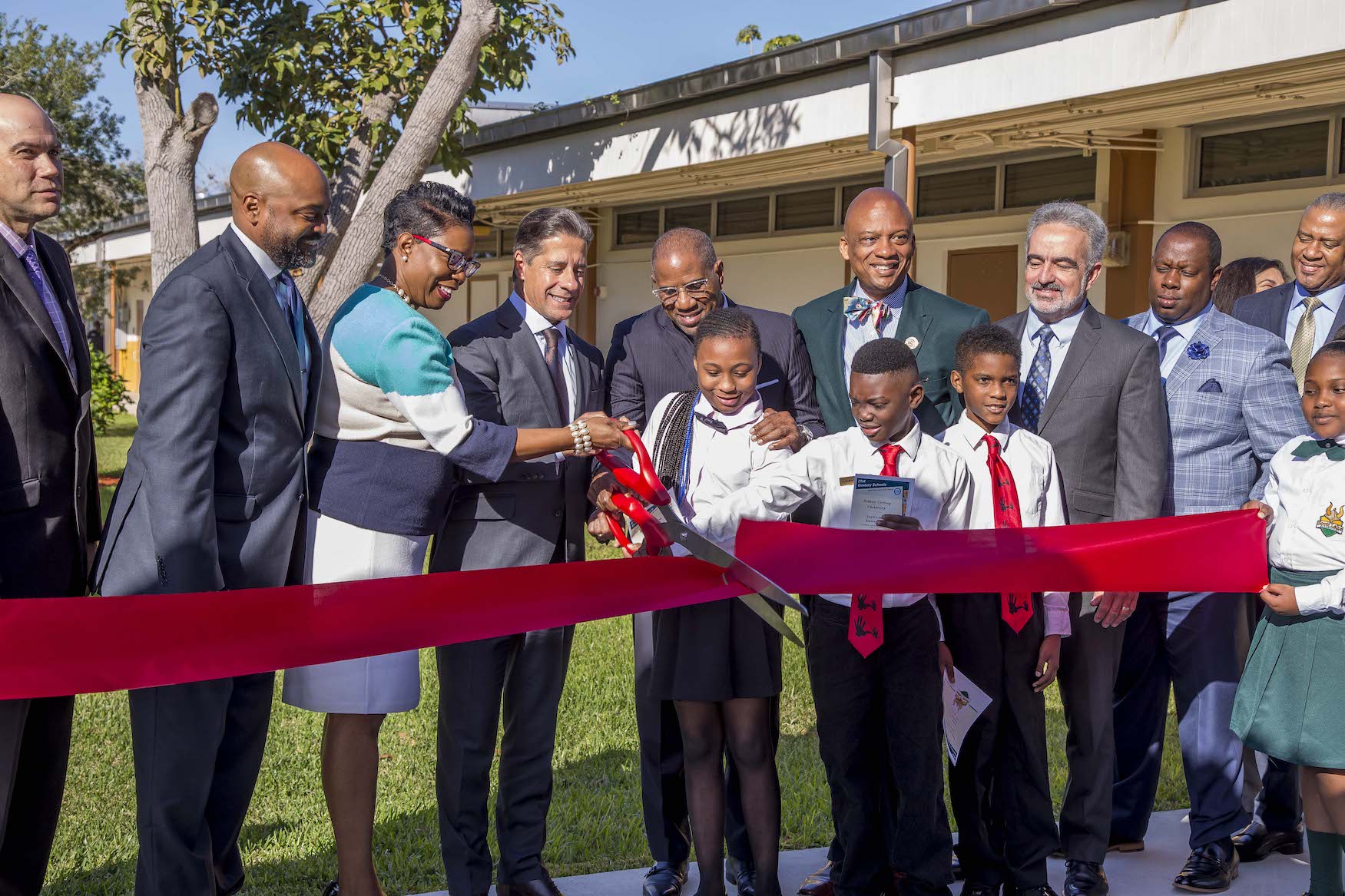 FOR IMMEDIATE RELEASE
Thursday, January 17, 2019
CONTACT: Daisy Gonzalez-Diego
Miami-Dade County Public Schools
305-995-2060
M-DCPS Hosts GOB Ribbon Cutting at Scott Lake Elementary
Schools Superintendent Alberto M. Carvalho; School Board member Dr. Steve Gallon III; City of Miami Gardens Mayor Oliver G. Gilbert III, District administrators, school staff and students gathered this morning to officially unveil the new General Obligation Bond construction project at Scott Lake Elementary School with a ribbon-cutting ceremony.
Rodriguez Architects, Inc. and construction manager T&G Contractors completed the $5 million project, which among the renovations includes a colorful new 10,546 square-foot, one-story building with 10 primary classrooms for a total of 180 new student stations.
The new building is 4th-grader Taylor Mack's favorite part of the renovation:  "They made the building more colorful with better technology so that way it makes it more fun to learn. With the better technology we can do our work on the computer faster...it has better graphics, better speed and better WiFi."
The teachers also were thrilled with the new upgrades. "What I like about the Bond issue is all the opportunities it has provided for my students, the staff and all of us here at Scott Lake Elementary, said Maryanne Karcher. "It is amazing, and we thank the Superintendent from the bottom of our hearts because it has reached our students where it matters most."
The school bond projects resulted from voter approval of the $1.2 billion General Obligation Bond. The bond is being used to modernize and construct school buildings throughout the District, expand student capacity, enhance facility safety, and provide technology upgrades at all schools.
To learn more about the General Obligation Bonds progress, visit http://gobprogress.com. 
For the most up-to-date information please download the Dadeschools mobile app to your iPhone or Android device.  Follow us on Twitter @mdcps and @miamisup and on Facebook at MiamiSchools and AlbertoCarvalho
PHOTO CAPTION:  Schools Superintendent Alberto M. Carvalho (center) is joined by Principal Lakesha Wilson-Rochelle, (left), and School Board member Dr. Steve Gallon III and Miami Gardens Mayor Oliver G. Gilbert III, (right) to officially unveil the renovations at Scott Lake Elementary.