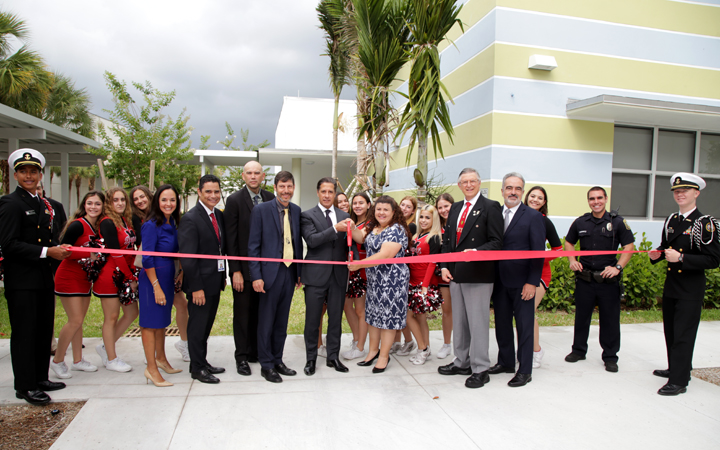 FOR IMMEDIATE RELEASE
Monday, April 15, 2019
CONTACT: Daisy Gonzalez-Diego
Miami-Dade County Public Schools
305-995-2060
New GOB Construction Project Launched at Miami Beach Senior High
Schools Superintendent Alberto M. Carvalho, School Board members Dr. Martin Karp and Dr. Lawrence Feldman, North Region Superintendent Jose Bueno, Principal Dr. Maria T. Rodriguez, District administrators, school staff and students gathered this morning to officially unveil the new General Obligation Bond construction project at Miami Beach Senior High.


Gili-McGraw Architects and contractor State Contracting & Engineering Corporation delivered the $4.13 million project, which includes a new one-story classroom building with covered walkways and landscaping.


"I'm really excited about the new construction because it's now providing a home for our science classes," said the school's Activities Director Gussie Bowen Sakowiez. "We have a lot of involvement with our science programs because we have students competing all the time. We have five different science clubs. This is just the place to give them the space they need to continue to do what they're doing and succeed even more."


Student Michael Spencer, an 11th-grade member of the Naval Junior Reserve Officers Training Corps, was a bit more practical, "The best thing about the new building is the fact it opens up new jobs for new teachers."


The school bond projects resulted from voter approval of the $1.2 billion General Obligation Bond. The bond is being used to modernize and construct school buildings throughout the District, expand student capacity, enhance facility safety, and provide technology upgrades at all schools.


To learn more about the General Obligation Bonds progress, visit http://gobprogress.com and @MDCPScapital on Instagram and #GOBprogress on Twitter.
For the most up-to-date information please download the Dadeschools mobile app to your iPhone or Android device. Follow us on Twitter @mdcps and @miamisup and on Facebook at MiamiSchools and AlbertoCarvalho
TOP PHOTO CAPTION: Schools Superintendent Alberto M. Carvalho and Miami Beach Senior High's principal, Dr. Maria T. Rodriguez, are joined by School Board members Dr. Martin Karp and Dr. Lawrence Feldman, district and school representatives and students as they cut the ribbon to officially open the new one-story, 200-student station classroom building.