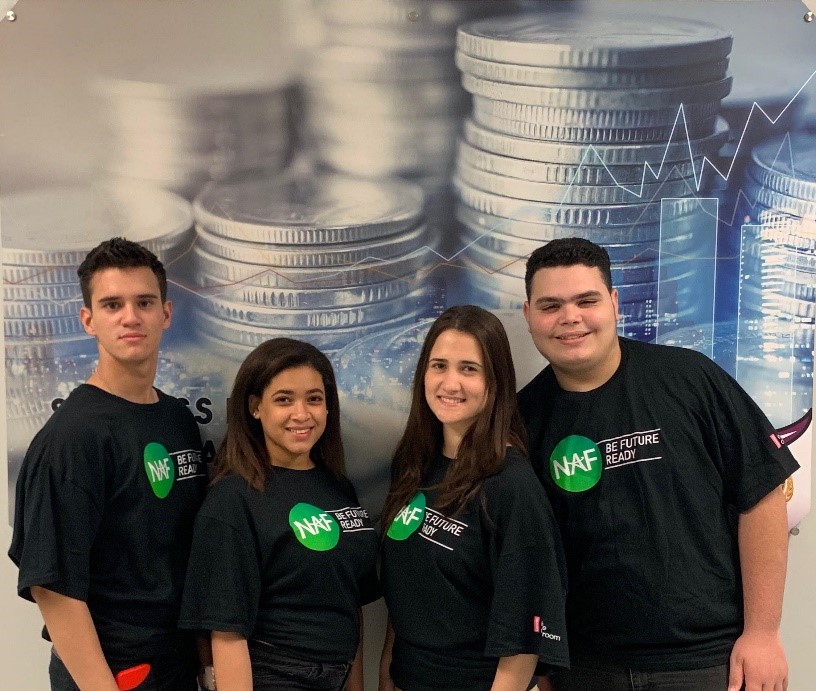 FOR IMMEDIATE RELEASE
Thursday, May 30, 2019
CONTACT: Daisy Gonzalez-Diego
Miami-Dade County Public Schools
305-995-2060
NAF Academy of Banking and Finance Students Win at 2019 Lenovo Scholar Network Mobile App Development Competition
The Miami-Dade County Public Schools (M-DCPS) "SmartCash" student team from the NAF Academy of Banking and Finance at Southwest Miami Senior High School are winners in this year's Lenovo Scholar Network Mobile App Development Competition. In total, five winning teams were chosen from 120 NAF academies across the nation that were eligible to submit an entry for the competition. These high school students spent months developing and testing their mobile apps.
The app development program was initiated to encourage greater interest among underserved high school students in Science, Technology, Engineering and Mathematics (STEM) while providing them with high-tech skills critical in today's job market. The results every year are a testament to the students' talent and innovation in applying their classroom-learning to solve a real-world issue.  According to the student team, "SmartCash is an economic, budgeting, and credit-solving mobile application that can help people improve their financial lives."
NAF is a national network of education, business and community leaders, who work together to ensure high school students are future-ready for college and career. M-DCPS has exemplified strategic commitment to and investment in NAF career academies and student enrollment goals and a strong demonstration of the NAF model and outstanding leadership capacity within the network. The student teams will present their apps at NAF Next, NAF's annual professional development conference, in Detroit this July. "Fan Favorite" voting is open and allows the students' local communities to voice their opinions on the apps and share their top pick. Vote for Miami's team at www.lenovoscholars.com.  As part of the program, NAF, Lenovo, and MIT work together to provide technical assistance and to develop support materials for teachers using MIT App Inventor. 

M-DCPS' Division of Academics, Department of Career and Technical Education (CTE) provides students with high quality, relevant, career technical education, giving students the skills and knowledge, they need to succeed in college and careers and for life. For additional information, please contact CTE at 305-693-3030 or go to: http://dcte.dadeschools.net. For more information about the Banking and Finance Program at Southwest Miami SHS, please contact Doristine Williams at (305) 274-0181.
For the most up-to-date information, please download the Dadeschools mobile app to your iPhone or Android device.  Follow us on Twitter @mdcps and @miamisup and on Facebook at MiamiSchools and AlbertoCarvalho.
Photo Caption: The "SmartCash" team looks forward to presenting their app at the NAF National Conference in Detroit.