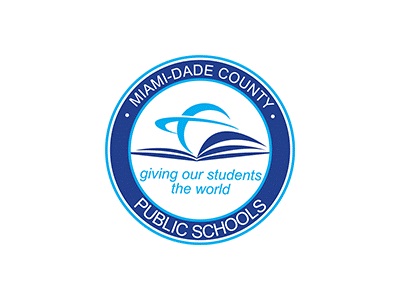 FOR IMMEDIATE RELEASE
Thursday, June 6, 2019
CONTACT: Daisy Gonzalez-Diego
Miami-Dade County Public Schools
305-995-2060
M-DCPS Ranked Among Highest Public School Systems on Forbes' List of "Best In-State Employers in Florida"
Miami-Dade County Public Schools (M-DCPS) is included on Forbes' list of America's Best-In-State Employers in Florida employing at least 500 in their U.S.-operations. M-DCPS was one of only eight Florida school districts included and was the only school system in South Florida and the only large, urban district in the state to make the list.  
"This honor proves what all of us at Miami-Dade County Public Schools already knew: not only is M-DCPS a world-class educational system and crucial partner in our community, but also an organization that is deeply committed to its employees," said Schools Superintendent Alberto M. Carvalho. "M-DCPS' workforce plays an integral part of this district's success."
America's Best-in-State Employers were identified by Forbes, in partnership with market research company Statista, based on an independent survey from a vast sample of 80,000 U.S. employees. The employees were not consulted via their employers, but were selected anonymously through several online panels, thus avoiding any influence from their employer.
The evaluation was made on a state-by-state basis and is based on two distinct criteria:
• Direct recommendations: Employees were asked to rate their willingness to recommend their own employers to friends and family. The responses were analyzed on a scale from 0 to 10, where 0 means "I wouldn't recommend my employer under any circumstances" and 10 means "I would definitely recommend my employer."
• Indirect recommendations: Participants were also prompted to evaluate other employers in their region and respective industries that stand out either positively or negatively.
Furthermore, the employees were asked 35 questions about work-related topics: Employees were asked to give their opinions on working conditions, salary, potential for development and company image regarding their current employer. The rate of agreement/disagreement regarding the statements was measured on a 5-point scale.
M-DCPS, the fourth largest school district in the country and the largest in Florida, engages in year-round hiring. Anchored in the District's Strategic Plan, Vision 20/20, M-DCPS recruits and employs the most qualified people, develops them deliberately and retains them strategically.

M-DCPS' highly talented workforce of more than 40,000 employees collectively provide a world-class education to the children of Miami-Dade County, Florida.
The District offers competitive salaries in a wide-ranging field of employment opportunities and exceptional benefits such as free employee healthcare coverage, Florida Retirement System contributions, and Annual Leave Accruals along with a myriad of professional development opportunities to aid employees in career advancement.
Anyone interested in joining this winning team can find additional information at http://jobs.dadeschools.net  
For the most up-to-date information, please download the Dadeschools mobile app to your iPhone or Android device.  Follow us on Twitter @mdcps and @miamisup and on Facebook at MiamiSchools and AlbertoCarvalho.