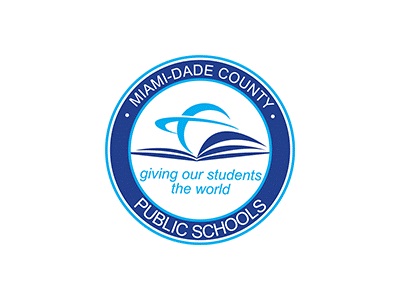 FOR IMMEDIATE RELEASE
Thursday, June 20, 2019
CONTACT: Daisy Gonzalez-Diego
Miami-Dade County Public Schools
305-995-2060
School Board Approves Contracts for Three GOB Projects Valued at $35.9 Million, Small Business Enterprise Goals Met or Exceeded
The Miami-Dade School Board approved the commissioning of architects and a construction award related to three General Obligation Bond (GOB) projects valued at approximately $35.9 million, during their regular monthly meeting yesterday.
Voters overwhelmingly approved the GOB in 2012 to renovate, remodel and replace schools; expand student capacity; enhance safety; and provide technology upgrades. The following are details of the projects:
Palm Springs North Elementary School – The scope of work for this project includes: a new two-story classroom building to house 466 student stations (approximately 32,288 square feet), which is a reuse of Madie Ives K-8 Center Classroom Building 04, including new entry courtyard, 16 new parking spaces, and all required covered walkways; a new Mechanical Equipment Building (approximately 1,853 square feet) to house existing chillers, flammable storage space and equipment storage; new fire alarm, security systems, public announcement (PA) system, clock, data, and telecommunications systems; and demolition of existing Building 01 (pending State of Florida approval), including related site restoration and landscaping.
Total project allocation - $13.3 million Completion – August 2021
Total Sub-Consultant S/MBE Participation: 32 percent
Lenora B. Smith Elementary School – The scope of work for this project includes: selective heating, ventilation, and air conditioning (HVAC) replacement/enhancement; selective plumbing replacement/repair; selective electrical system replacement; renovation of selected restrooms to ADA compliance; replacement of acoustical ceiling and light fixtures with new acoustical ceiling and LED light fixtures; enhancements to fire alarm system; repair to PA system; new emergency exit signs in classrooms; new built-in counters and cabinets in selected classrooms; renovation of stairway structure; improvements to security system; new high/low water coolers with bottle filler to comply with ADA; upgrades to existing security camera system; and exterior painting throughout the entire campus, as well as selective interior painting.
Total project allocation - $3.7 million Completion – June 2021
Total Sub-Consultant S/MBE Participation: 34 percent
Coral Gables Senior High School – The scope of work for this project includes: construction of a new, 357 student-station, two-story addition comprised of two art labs, kiln room, group restrooms, two staff restrooms, two social studies classrooms, gymnastics/dance room, dining and serving area, covered dining area, four computer labs, resource room, drafting and design lab, two JROTC rooms, science classroom, collaboration room and other associated spaces; construction of a new one-story addition comprised of a multi-purpose room, physical education room and a new central chiller plant for the entire campus; complete demolition of Building 6; partial demolition of Building 7; resurfacing of the existing parking lot; new sidewalks; miscellaneous sodding; drainage improvements to existing grounds and other miscellaneous upgrades throughout.

Total project allocation - $18.9 million Completion – May 2021
Total Sub-Consultant S/MBE Participation: 18.64 percent
Total Sub-Consultant M/WBE Participation: 20.46 percent
To learn more about School Board referendum project progress, visit http://gobprogress.com.
For the most up-to-date information, please download the Dadeschools mobile app to your iPhone or Android device. Follow us on Twitter @mdcpscapital @mdcps and @miamisup and on Facebook at MiamiSchools and AlbertoCarvalho.