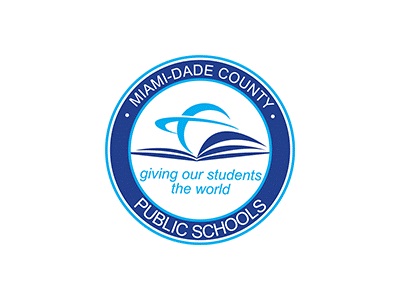 FOR IMMEDIATE RELEASE
Thursday, August 8, 2019
CONTACT: Daisy Gonzalez-Diego
Miami-Dade County Public Schools
305-995-2060
Accelerating Excellence: M-DCPS Unveils Bold Programs for 2019-2020 District Goes Greener, Adds New Facilities, Enhances Partnerships for Exciting Initiatives
Miami-Dade County Public Schools (M-DCPS) students, parents and employees will begin the school year with more than 130 new programs and initiatives designed to continue the innovation, academic rigor, parental engagement, and increased efficiencies in operations, for which M-DCPS has garnered national recognition. As in years past, emphasis was also placed on pushing boundaries related to green and sustainability initiatives. A number of these initiatives address specific School Board member priorities, and most are being undertaken with the use of supplemental funding and/or existing resources or leveraged community partnerships. Schools Superintendent Alberto M. Carvalho unveiled the District's new programs yesterday during a School Board Committee meeting.
"Miami-Dade County Public Schools continuously pursues every avenue in search of impactful innovation focused on student achievement and the betterment of our community," said Superintendent Carvalho. "This year's launch of an additional 86 choice options throughout the District will allow students to engage in a relevant and rigorous way."
New Initiatives
New and enhanced products and initiatives were unveiled to benefit students, employees, parents, and the community. These include the following:
Conservation Connections with Zoo Miami's Ron Magill - A project-based learning (PBL) and technology integration initiative for English Language Learners (ELL) students, which will include Microsoft Skype sessions hosted by Zoo Miami's conservation expert Ron Magill, allowing our students to connect to the zoo and its mission to "share the wonder of wildlife and help conserve it for generations to come." Students will learn from Magill's personal experiences of global conservancy efforts by participating in question-and-answer sessions.
Climate Change: Educating with the Future in Mind - Using M-DCPS Biscayne Nature Center for Environmental Education (BNCEE) as a learning lab, high school teachers and students will work on research and field studies impacting climate change in South Florida.
Aspen Challenge – This challenge will engage current high school students in identifying real-world problems and leveraging their knowledge, passion and creativity to develop innovative solutions to large-scale issues currently facing our society.
Harnessing Solar Energy - This initiative involves the installation of solar panels on the roofs of elementary and middle school physical education shelters and high school food shelters tied into the facility's electrical panel. This initiative will foster long-term interest and promote expansion of solar energy by exposing students, teachers and the community to the functional benefits of photovoltaic solar systems in a learning environment.
Eliminating Plastic Straws – As part of continued sustainability initiatives, the plastic straw will be eliminated from the utensil packet purchased for all cafeterias beginning in the 2019-20 school year. Separate paper straws will be provided to school cafeterias for students to select as needed. Research into the purchase of a compostable and/or biodegradable utensil to replace the current plastic straw will continue.
 (more)
M-DCPS' Bold 2019-2020 Programs, Initiatives / add one
Hydration Stations - Water bottle-filling stations will be installed in schools throughout the District. The placement of the stations would be prioritized to be located at drinking fountains nearest to the school cafeteria, and at least one at every floor level. Each station includes a high- and low-level drinking fountain plus the filing station. This initiative has the benefit of improving student health and achievement while reducing the amount of plastic waste that might otherwise be sent to a landfill.
Learn to Swim Program (LTSP) 2.0 - The expansion of the Learn to Swim Program will increase the number of Pre-K to second-grade students receiving swim and water safety lessons, as well as introduce more parents and students to the importance of water safety awareness.
K Readiness through VPK Expansion – This initiative will increase available high-quality VPK classrooms in 18 schools to promote academic and social skills that will contribute to kindergarten readiness.
Pre-K Inspire - Enhancement of select pre-kindergarten programs offered throughout the District with innovative methods and project-based learning inspired by the Reggio Emilia philosophy, which will help increase kindergarten readiness and promote pre-K enrollment.
Mental Wellness Matters Awareness Campaign - The awareness campaign will promote mental health understanding and dialogue for students and parents and will explain common mental health challenges and point students and parents to the many resources available in M-DCPS and the community.
Mindful Peer Exchange - The Mindful Peer Exchange program pairs Florida International University (FIU) students (those pursuing a degree in a mental health related field) with groups of high school students to cover age-appropriate lessons about mental health. This will provide them with the knowledge they need to recognize in themselves or others when they need help, and ensure they know how to get it.
Girl to Girl Mentoring Program – The Girl to Girl Mentoring initiative will tap the strength, energy, and capacity of local community, civic, educational, and professional organizations to provide women mentors to female students. By pairing young women with accomplished female mentors throughout our community, mentees receive guidance and support through their shared experiences. The 2019-20 school year will be used for planning and piloting with expansion scheduled for 2020-21. 
Touchdown for Values - This partnership with the Miami Dolphins for the 2019-2020 Values Matter Campaign will empower our youth to make decisions based on core values, allowing students to make positive and lasting contributions to our community.
Learning is HEAR with Audible - This is a digital and curricular initiative supported by Audible, an Amazon Company, to provide all ninth-grade students with a variety of audiobooks.
Modern Band Miami - Expansion of music programming at all elementary schools with the addition of a modern band strand focused on contemporary music, such as pop, rock, Latin, and rap. Little Kids Rock, Inc. will partner with M-DCPS to provide curriculum, professional development and musical instruments to every K-5 elementary school over a three-year period.
Miami Codes Plus – Miami Codes Plus will promote computer science literacy through coding, programming and robotics experiences for students, equipping them with the skills they need to be active citizens in our technology-driven world.
DadeCoding Student Challenge - This initiative involves a project-based learning contest for all schools with IT programs that combines coding, web design, database design and project management.
FIRST STEM: Equity Community Innovation Grant, Nurturing the Explorers and Inventors of Tomorrow (NEIT) - Eighteen elementary schools will receive LEGO robotics equipment and resource materials for students to promote 21st Century Skills and learn coding skills.

Lake Stevens Barbara Hawkins Melrose Elementary
Phyllis Ruth Miller Biscayne Beach         Miami Beach Fienberg/Fisher K-8 Center
John G. Dupuis         Ben Sheppard Henry M. Flagler
South Hialeah Tropical         Frances S. Tucker
Oliver Hoover Elementary Caribbean K-8 Center Zora Neale Hurston
Sweetwater Elementary Dr. William A. Chapman Dr. Edward L. Whigham
College Application Readiness Symposium (CARS) - This student-led symposium for rising seniors to bridge the college access opportunity gap by providing both peer-to-peer mentoring and expert college-planning resources to assist students in their preparation for the college application process.
Moving Exceptional Students Towards Real-world Opportunities (METRO) - Expansion of the transition and post-secondary programs for students with disabilities, including independent life skills, pre-employment skills such as self-determination/advocacy, professionalism and job readiness, and specific skill acquisition in areas such as hospitality, culinary arts, office management, customer relations, automotive and entrepreneurship.
iConnect: Connecting the Dots by Streamlining Post-Secondary Opportunities - Career planning and preparation is integral to postsecondary success. The iConnect App offers an approach to education that links what happens in the schools with opportunities in the real-world economy utilizing virtual reality. iConnect will be designed to carry students through a planned series of educational experiences culminating in rewarding careers. In addition, through a collaboration with Quality Lab, the use of virtual reality will be integrated into this initiative.
Play Like a PRO: Partnerships with Professional Sports Organizations - This is a partnership with professional sports organizations. Participating elementary schools and K-8 centers will receive training for teachers and students, curriculum resources, and free equipment for PE classes.
New Music and Arts Facilities  
• Miami Arts Studio at Zelda Glazer: New performing arts theater, music labs, dance studio and TV production studio
• Norland Middle School: New black box theater and courtyard
• Caribbean Elementary and Myrtle Grove K-8 Center:  New 5,000 sq. ft. art and music suites
• New K-8 Center in Doral: Will be equipped with art and music suites
Senior High School Building Replacements  
• Miami Palmetto Senior High: 120,000 sq. ft. of new construction including classrooms, specialty labs, art, little theater, and student dining
• Coral Gables Senior High (Phase 1): New two-story building with classrooms, specialty labs, and student dining
Time to Shine: Redefining Bell Times for Student Success - This initiative seeks to explore the feasibility of implementing an alternative bell schedule that considers the health needs of all students, while improving transportation efficiency to increase student access to our high demand programs.  Information-gathering and planning will occur during the 2019-2020 school year for possible implementation during the 2020-2021 school year.
Enhanced School Bus Monitoring Platform - Current Global Positioning Systems (GPS) monitored buses have added additional safety features that allow M-DCPS to follow buses while on their routes, providing real-time data regarding the fleet. Upgrading the existing GPS system to one that can be integrated to a student tracking system, the benefits of the system increase exponentially by decreasing the risk of missing students, adding the ability to confirm pickup and drop off times and locations, reducing the risk of student truancy, and decreasing parent anxiety regarding missing students and/or school bus location.

PD Central - The state-of-the-art professional development facility will be housed at the Miami-Dade Schools Police headquarters. The facility will be equipped with devices, smartboards and i-tech style furniture. Completion is expected for July 2020.
New Teacher Resource Center - The New Teacher Resource Center is designed to be a single, multi-access location and platform that provides support to early career teachers.  The New Teacher Resource Center is focused on providing easily accessible and readily available instructional, induction, and onboarding resources.
Digital Convergence 4.0 - In order to drive technology use and ensure graduates have the 21st century skills needed for higher education and the workforce, DC 4.0 will dedicate a $24 million technology investment in teacher computers, mobile devices, and interactive panels with an increased emphasis on professional development and support for classroom teachers.
Leveraging SEL to Support ELLs in the Middle School Classrooms: A Book Study - Through book study, this initiative will assist teachers in seamlessly incorporating Social Emotional Learning (SEL) competencies and strategies for instructional personnel in traditional middle schools.
Open Educational Resources Initiative - A library of vetted high-quality, open, educational digital resources will enhance teachers' ability to personalize learning for students using rich digital content, drive equity by providing all students with access to high-quality learning materials, and open-up possibilities to reallocate funds currently used for purchasing licensed instructional resources.
Pre-service Teacher Online Toolkit - The Online Toolkit was developed to further enhance M-DCPS' partnership with local institutes of higher education that prepare pre-service teachers.  The toolkit will provide resources and opportunities for teachers in training to learn and interact with resources that are used by M-DCPS teachers.
Parent Navigator - Set for release during the second semester, this is an app that will allow parents to track the status of their child's eligibility for Special Education services (ESE and Gifted).
The Parent Academy (TPA) Virtual Campus - The TPA Virtual Campus will expand the depth and width of parent education offerings across the district through no-cost, online resources such as on-demand virtual workshops and webinars in English, Spanish and Haitian-Creole.
Citizens Police Academy - The Citizens Police Academy will familiarize citizens with the operations of the police department. The academy is intended to open lines of communication between the community and the police department.
Clerical 2 Teach Academy - The academy will provide an avenue for current M-DCPS clerical employees to enrich their career paths by transitioning from support roles to opportunities as full-time, classroom teachers.  The C2T Academy provides support, in partnership with local colleges, which allow current support personnel to pursue state certification in key, high-need areas.
New Choice Offerings

New programs for this year include the following (All are in opening/implementation mode in 2019-2020 or planning mode for a 2020-2021 implementation):
• Magnet Program Re-envisioning - The 2019-20 school year will begin the planning phase for enhancement at John F. Kennedy Middle and North Miami Beach Senior based on STEM instruction within their magnet programs that will incorporate Project-Based Learning. This enhancement allows for a transition of students to remain within M-DCPS magnet programs from grades 6 through 12.
• iBot at Avocado, Banyan, Carol City, Charles Hadley, Citrus Grove, Comstock, Emerson, Eneida M. Hartner, Gulfstream, Hibiscus, John G. DuPuis, Kendale, Kensington Park, Marjory Stoneman Douglas, Miami Heights, Natural Bridge, Rockway, Santa Clara, Shenandoah, Silver Bluff, South Miami Heights, Twin Lakes, West Hialeah Gardens and Whispering Pines elementary schools, and David Lawrence Jr., Miami Beach Fienberg/Fisher, and Madie Ives K-8 centers
• Verizon Innovative Learning at Andover, Lake Stevens, Paul W. Bell, Ruben Dario, and Hammocks middle schools
• iQUEST Academy at Paul W. Bell Middle School - This initiative will provide educational and behavioral services to middle school students with Emotional/Behavioral Disabilities (E/BD) and students with Attention Deficit Hyperactivity Disorders (ADHD) through explicit instruction in social emotional learning.
• zSpace Medical Health Sciences at Horace Mann, South Dade, Ruben Dario, and Howard D. McMillan middle schools, as well as a Biomedical program at Country Club Middle School
• Arts and Humanities 
o Barbara Hawkins Elementary: Music Access Fellowship/Young Musicians United
o Brentwood Elementary: Music Access Fellowship/Young Musicians United
o Carol City Elementary: Music Access Fellowship/Young Musicians United
o Carol City Middle: Music Access Fellowship/Young Musicians United
o Coconut Grove Elementary: French Program
o Miami Shores Elementary: Cambridge
o Pine Villa Elementary: Dance
o Sunset Elementary: International Studies
o Arthur & Polly Mays 6-12 Conservatory of the Arts: Fashion Design
o Miami Arts Studio 6-12 @ Zelda Glazer: Visual Arts Strand
o Miami Carol City Senior: Music
• New Career and Technical Education (CTE) and STEAM Programs

o Lake Stevens Elementary: STEAM Lab
o Miami Gardens Elementary: STEAM Lab
o Mandarin Lakes K-8 Center: Robotics
o Miami Springs Middle: STEAM
o Redland Middle: Robotics
o Cutler Bay Senior: Digital Business Marketing
o Hialeah Gardens Senior: Criminal Justice Operations
o Hialeah-Miami Lakes Senior: Space Exploration Technology
o Miami Sunset Senior High: Space Exploration Technology
o Miami Springs Senior: Teaching K-12
o Miami Springs Senior: Trade and Logistics
• New CTE Coding

o North Dade Middle
o Benjamin Franklin K-8 Center 
o Leewood K-8 Center 
o Ethel Koger Beckham K-8 Center
o Ernest R. Graham K-8 Center
o iTech @ Thomas A. Edison Educational Center
• New CTE Virtual Reality

o North Miami Beach Senior
o Homestead Senior
o Leisure City K-8 Center
• Enhancements of Existing CTE Programs

o G. Holmes Braddock Senior: Gaming/Animation
o John A. Ferguson Senior: TV Production
o Miami Sunset Senior: Allied Health & EMR & EKG courses
o William H. Turner Technical Senior: Cybersecurity, Agriscience, Entertainment Technology
o Miami Lakes Educational Center: Computer Science and Programming
o Young Women's Preparatory Academy: Business/IT
o South Dade Senior: Agricultural Technology (Ag Tech) Operations
o Coconut Palm K-8 Center: Agriscience and Biomedical Engineering
o North Miami Senior: Intro to Firefighting
For the most up-to-date information, please download the Dadeschools mobile app to your iPhone or Android device.  Follow us on Twitter @mdcps and @miamisup and on Facebook at MiamiSchools and AlbertoCarvalho.