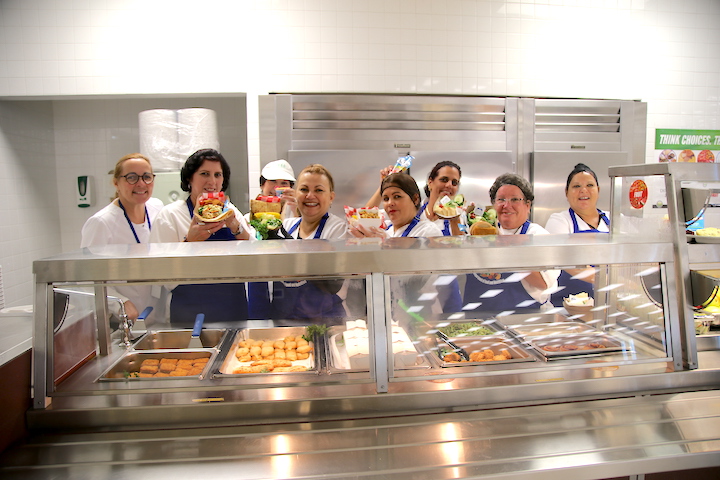 FOR IMMEDIATE RELEASE
Tuesday, August 13, 2019
CONTACT: Daisy Gonzalez-Diego
Miami-Dade County Public Schools
305-995-2060
M-DCPS Going 'Lean & Green' for Healthy Students and the Environment
At a food roll-out event held at Hialeah Gardens Senior High School yesterday, Miami-Dade County Public Schools' Department of Food and Nutrition presented a picturesque and delightful tasting of the new breakfast and lunch menu items that will be available for the 2019-2020 school year.
"We are so excited for the 2019-2020 school year," said Penny Parham, Food and Nutrition Officer for the District. "We are always about heathy eating options for our students and, this year, we are taking it up a notch. We are going to have more fruits and vegetables, more salad bars, more plant-based entrees and side dishes."
New offerings this school year - cheesy bites
and egg and potato frittatas.

Among the new items are cheesy bites, fruit smoothies, vegetarian breakfast patties, potato and egg frittatas, whole grain cinnamon rolls, turkey and cheese calzones and vegetarian chow mein, which comes with a fortune cookie. Back by popular demand are fish filets and nuggets, along with an even larger variety of colorful fruits and vegetables.
New healthy lunch menu items: veggie chow mein with "veggie bites,"

and the popular returning entrees: fish filets and nuggets.

"This year, the new menu is awesome for students trying to eat healthy every day," said Johanna Duarte, Food Service manager at Jane Roberts K-8. "We have a lot of alternatives for the vegan or vegetarian kids and a lot of new items are coming. I know the kids will enjoy eating from this menu this year."