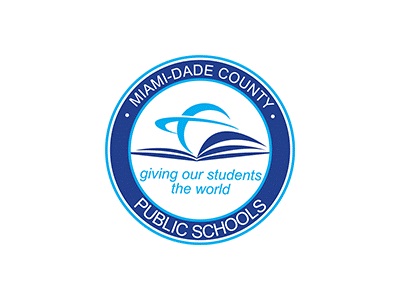 FOR IMMEDIATE RELEASE
Thursday, August 15, 2019
CONTACT: Daisy Gonzalez-Diego
Miami-Dade County Public Schools
305-995-2060
School Board Approves Contracts for Two GOB Projects Valued at $9.4 Million, Small Business Enterprise Goals Met or Exceeded
The Miami-Dade School Board approved the commissioning of architects related to two General Obligation Bond (GOB) projects valued at approximately $9.4 million yesterday, during its regular monthly meeting.  
Voters overwhelmingly approved the GOB in 2012 to renovate, remodel and replace schools; expand student capacity; enhance safety; and provide technology upgrades. The following are details of the projects: 
Miami Beach South Pointe Elementary School – The scope of work for this project includes: 
A new two-story classroom building (for Grades 1 thru 3) to be located on the northeast side of the property.  The new 8,567 square foot (SF) building will house 144 student stations and will include eight primary classrooms (each with a student restroom), two staff restrooms, service and storage rooms, two stairways and an elevator.  Design includes provisions for future expansion of a two-story Primary Classroom Addition (for Grades 1 thru 3) as part of long-range plans.
The project also includes the following work on the campus: a new metal covered walkway and elevated concrete walkway; additional parking spaces; and selective heating, ventilation and air conditioning (HVAC) and energy management system (EMS) replacement/enhancement.
Total project allocation - $4.5 million               Completion – August 2021
Total Sub-Consultant S/MBE Participation: 36.25 percent
Homestead Middle School – The scope of work for this project includes but it is not limited to: resurfacing and re-striping of three courts with synthetic rubber surface marked for basketball and volleyball; four new basketball backboards with metal gooseneck-type standards and foundations; replacement of selected exterior and interior doors, vinyl composition tile (VCT) floor and rubber base; selective HVAC and EMS replacement/enhancement; renovation of selected student and staff restrooms to be ADA compliant; upgrades to the auditorium; replacement of selected bi-level electric water coolers with bottle fillers to be ADA compliant; replacement of selected light fixtures with new LED light fixtures; replacement of glass and metal panel window walls and security screens with new impact windows and shades; and selective exterior and interior painting. 
Total project allocation - $4.9 million               Completion – February 2022
Total Sub-Consultant S/MBE Participation: 28 percent 
To learn more about School Board referendum project progress, visit http://gobprogress.com.  

For the most up-to-date information, please download the Dadeschools mobile app to your iPhone or Android device.  Follow us on Twitter @mdcpscapital @mdcps and @miamisup and on Facebook at MiamiSchools and AlbertoCarvalho.