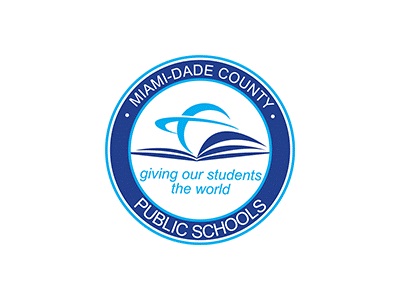 FOR IMMEDIATE RELEASE
Thursday, September 5, 2019
CONTACT: Daisy Gonzalez-Diego
Miami-Dade County Public Schools
305-995-2060
School Board Approves Contracts for Two GOB Projects Valued at $15.8 Million, Small Business Enterprise Goals Met or Exceeded
The Miami-Dade School Board approved the commissioning of architects related to two General Obligation Bond (GOB) projects valued at approximately $15.8 million yesterday, during its regular monthly meeting.  
Voters overwhelmingly approved the GOB in 2012 to renovate, remodel and replace schools; expand student capacity; enhance safety; and provide technology upgrades. The following are details of the projects: 
Everglades K-8 Center – The scope of work for this project includes resurfacing and re-striping of six  hardcourts for basketball and volleyball; replacement of selected heating, ventilation, and air conditioning (HVAC) equipment with energy management system (EMS); emergency self-contained equipment for classrooms and other spaces that require emergency lighting; selected new emergency exit signs;  replacement of the fire alarm and public address (PA) systems; selected replacement of aluminum and glass storefront systems, windows and exterior hollow metal doors with new impact resistant storefront and shades, impact resistant windows and shades; renovation of selected student restrooms to be ADA compliant; exterior painting and selective improvements to the cafeteria.
Total project allocation - $4.7 million               Completion – January 2022
Total Sub-Consultant S/MBE Participation: 31.5 percent
K-8 Conversion at Biscayne Gardens ES/Thomas Jefferson Middle School (Phase I) – Due to the similarity of scope and programming for this project, staff determined that a reuse of the design for Replacement Classroom Building 01 at Palm Springs North Elementary School would be economically advantageous to the District. The scope of work for Phase I of this project includes but is not limited to: demolition of two existing basketball courts, and one relocatable building; site restoration as required for new building and new bus drop-off construction; construction of two-story classroom building to house 518 student stations (approximately 32,072 square feet), including new entry paving, landscaping, and all required covered walkways; new bus drop-off area; two new basketball courts; new P.E. shelter; new fire alarm, public address, clock, instructional TV, security camera, telecom/data systems; connections to existing on- and/or off-site infrastructure to new building, including, but not limited to water and sewer, storm drainage, and electric service.
Total project allocation - $11.1 million              Project Completion – July 2021
Total Sub-Consultant S/MBE Participation: 34 percent 
To learn more about School Board referendum project progress, visit http://gobprogress.com.  

For the most up-to-date information, please download the Dadeschools mobile app to your iPhone or Android device.  Follow us on Twitter @mdcps and @miamisup, on Instagram @miamischools and @miamisup, and on Facebook at MiamiSchools and AlbertoCarvalho.