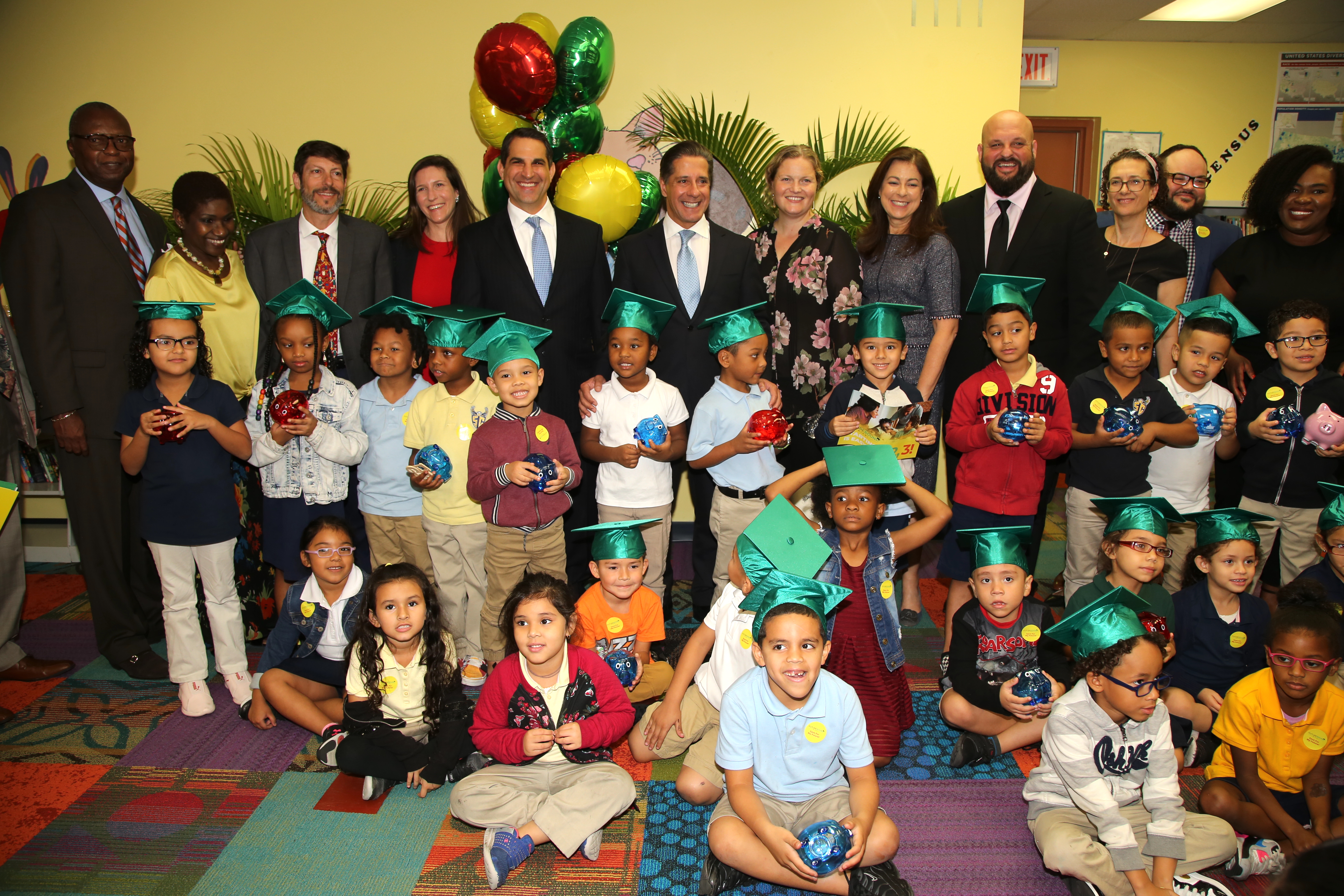 FOR IMMEDIATE RELEASE
Wednesday, November 13, 2019
CONTACT: Daisy Gonzalez-Diego
Miami-Dade County Public Schools
305-995-2060
Future Bound Miami Unique Children's Savings Account Program Launched for M-DCPS Kindergarteners
Future Bound Miami, a Children's Savings Account (CSA) program was launched at Santa Clara Elementary thanks to a collaboration among several partners. This initiative will be the first of its kind in the state of Florida and will eventually become the largest CSA program in the country.
Research shows that children having even $1 in a college savings account are three times more likely to go to college and four times more likely to graduate. Universal savings accounts for children put postsecondary education within reach by allowing students and families to accumulate savings and increase educational expectations.
Schools Superintendent Alberto M. Carvalho praised the investors, "You plant the seed early on, and the tree of opportunity will continue to grow. This is just the beginning of a program that will be expanded to reach all zip codes in Miami-Dade. We are making the right investment, at the right time, for absolutely the right people."
Beginning this school year, each kindergarten student attending M-DCPS elementary schools located within the City of Miami will have an initial deposit amount—a "seed" incentive reward— placed into an account for them to receive upon graduating from a M-DCPS high school. The City of Miami is providing the seed incentive for this phase.
Santa Clara Elementary parents sign up their children for the savings accounts.
Parents have until December 6 to sign up their kindergartner for the initiative.
Students participating in Future Bound Miami each received piggy banks to teach them to start saving.
For the most up-to-date information, please download the Dadeschools mobile app to your iPhone or Android device.  Follow us on Twitter @mdcps and @miamisup, on Instagram @miamischools @miamisup, and on Facebook at MiamiSchools and AlbertoCarvalho.
TOP CAPTION:  Pictured left-to-right: Milton Vickers, City of Miami; Gepsie Metellus of Sant La Haitian Neighborhood Center; School Board Vice Chair Dr. Martin Karp; Rebecca Mandelman of the Miami Foundation; Children'sTrust CEO James Haj; Schools Superintendent Alberto M. Carvalho; Catalyst Miami CEO Gretchen Beesing;  United Way of Miami CEO Maria Alonso, and Santa Clara Elementary Principal Ramses Ancheta are joined by kindergarteners from Santa Clara Elementary who received graduation caps and piggybanks forenrolling in the newly launched Children's Savings Account.