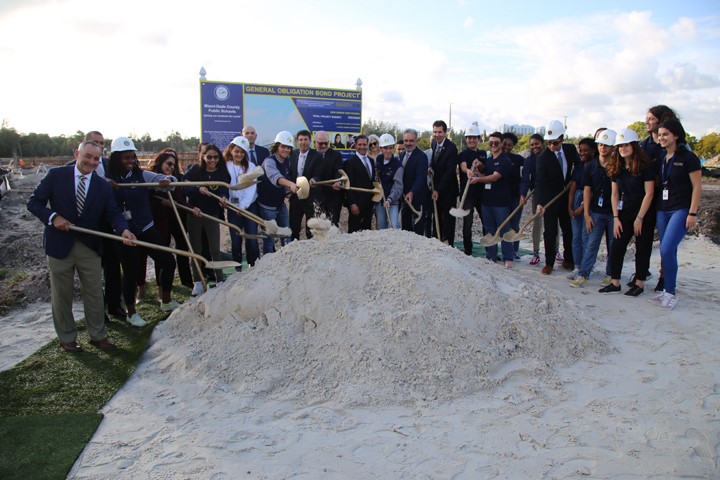 FOR IMMEDIATE RELEASE
Friday, December 13, 2019
CONTACT: Daisy Gonzalez-Diego
Miami-Dade County Public Schools
305-995-2060
Groundbreaking of New GOB Construction Project held at MAST@FIU BBC
Schools Superintendent Alberto M. Carvalho, School Board member Dr. Martin Karp, FIU President Mark B. Rosenberg, North Region Superintendent Jose Bueno, Principal Dr. Matthew J. Welker, District administrators, school staff and students gathered yesterday afternoon to officially break ground on the construction of a new three-story, 52,273 square-foot classroom building at Marine Academy of Science Technology (MAST) Senior High School @ FIU Biscayne Bay Campus.
Many of the students at the event were taken with the pomp of the ceremony and the futuristic vision of their school. "My experience was really great!" said 11th-grader Nikola Desnica. "The venue and formality amplified the elegance of it all. I got the chance to meet important people like Dr. Karp and other district representatives. Also, when I saw the Virtual Reality version of our future school, my excitement went through the roof. I can't wait for the Fall of 2020!"
Architect Wolfberg Alvarez & Partners, Inc. and Contractor Florida Lemark Corporation have been chosen to deliver the $19.7 million project, which includes a new 640-student station, three-story building with 17 general classrooms; two indoor environmental labs with aquatic coral reef fish tanks; science laboratories with wet/dry storage; a wetland research observation area; an open-air environmental classroom with canoes and boat storage; collaboration skill center; indoor dining and serving area; kitchen/food prep area; loading dock area; restrooms; security cameras; entrance/exit drives; parent drop-off lane; visitor and staff parking; perimeter fencing; landscaping; and drainage improvements.
The school bond projects resulted from voter approval of the $1.2 billion General Obligation Bond. The bond is being used to modernize and construct school buildings throughout the District, expand student capacity, enhance facility safety, and provide technology upgrades at all schools. 
To learn more about the General Obligation Bonds progress, visit http://gobprogress.com and @MDCPScapital on Instagram and #GOBprogress on Twitter.
For the most up-to-date information, please download the Dadeschools mobile app to your iPhone or Android device.  Follow us on Twitter @mdcps and @miamisup, on Instagram @miamischools and @miamisup, and on Facebook at MiamiSchools and AlbertoCarvalho.