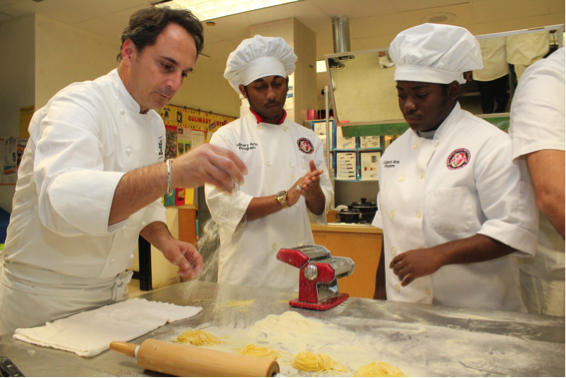 FOR IMMEDIATE RELEASE
Wednesday, December 18, 2019
CONTACT: Daisy Gonzalez-Diego
Miami-Dade County Public Schools
305-995-2060
Miami Edison SHS Culinary Students Receive Master Class from Two Michelin Star Chef Nino di Costanzo
Recently, nearly two dozen culinary students took part in a once-in-a-lifetime opportunity to learn directly from one of the top-rated chefs in the world. Two Michelin star Chef Nino Di Costanzo taught a master cooking class for the culinary academy students at Miami Edison Senior High School in Little Haiti.
Chef Di Costanzo was in South Florida for a short time to take part in the grand opening of Luna Park, Brickell's newest food hall serving Italian food. Luna Park's Executive Chairman Roberto Costa saw an opportunity to bring the culinary genius into the school, with which his restaurant has recently begun a partnership.
"This is just the beginning. We want to organize a course to teach these students long term. We would like to provide job shadowing, master classes and eventually hire many of these students. They are passionate and this is the first step. They don't have to know anything right now. The passion is the key," said Costa.
As part of Luna Park's new partnership with Miami Edison, Costa has committed to donating restaurant tables and chairs to help outfit a school room into a café, which can be utilized to teach front-of-house restaurant education.
Miami Edison Principal Leon Maycock is grateful for the support of his successful culinary magnet program, which draws in more than 80 students from around Miami-Dade County.
"When you bring community partners from the outside into your school, you expose kids to global opportunities," said Maycock. "Partnership gives our kids a different outlet and a career path, sometimes for a passion that doesn't always require a college degree. Words can't really describe the gratitude we have for this partnership with Luna Park. This is an incredible blessing."