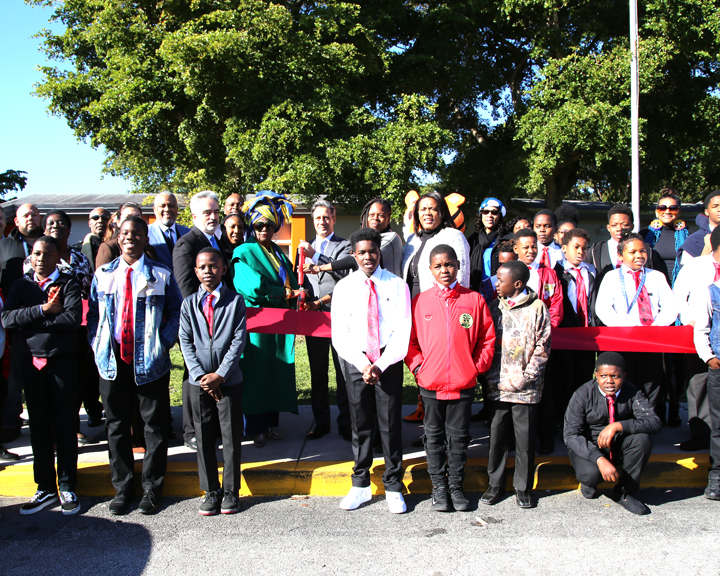 FOR IMMEDIATE RELEASE
Wednesday, January 22, 2020
CONTACT: Daisy Gonzalez-Diego
Miami-Dade County Public Schools
305-995-2060
M-DCPS Unveils New GOB Project at Benjamin Franklin K-8 Center
Schools Superintendent Alberto M. Carvalho, School Board member Dr. Dorothy Bendross-Mindingall, Principal Diana Loubeau, District administrators, school staff and students gathered this morning to unveil a new nine-classroom 198-student station building addition at Benjamin Franklin K-8 Center.


Many students, like 7th-grader Ketwone Reid, were enthusiastic about the ceremony and their school's new vision. "[Ben Franklin K-8] has been getting better and better over the years and I don't think it'll stop until it is one of the best in the District," said Ketwone. "I believe the kids are just going to get more motivated with the more renovations there are."
Architect MCHarry & Associates and General Contractor D. Stephenson Co. completed the $9.1 million GOB project, which also includes administrative offices and an attached PE canopy. The remaining buildings will be remodeled to include new windows and heating-ventilation-air conditioning units; additional administrative offices; upgraded restrooms in five buildings; demolition of existing portables; new parking, landscaping, covered walkways, shaded playground, P.E. equipment, and water coolers; and other miscellaneous improvements throughout.


The school bond projects resulted from voter approval of the $1.2 billion General Obligation Bond. The bond is being used to modernize and construct school buildings throughout the District, expand student capacity, enhance facility safety, and provide technology upgrades at all schools.
For the most up-to-date information, please download the Dadeschools mobile app to your iPhone or Android device. Follow us on Twitter

@mdcps

and

@miamisup

, on Instagram

@miamischools

and

@miamisup

, and on Facebook at

MiamiSchools

and

AlbertoCarvalho
PHOTO CAPTION: (Pictured center) Superintendent Alberto M. Carvalho is flanked by School Board Member Dr. Dorothy Bendross-Mindingall (left) and Ben Franklin K-8 Center Principal Diana Loubeau (right), administrators and students as they cut the ribbon on the school's new construction project.