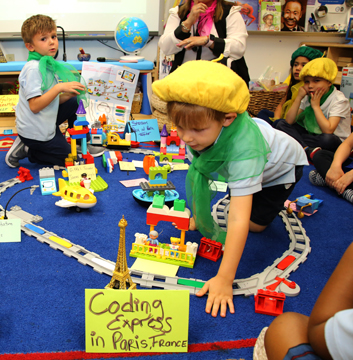 FOR IMMEDIATE RELEASE
Thursday, February 20, 2020
CONTACT: Daisy Gonzalez-Diego
Miami-Dade County Public Schools
305-995-2060
M-DCPS, Jackson Health System Promote VPK Lottery, Announce Partnership to Expand STEAM for Preschoolers
Miami-Dade County Public Schools (M-DCPS) Superintendent Alberto M. Carvalho and Jackson Health System President and CEO Carlos Migoya unveiled the VPK STEAM initiative, a partnership to promote the expansion of STEAM for preschoolers at schools near Jackson facilities, at a news conference today. STEAM education promotes science, technology, engineering, art and mathematics by supporting critical-thinking and 21st century learning skills.
Jackson Health System provided LEGO Education's Park and Coding Express kits to supplement the classroom materials at numerous schools. The kits will build on every child's natural curiosity and desire to create, explore and investigate through creative play using the popular building blocks.
Voluntary Pre-Kindergarten or VPK, a state-funded program that prepares 4-year-old children for Kindergarten and beyond, is available in more than 200 Miami-Dade public schools across the county. The school district has launched its Ready, Set, Enroll! campaign to help promote a variety of early childhood education programs for the 2020-2021 school year and is currently accepting applications. Children must be 4 years old on or before September 1st to enroll.
M-DCPS' VPK Program uses a lottery to select students. After submitting proof of birth and address to their home/neighborhood school, prior to the February 28, 2020 deadline, families will be entered into the VPK lottery. The lottery will be held on Friday, February 28, 2020 at each non-magnet elementary/K-8 school site. Children whose names are drawn in the lottery will be selected to attend the program.
Superintendent Alberto M. Carvalho helps iPrep prekindergartners set up their LEGO
Education Park and Coding Express kit.
Recently released VPK Provider Rates indicate that 91 percent of M-DCPS schools with VPK programs demonstrated State Kindergarten Readiness requirements. Quality early learning programs that include multi-disciplinary learning enhance and support early brain and language development and maximize readiness for Kindergarten.
Miami-Dade County Public Schools (M-DCPS), an A-rated district, is the nation's fourth largest school system with nearly 400 schools and a diverse enrollment of more than 350,000 students from over 160 countries. Our ongoing tradition of groundbreaking achievement has earned top recognition at the national and international levels. M-DCPS also recently reached a landmark graduation rate of 89.2 percent.
For the most up-to-date information, please download the Dadeschools mobile app to your iPhone or Android device.
Follow us on Twitter
@mdcps
and
@miamisup
, on Instagram
@
miamischools
@miamisup
, and on Facebook at
MiamiSchools
and
AlbertoCarvalho
.
TOP PHOTO: iPrep students play with LEGO Education's STEAM Park and Coding Express kits provided by Jackson Health System.