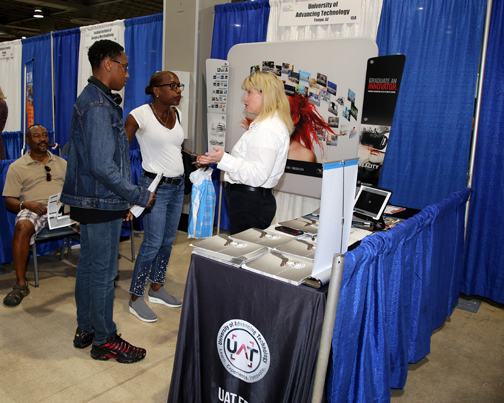 FOR IMMEDIATE RELEASE
Wednesday, February 26, 2020
CONTACT: Daisy Gonzalez-Diego
Miami-Dade County Public Schools
305-995-2060
2020 National College Fair Draws Thousands of Students and Parents to Consider Numerous College Choices
Miami-Dade County Public Schools (M-DCPS) experienced another successful National College Fair last Sunday at the DoubleTree by Hilton Miami Airport Hotel & Convention Center. More than 10,000 students and parents participated in the four-hour event where representatives from 200 colleges and universities provided answers to questions regarding admissions, financial aid, housing, testing requirements and more.


"This is a wonderful and beneficial opportunity for our students to get information and learn about the variety of academic choices that are available to them," said School Board Chair Perla Tabares Hantman, who has co-chaired Miami-Dade's College Fair for more than two decades.

As in previous years, students were able to pre-register to obtain an electronic ID permitting them to request valuable information from the multiple learning institutions. The National Association for College Admission Counseling (NACAC) and M-DCPS sponsored the free event.

COLLEGE FAIR - Miami-Dade School Board Chair Perla Tabares Hantman, Schools Superintendent Alberto M. Carvalho and School Board
members Mari Tere Rojas and Dr. Lawrence Feldman meet students from Homestead Senior High School who attended the 2020 College Fair.
Miami-Dade County Public Schools (M-DCPS), an A-rated district, is the nation's fourth largest school system with nearly 400 schools and a diverse enrollment of more than 350,000 students from over 160 countries. Our ongoing tradition of groundbreaking achievement has earned top recognition at the national and international levels. M-DCPS also recently reached a landmark graduation rate of 89.2 percent.
For the most up-to-date information, please download the Dadeschools mobile app to your iPhone or Android device.

 

Follow us on Twitter
@mdcps
and
@miamisup
, on Instagram
@miamischools
@miamisup
, and on Facebook at
MiamiSchools
and
AlbertoCarvalho.
TOP PHOTO:
A Miami-Dade student and his parents listen to a representative from the
University of Advancing Technology in Tempe, Ariz.