Racing for Education at the Superintendent's 5K Challenge
"Ready, set, go!" With those words, more than 3,300 teachers, students, parents and community supporters kicked off the 2nd annual Superintendent's 5K Challenge at downtown Miami's Museum Park, also known as the #MiamiSup5K.

Promoting #ArtsInOurSchools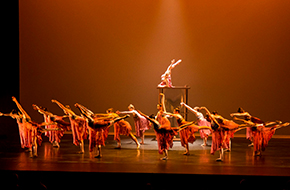 Miami-Dade County Public Schools has a long-standing tradition of supporting arts in schools. Arts programs are known to strongly influence a student's academic success in language arts, science and math.

M-DCPS Hall of Fame Adds Distinguished Alumni
Miami-Dade County Public Schools' Alumni Hall of Fame inducted seven great Miamians who exemplify the best of human achievement.

An #iNside Look @MDCPS

Find out what happens inside our classrooms. Take an #iNsideLook at some of the incredible programs available @MDCPS.

iNspiration @MDCPS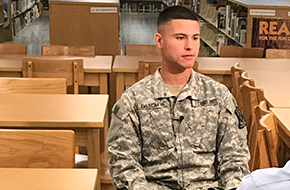 Set to graduate in the top five percent of his class, meet Antonio, a proven leader at the Home of the Patriots.
Name: Antonio Avellaneda-Ruiz

School: 12th grade student at American Senior High School

Accomplishments: For the past four years, Antonio has received Superior Honors in all of his classes and he has been part of the National Honor Society and JROTC Physical Fitness team. He was accepted to The United States Military Academy at West Point, becoming the first American Senior student to receive an appointment to the prestigious institution.


iNspiration @MDCPS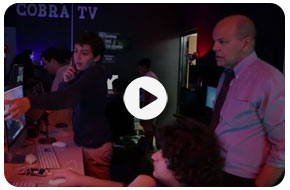 A passionate educator and mentor, meet the 2018 Francisco R. Walker Teacher of the Year.
Name: Rudy Diaz

Occupation: TV production teacher at South Miami Senior High School

Accomplishments: Three-time Emmy award-winner for his work in television, assisted in developing TV production standards for M-DCPS' TV magnet programs, seeing former students on the local and national news is the strongest evidence of his success.


Stay iNformed and Connected

In just a few weeks, schools across the District will punctuate the end of another school year with celebrations, award and commencement ceremonies. Like a time-honored tradition, students, parents, teachers, and school site staff beam with excitement as graduation season begins for our seniors and we look ahead with boundless anticipation to the next level of teaching and learning for students returning in the fall. While this time of year is exhilarating and signals the completion of our collective, targeted and goal-oriented work, it's also a time to reflect on the accomplishments and milestones that have guided us to the finale of another stellar academic year.

Miami-Dade County Public Schools (M-DCPS) is the best in the nation. More than just an affirmation, it is, in my estimation and that of many others, a fact as demonstrated by the remarkable work of our teachers and employees and the achievements of our students - all of whom are the best of the best. We continue to achieve exceedingly high graduation rates surpassing that of other large Florida school districts. This year and for the past several years, M-DCPS has received numerous state and national honors recognizing our phenomenal efforts to increase student achievement and to ensure equity of student access to accelerated coursework. Just recently, the school system was selected as the recipient of the third Donna Grady-Creer District Award for Magnet Sustainability by Magnet Schools of America (MSA). The award is MSA's designation of the highest performing school district of the year exemplifying a commitment to equity, excellence, diversity, and highly sustained support of magnet schools. In addition, M-DCPS academies received more distinguished and model level designations from National Academy Foundation (NAF) than any other district in the nation. U.S. News & World Report announced its annual list of America's Best High Schools and M-DCPS was a leader both statewide and nationally. The district is home to seven of the top 100 high schools in the country, half of the schools in Florida's Top 20 and four – 40 percent – of Florida's Top 10.

While we maintain cautious optimism about the future of education in Miami-Dade's public schools, we cannot ignore the reality of today. Recently, state lawmakers made the ill-advised and unthinkable decision to dramatically cut funding to public education. If not vetoed by the governor, the impending impact of this legislation will have adverse and, in some respects, irreparable consequences, leaving our schools, classrooms and students devastated. The education of our children – all children – should be the foremost priority of the legislature, and that means appropriate funding.

Innovation, efficiency, accountability, and integrity continue to define the District's financial practices as budget decisions are driven by instructional needs and the highest priority on student learning. Our fiscal diligence has been noted by Standard and Poor's (S&P) Global Ratings. In April, S&P raised the District's long-term rating from "A+" to "AA-" with a stable outlook.

I am profoundly proud of our students, workforce, parents, community partners, as well as the results we deliver every single school day in every classroom across the District. Together we are reimaging education, expanding academic enrichment opportunities, and building school facilities that support innovation and global learning. This year has been remarkable. Next year will be even better


Alberto M. Carvalho
Superintendent

iNfact
M-DCPS' GOB program has surpassed the $500 million mark. As of April 2017, GOB expenditures and contracted work totaled approximately $541.3 million.
Project UP-START unveiled its new prom boutique, offering 6,000 deserving students the opportunity to pick out dresses, accessories, tuxedo, shoes, and more.
Superintendent of Schools Alberto M. Carvalho was honored with a Positive Impact Honorary Award by Hispanicize, an annual event for Latino trendsetters and newsmakers.
In celebration of Earth Day, M-DCPS' Department of Food & Nutrition featured the Lean & Green vegetarian entrée Beyond Meat Beefaroni at all schools.
Maritza D. Jimenez was named the 2017 Principal of the Year. She leads Hialeah Gardens Middle School (HGMS) a school with more than 1,700 students.
Once again, M-DCPS is the number one blood donor school district in the state of Florida. M-DCPS collected more than 11,000 pints of blood to help save lives.

iChoose M-DCPS

North Miami Senior High School

Michelle Bernstein, Chef and Restaurateur

"My teachers at North Miami Middle and Senior High schools inspired me to follow my heart. They gave me outlets for my passion, allowing me to bring baked goods for students and of course themselves to (sometimes) devour. My favorite and most memorable cookbook is the one I wrote in English class, as cookbooks were always my favorite bedtime book. I truly feel that it's because of those remarkable and patient men and women that I have the drive and unending willingness to keep improving and striving."