Providing Opportunities for Students & Local Businesses through NAF Academies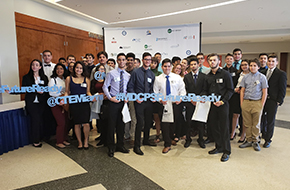 Last month, Miami-Dade County Public Schools (M-DCPS) sponsored the 2018 National Academy Foundation (NAF) Mega Student Industry Conference for approximately 1,500 high school students.

VIVA SWIMMING! Swimming Can Be Fun and Safe Too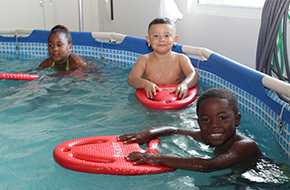 With rising temperatures, water adventures beckon us! Let's get prepared to be swim-safe-ready. Learn to swim programs promote water safety skills and are dedicated to keeping children safe through education and awareness.

Promoting Health and Wellness @MDCPS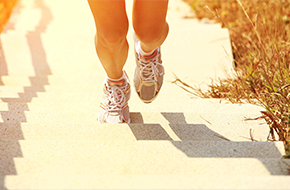 Miami-Dade County Public Schools (M-DCPS) has consistently taken proactive measures to ensure the well-being of its employees.

Values Matter @MDCPS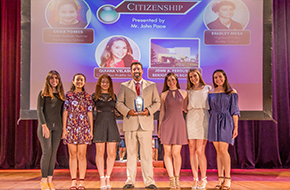 Whether it's by finding creative ways to challenge students or by organizing projects and events, Miami-Dade County Public Schools (M-DCPS) has made it a priority to embrace opportunities to foster in our students the District's nine core values: honesty, integrity, cooperation, kindness, pursuit of excellence, fairness, citizenship, responsibility, and respect.

iNspiration @MDCPS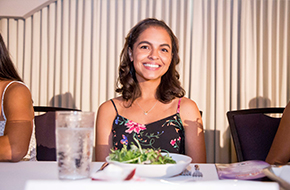 Hardworking and resilient are just some of the words to describe this dedicated student who has achieved academic excellence while fighting cancer.
Name: Emily Morey

School: 12th grade student at Hialeah-Miami Lakes Senior High School

Accomplishments: Most incoming high schoolers are concerned with their class schedules and making new friends, but for Emily, who was diagnosed with Renal Medullary Carcinoma, it was especially difficult. That, however, did not deter her from pursuing her dreams of achieving academic excellence. Emily is ranked in the top 5% of her class and is an active member of the National Honor Society, and the treasurer in Student Government Association. She has also managed to find time to give back to her community by participating in walks and relays. Emily has been in remission for two years and most importantly, never stopped smiling.


iNspiration @MDCPS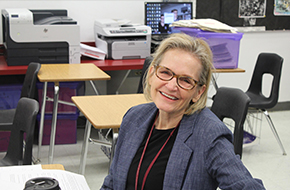 A passionate educator in the field of journalism, Ms. Sullivan gives her students a safe place in a rigorous writing and design program where they can discover who they are by what they produce.
Name: Mary Kay Sullivan

Occupation: English Language Arts and Journalism teacher, as well as sponsor for the Lightning Strike Newspaper and Renaissance Yearbook at Dr. Michael M. Krop Senior High School.

Accomplishments: Sullivan went back to school after having nine children, graduating with a 4.0 when she was 46-years-old. She managed to become nationally board- certified, earn two master's degrees, one in writing and another in media advising, while bringing Krop's newspaper to national status for the quality of writing and page layout. While under her mentorship, the Lighting Strike has earned three National Scholastic Press Association's All-American recognitions, and the yearbook has received national honors as well as continuously garnering the All-Florida recognition.




Stay iNformed and Connected

Graduation season came and went, which means that we have come to the end of another extraordinary school year. Once again, the Miami-Dade community can celebrate with the M-DCPS family as we reflect on an academic year marked by outstanding school and student achievement, groundbreaking innovation and ingenuity, strong community and business partnerships, booming school construction and renovation, and a continually growing number of local, state, and national honors. Miami-Dade's graduation rate continues to rise, surpassing that of the state, and our students are making remarkable academic gains as evidenced by classroom performance and national test results. While the news on the academic front is exciting and certainly worth celebrating, we cannot ignore the growing concerns over safety and security in and around our schools, especially in light of recent school tragedies. Recent gun violence at schools in South Florida and in other states has forced school districts around the nation, including Miami-Dade, to reevaluate our safety protocols to ensure the protection of students and employees. In Miami-Dade, we have increased the number of school resource officers assigned to schools, requested additional funding from the state to augment established security measures, reduced the number of school entry points, and strengthened protocols related to securing schools and classrooms in the event of an on-campus threat. Safeguarding students and employees will always be our foremost priority.




The 2017-2018 school year has had its challenges and moments of deep reflection, but this year has also been punctuated by robust academic programs, exemplary student achievement, steadfast parent and community engagement and support, financial soundness, operational excellence, all bolstered by the visionary leadership of our School Board. The work and dedication of our teachers and employees are reflected in the outstanding accomplishments of our students. Finally, congratulations to all our graduating seniors and our returning students. You have had an exceptional year of achievement. Enjoy your summer.


Alberto M. Carvalho
Superintendent

iNfact
M-DCPS students continue to outshine other large urban district on national standardized assessments, including NAEP-TUDA, known as the nation's report card, with fourth graders ranking #1 in Reading and #2 in Mathematics.
M-DCPS is home to five of the top 100 high schools in the nation and seven schools in Florida's Top 20, as ranked by U.S. News & World Report.
Last month, 250 M-DCPS students had a once-in-a-lifetime opportunity to participate in a live video chat with crew from NASA's International Space Station.
More than 1,000 students with disabilities were honored with the "I Can Do It, You Can Do It" Presidential Active Lifestyle Awards for participating in an innovative national initiative to increase physical activity levels.
The graduating class of 2018 has been offered $423 million in college scholarships.
Third grade students' scores on the Florida Standards Assessments (FSA) in English Language Arts (ELA) outperformed their counterparts statewide, both in terms of performance & growth. Scores increased from 58 percent scoring at levels 3 or above in 2017 to 61 percent in 2018.

iChoose M-DCPS

New World School of the Arts

Adler Guerrier, Miami artist and advocate

"The thing I learned the most while I was in school, is that art is eclectic and innate, and that it exists in everyday life. An artist can contribute in a way that is productive to the lives of everyone exposed to art, whether in the form of a painting, a sculpture, a design, or even building architecture."