Historic Achievement @MDCPS: No 'F' Schools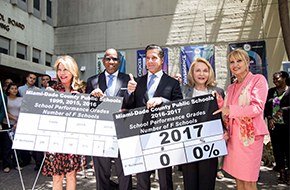 We started the school year with a commitment to continue our legacy of inspiring children to reach beyond the familiar and soar to heights of academic excellence. For the first time since the State issued school performance grades in 1999, there is not a single district-managed "F" school in Miami-Dade County Public Schools (M-DCPS).

Real-World Experience for our Future Leaders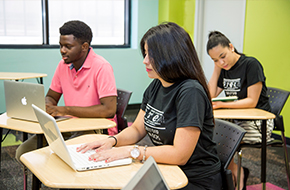 Over the summer break, juniors and seniors at Miami-Dade County Public Schools (M-DCPS) gained new skills and work experience. The Summer Youth Internship Program opened the doors of opportunity to more than 1,700 high school students who were ready to jumpstart their professional journey with leading businesses and institutions in our community.

Your Bond Dollars at Work
In our favorite movies, it was Bond - James Bond - who saved the day. In Miami-Dade's public schools, it's Bond - General Obligation Bond (GOB) - that is modernizing schools for our students.

iNspiration @MDCPS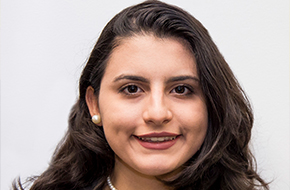 Having spent the summer studying at Harvard, this rising senior is ready to change the world.
Name: Grethel Aguila

School: 12th grade student at Miami Springs Senior High School

Accomplishments: Grethel has received superior honors in all her classes. She is involved in various extracurricular activities, serving as an officer for the Model UN, HOSA, Medical Hawks (medical club), and the Debate Club. Grethel also serves a District 6 Youth Commissioner for the Miami-Dade County Youth Commission.


iNspiration @MDCPS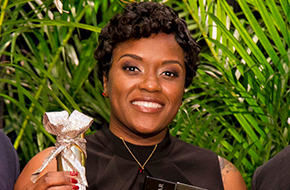 A motivated, passionate, and enthusiastic educator, meet Dontricia Jones, M-DCPS' 2018 Rookie Teacher of the Year.
Name: Dontricia Jones

Occupation: 5th grade Reading Teacher at Norland Elementary School

Accomplishments: For Dontricia Jones teaching is not just a job, but a way of life. Entering into her second year at Norland Elementary, Jones has found a unique way of keeping her students engaged in the classroom… through music and media learning tools. She also formed the Girls of Tomorrow group where she teaches young girls about etiquette, self-motivation, and leadership skills.


Stay iNformed and Connected

It's back to school and back to academic and classroom excellence for Miami-Dade County Public Schools' teachers and students. The excitement of the new school year is palpable as students, teachers, principals, parents, and the community prepared for the opening day on August 21st.


More than 355,000 students entered schools and classrooms that are brimming with technology and instructional resources to make the school year engaging and exciting. Our team of highly effective and talented teachers and visionary school leaders worked around the clock to ensure a smooth opening of schools for our students and their parents.

While the school year may be new, our focus on student achievement and rigorous instruction is not. We started the school year with a commitment to continue our legacy of inspiring children to reach beyond the familiar and soar to heights of academic excellence, launching 55 new choice/magnet programs and 27 initiatives bringing the total number of choice programs to more than 950.

While we are always optimistic, we know that the 2017-2018 school year will not be without challenges. Recent state legislative action has made that woefully clear. With the passage of HB7069, districts, including Miami-Dade, opened schools potentially facing catastrophic budget shortfalls. In spite of this recent decision, we will continue to urge lawmakers to make funding decisions that do not harm the classroom nor undermine student achievement, but honor the exceptional work of teachers and the steady increase in achievement among students.

This year promises to be another remarkable year of robust and rigorous instruction, increased student achievement, and school success. Parents and students can find a wealth of information about the exciting programs offered in Miami-Dade County Public Schools by browsing the 2017-2018 Back-To-School Toolkit at dadeschools.net or following us on Facebook, Twitter and Instagram. Staying connected to the school district 24 hours a day, 7 days a week is just a keypad touch away. Remember to download the Dadeschools mobile app for up-to-the-minute school and district news and information.


Alberto M. Carvalho
Superintendent

iNfact
M-DCPS' graduating class of 2017 was offered more than $370,000,000 in college scholarships, paving the way for success in post-secondary education.
More than 2,400 educators and school administrators participated in the Synergy Summer Institute, a three-week professional development training focused on digital learning.
This summer, M-DCPS conducted multiple free coding and robotic camps for middle school students.
With this year's addition of an 8th grade class, iPrep Academy becomes the first PK-12 traditional public school.
On August 21, 2017, M-DCPS opened its doors to more than 350,000 students at nearly 400 schools.
The 1Million Project, a partnership between M-DCPS and Sprint, will provide free devices & high-speed internet service to 14,000 students, further eliminating digital deserts in our community.

iChoose M-DCPS

New World School of the Arts

Tarell Alvin McCraney, Playwright of Academy Award-Winning Moonlight and actor

"There were many teachers and classmates who helped me realize that my story was as important as everyone else's. It took me a minute – but I did."