Miami-Dade County Public Schools Becomes an A-Rated School District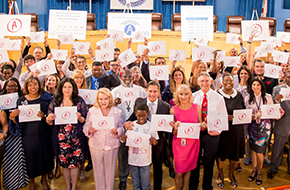 Earlier this summer, the Florida Department of Education (FDOE) released the school grades for 2017-18, and for the first time in the history of the Florida School Performance Grades, Miami-Dade County Public Schools (M-DCPS) has achieved a district-wide grade of A.
Breaking Records, Making History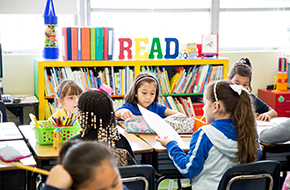 Miami-Dade County Public Schools (M-DCPS) continues to break records, achieve history, garner honors and create more partnerships. Our students, teachers and remarkable workforce have once again demonstrated that they are among the best and most hardworking professionals in the nation, consistently earning accolades that place us at the top.
Secure Our Future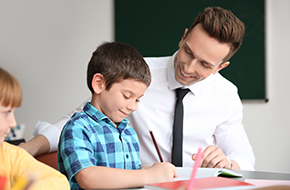 Miami-Dade County Public Schools (M-DCPS) is one of the highest performing urban school districts in the country, with remarkable accolades under its belt, including ever-rising student achievement and record-high graduation rates. This remarkable performance is largely the result of the outstanding work of our dedicated teachers.
Summer Youth Internships
A Win-Win For Everyone!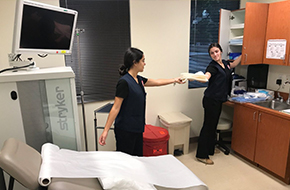 Once again, our Summer Youth Internship Program, SYIP, has been a great success at Miami-Dade County Public Schools!
iNspiration @MDCPS

Varied leadership alongside academic and athletic interests keep this dedicated student very busy, but he always makes time to serve and help his peers.
Name: Cristian Roldan

School: 12th grade student at Booker T. Washington Senior High School

Accomplishments: Cristian is a nationally-ranked 4.5 star kicker for the Varsity football team, Captain of the Volleyball team, President of the 5000 Role Models of Excellence Club, and is a member of the Jazz Band. He leads two music ministries at area community churches and writes and records his own music. He is the President of the Math Honor society, where he tutors students in need of additional learning. If that wasn't enough, he is a member of the National Honor Society, represents his class as President and is currently working on a street music service project in Miami to benefit Alzheimer's research.

iNspiration @MDCPS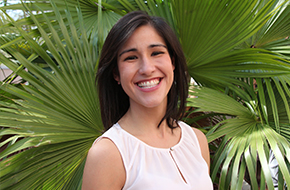 A passionate educator and student advocate, Neyda Borges encourages her students to believe in themselves and in their power to accomplish their goals. She challenges her students to think critically, ask questions and empowers them to seek the answers to those questions.
Name: Neyda Borges

Occupation: Advanced Placement Literature & Composition, English I Honors, and Journalism teacher. She also serves as the English Language Arts Department Chair and is the adviser for The Harbinger Newspaper and Alpha & Omega Yearbook at Miami Lakes Educational Center.

Accomplishments: Borges graduated from University of Miami with a degree in Journalism and English. In 2011, she was the Region 1 Teacher of the Year. She was also a pioneer in incorporating social media into the curriculum, particularly in journalism, where her students use various platforms to report, share news stories, highlight student and faculty achievements, as well as to facilitate dialogues (Twitter Chats) on a variety of topics.



Stay iNformed and Connected

Welcome to the 2018-2019 academic year. On Monday, August 20th, more than 350,000 students returned to schools and classrooms across the district for another year of learning and exploration. This school year, we are rolling out 90 bold, cutting-edge programs and initiatives that build on the District's goals of providing classroom innovation, academic rigor, and expanded opportunities for students, employees and the families. Additionally, we have established a Department of Mental Health Services that will expand partnerships with community agencies, providing services, learning programs and interventions to help students through personal and emotional challenges they may experience. As promised, beginning with the first day of classes, 100 percent of our schools counted on the presence of a certified law enforcement officer following an internal and external deployment of security personnel. We are thankful to our county and municipal partners who were instrumental in supporting our efforts to bolster school security. Together as a community, we have rallied around our schools and children to ensure their safety. In addition to police presence, we have reinforced existing security measures through the following enhancements: limited points of entry, mandatory identification at middle and high schools for students and employees, and surveillance cameras at all schools. As always, the most important tool in the prevention of any unlawful act will always be information. With a new school year underway, remember that if you SEE SOMETHING, SAY SOMETHING. Students, parents, employees, and the community are encouraged to report any and all suspicious activity immediately to 305-995-COPS (2677). We are excited to begin another new school year that promises many new achievements, milestones, and opportunities. On behalf of our students, employees and School Board, thank you for your continued support and engagement. We look forward to a productive and stellar 2018-2019 academic year.


Alberto M. Carvalho
Superintendent
iNfact
More than 700,000 breakfast and lunch meals were served this summer by M-DCPS.
Sprint's "1Million Project" will distribute 14,000 free wireless devices and service to participating M-DCPS students for up to four years while they attend high school.
This year, $147 million in building improvements, including new and renovated schools, are being unveiled at more than 60 schools as a result of the General Obligation Bond. #GOBprogress
Edwin López, an alumnus of Southwest Senior High, was sworn in as Chief of Miami-Dade County Schools Police. He is the first Hispanic to hold this position.
District employees have walked over a half a billion steps in a little over three months as part of the nationally recognized online activity Walkingspree.
This Fall, M-DCPS, in partnership with the Florida Department of Transportation, is helping our community understand the risks associated with distracted driving through the "Put it Down" campaign.
iChoose M-DCPS

Miami Palmetto Senior High School

Ron Magill, Naturalist, Wildlife Educator

"I grew up watching the TV show Wild Kingdom thinking, gosh, that's what I want to do, never thinking I could do it. But my parents—and one teacher, Bill McCreary—always told me I could do it. He thought out of the box in such a wonderful way that you learned. He made everything so much fun and inspired you. I never made an 'A' in his class, and I tried so hard, but he was the first teacher who always took me aside and said to me you're brilliant, you're cut out for this, you can do this."