ADULT AND CAREER TECHNICAL EDUCATION CLASSES


Miami-Dade County Public Schools offers more than 60 programs of study in career technical and adult education. More than 60,000 students participate in day and evening classes at six technical colleges – formerly known as adult centers – and 15 adult education centers and related off-campus sites across the county.

The career/technical education program is designed to support the local workforce. It provides students with pathways to careers in the fields of industrial/technical, family and consumer sciences, health/medical, business/computers, and public service.

The adult general education program is designed to help boost academic skills and provide students with the basic knowledge required to enter post-secondary training. This comprehensive program offers classes in the following areas:
Adult Basic Education skills

ESOL( English for Speakers of Other Languages )

Citizenship (test preparation)

High School Completion

GED (General Equivalency Diploma)
In addition, the program offers parents the opportunity to obtain the educational skills necessary to become full partners in the education of their children. It also provides an opportunity for displaced workers to acquire the skills necessary to re-enter the workforce.

Students that are enrolled in adult and career/technical education programs move at their own pace through levels of reading, language, writing and mathematics. Students may also use computers with Internet access to receive instruction using an online curriculum in academic or vocational program areas.

Financial assistance is available to students that qualify. For more information contact an adult education center or technical college near you, or call the adult education hotline at 305-558-8000.
---
M-DCPS LAUNCHES MOBILE APP FOR PARENTS, STUDENTS, EMPLOYEES
Miami-Dade County Public Schools' (M-DCPS) has launched an update to the School Mobile App that was introduced last year. The app will provide parents, students, and employees faster access to up-to-date school information. The latest version of the official Dadeschools Mobile App is available for FREE for iPhone and Android devices.

The upgrade now includes:
About Us
Social Media Access
Push Notifications
School News
A Message Board
School Calendar
Video Portal Custom Links
School Directory
Contact Us
Please visit www.dadeschools.net on your mobile device to download the application. For more information, contact Jorge Fernandez, executive director, Client & Business Services, at 305-995-3885.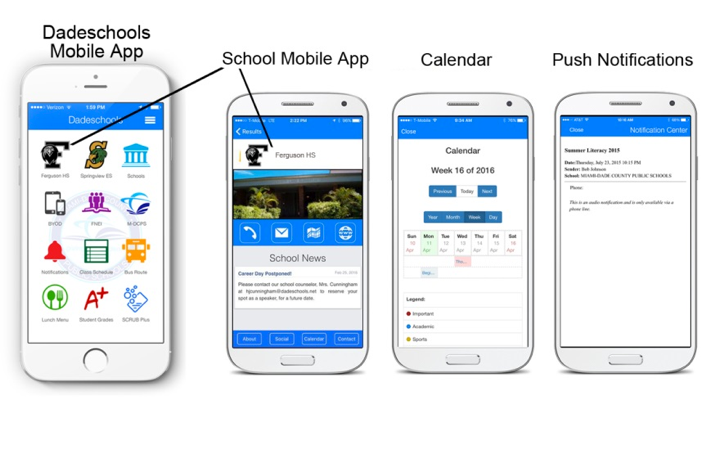 ---
2016-2017 STUDENT ATTENDANCE

There is probably no factor more important to successful school progress than regular and punctual school attendance. Students who are tardy or absent excessively from their instructional program fall behind in academic achievement. Excessive school absenteeism precedes grade failure, loss of interest, and may result in students withdrawing from school.
Parents and students are responsible for attendance, which is required by law during the 180 days that school is in session. Attendance is defined as the following: 1) school attendance – must be present for at least two hours of the day or engaged in a school-approved educational activity, 2) class attendance – must be present in class for at least half of the class period.
The following absences will be considered reasonable excuses for time missed at school: personal illness of the student, student medical appointment, death in the immediate family, observance of religious holidays, subpoena by law enforcement agency or mandatory court appearance, outdoor suspensions, family leave time for military-connected students, and documented absences beyond the control of the parent or student as approved by the principal.
Any absence that does not fall into one of the above excused absence categories is to be considered unexcused. Absences are initially recorded as "unexcused" and will be changed to "excused" upon receipt of the required documentation from the parent. Parents are responsible for reporting and explaining the absence or tardiness to the school within three days of the student's return to school or the absence will remain as unexcused.
If the absences are excused, all educational requirements for the course shall be met before a passing grade and/or credit is assigned. The student shall have up to three school days to submit make-up work for excused absences or in a period of time equal to the number of days absent. Unexcused absences do not require that the teacher provide make-up work for the student.
M-DCPS oversees truancy intervention efforts for students ages 6-17 who are deemed habitually truant. Those students may be referred to a designated social service agency after required escalating services have been exhausted.
Students between the ages of 14 and 18 classified as habitually truant are reported to the Florida Department of Highway Safety and Motor Vehicles and the student will be ineligible to receive or maintain driving privileges. Driving privileges may be reinstated upon demonstration of 30 consecutive days of attendance without any unexcused absences.

Specific guidelines for student attendance are reflected in The School Board of Miami-Dade County, Florida Policy 5200, Student Attendance, http://www.neola.com/miamidade-fl/ with specific procedures delineated in the Student Attendance Reporting Procedures Handbook Grades PK-12 http://ehandbooks.dadeschools.net/policies/89.pdf.
---
BEFORE-, AFTER-SCHOOL CARE AT ELEMENTARY SCHOOLS

This year, Miami-Dade County Public Schools (M-DCPS), will offer approximately 285 after-school care programs that will be implemented at all public elementary schools and K-8 Centers and at some middle schools on school days. After-school care programs are conducted from the time of school dismissal until 6 p.m. Parents should check with their child's school for specific start times. Before-school programs are offered at the principal's discretion and begin approximately one hour before school starts.
All after-school care programs provide planned activities, which include homework assistance, indoor and outdoor games, arts and crafts, snack time and various recreational activities. Many programs offer reading and math tutoring, STEM activities, music, computer lab, ceramics, chess, drama and other classes designed to provide participants with a variety of educational and enrichment experiences. Before-school care programs provide supervised, quiet activities for students.

The cost of after-school care is $40 per week; the cost of before-school care is $20 per week. These programs are implemented by one of seven providers:
Miami-Dade County Public Schools - Principal Operated
Young Men's Christian Association (YMCA)
Young Women's Christian Association (YWCA)
Family Christian Association of America (FCAA)
After-School Programs (ASP)
Sunshine After-School Child Care (SASCC)
South Florida After-School All Stars (SFASAS)
Summer Camp programs are offered each summer on a limited basis, Monday through Friday from 7 a.m. until 6 p.m. Costs are $100 per week. Go to www.dadecommunityschools.net for more information, and to verify dates and times at a site that is nearest to you.

Interested parents should contact the principal's office at their child's school to learn which programs are offered. Further information may be obtained by calling Victor Ferrante, Executive Director, at 305-817-0014, ext. 2500.
---
M-DCPS IS NUMBER ONE BLOOD DONOR IN STATE
The District's Blood Drive program not only educates and promotes the importance of healthy community service, but it also saves a few lives in the process.

This school year, drives held by Miami-Dade County Public Schools employees and students, 17-years-old or older, resulted in approximately 11,000 pints of blood donated and over 40,000 lives saved. This is the reason M-DCPS, which contracts with OneBlood, is the number one donor in the state.

Schools and offices with 15 or more committed donors can call and schedule a bloodmobile by contacting Nieves Losa, Regional Director at 786-942-8870.

For further information, please contact Diana Venturini, Director, Office of Community Engagement at 305-995-1367.
---
CAREER, TECHNICAL EDUCATION
Miami-Dade County Public Schools' Career and Technical Education (CTE) programs prepare students at the middle and secondary levels to be both college and career ready through programs of study and career pathways aligned to career clusters. CTE students graduate with world-class academic and technological skills, plus industry-recognized certifications necessary to transition to higher education and careers.
For a complete list of all the CTE programs and career clusters offered by the District, please visit the department's website at http://dcte.dadeschools.net.
Business and industry have asked for a more qualified and skilled workforce and M-DCPS CTE programs are aligned with the One Community One Goal initiative targeting major industries that are vital to Miami's economy. Students who earn industry certifications have a competitive edge upon graduation and become more marketable in the workplace during and after college and/or other post-secondary education. Select industry certifications have been approved at the state level for free college credits awarded to students. Parents can view the cost savings earned by having obtained an industry certification while in school at: dcte.dadeschools.net/industrycertification.html.
Career Academies
Career academies combine a college-prep curriculum with a career-themed focus. Students enrolled in career academies follow a sequential program of study that leads to industry certification and opportunities to earn postsecondary credit and scholarships. Students choose career academies from the various career clusters, thus allowing them to make the transition between high school, college, and careers.
M-DCPS offers 55 programs in the five career themes of Engineering, Finance, Health Science, Hospitality & Tourism, and Information Technology at 29 high schools. Many of these programs are nationally recognized for their accomplishments. For additional information on these award-winning programs, go to: dcte.dadeschools.net/naf.html.
Articulation Agreements
CTE students can earn free college or M-DCPS Technical College credits by participating and successfully completing a CTE program of study. Articulation agreements with Miami Dade College, M-DCPS Technical Colleges and other local institutions are available. These agreements will provide acceleration and a cost savings for a postsecondary education.
Florida Bright Futures (Gold Seal Vocational Scholars (GSV) Award)
CTE students have the opportunity to qualify for the GSV Award, one of three of the Bright Futures Awards, by completing a CTE program of study and meeting initial criteria. For additional information on requirements, please visit: floridastudentfinancialaid.org/SSFAD/home/uamain.htm.
Career and Technical Student Organizations (CTSOs)
CTSOs are a co-curricular component of CTE programs that provide students with the opportunity to apply theory to real-world experiences. M-DCPS' students actively participate in various organizations such as Future Business Leaders of America, DECA, HOSA-Future Health Professionals, Technology Student Association to name a few, where they further develop the skills necessary for success in their chosen career.
For more information about these programs, please contact the Department of Career and Technical Education at 305-693-3030 or visit the website at http://dcte.dadeschools.net/studentorg.html.
---
CHARTER SCHOOLS

Charter Schools are public schools that operate under a performance contract or "charter," which allows them to be operated by their own governing board that is charged with creating and establishing their own operational policies. As such, charter school policies may vary from District policies and among individual charter schools.
Region offices do not provide support to charter schools, and questions on issues regarding these facilities should be directed to the Office of Charter School Support.For further information regarding charter schools, contact:

CHARTER SCHOOL SUPPORT
1450 N.E. 2nd Ave., Suite 802
Miami, FL 33132
305-995-1403
cso@dadeschools.net

Assistant Superintendent
Tiffanie A. Pauline

District Director
Dwight A. Bernard

District Director
Nicki L. Brisson
---
SCHOOL CHOICE PROGRAMS

For more than 60 years, Miami-Dade County Public Schools (M-DCPS) has been at the forefront of the choice movement in education. As of the 2015-16 school year, more than 60 percent of the pre-K through 12th grade students in M-DCPS have made an active choice in selecting the school or program in which they are enrolled. M-DCPS continues to develop innovative programs and specialized schools to meet the needs and special interests of students while successfully preparing them for the world of work. In support of the district initiative to expand choice programs that promote equity and equal access, M-DCPS offers a myriad of choice programs that include magnet programs, satellite learning centers, and Opportunity Scholarship Programs.
Choice programs are a sound investment for the future of our students and the business workforce needs of tomorrow. Our entire community benefits from the large array of choice options offered by M-DCPS. Parents have a clear Choice in Miami-Dade County.

Magnet Programs/Schools
Magnet programs and schools attract students from diverse backgrounds to six different magnet themes (Careers and Professions, Liberal Arts, International Programs, Mathematics, Science and Technology, Visual & Performing Arts, Virtual Offerings) offering specialized curricula, each designed to cultivate specific talents, interests, and abilities. Presently, there are over 375 magnet programs in over 111 schools in Miami-Dade County. Students learn how to communicate, think critically, and solve problems within a specialized field of study. The District's magnet school programs have won numerous national awards for promoting educational equity and improving educational quality. For the fifth year in a row, M-DCPS has been awarded more MSA National Merit Awards than any other school district nation-wide. In five years, M-DCPS schools have been awarded 152 National Merit Awards.

Applications for enrollment consideration in magnet programs/schools are accepted yearly between October 1st and January 15th. For more information and a full listing of programs, visit our website at www.miamimagnets.org. Primary contact for Magnet Programs: Dr. Robert D. Strickland, Administrative Director, School Choice & Parental Options, 305-995-1922, rstrickland@dadeschools.net.
Satellite Learning Centers
Satellite Learning Centers are a form of public school choice that enables students to attend a public school located at their parent's workplace. Each is a partnership between the employer, which provides the school facility, and M-DCPS, which provides the instructional program. Currently there is one Satellite Learning Center: Assurant Solutions Satellite Learning Center. School Choice and Parental Options welcomes inquiries from public and private entities interested in creating Satellite Learning Centers and other partnerships through the A Business Community (ABC) School program. Availability of space suitable for an educational facility and sufficient employee interest are primary considerations for businesses contemplating an ABC School Program partnership. Primary contact for Satellite Learning Centers: Virna M. Kaufman, Director, School Choice and Parental Options, 305-995-1922, vkaufman@dadeschools.net.
---


CITIZEN INFORMATION CENTER
Miami-Dade County Public Schools' Citizen Information Center (CIC) is the place to go for answers to general questions about the school system.

Located in Room 102 of the School Board Administration Building, 1450 N. E. Second Ave., the center also provides the public with documents, general information and agendas for the School Board meetings.

Citizens can contact the center at 305-995-1128 or visit Monday through Friday from 8 a.m. to 4:30 p.m.

The Citizen Information Center Website may be found at http://cic.dadeschools.net. The CIC Website contains links to frequently viewed sites, as well as forms used to place public records requests and to request appearances before the School Board.


---
CODE OF STUDENT CONDUCT

Miami-Dade County School Board approved a revised Code of Student Conduct (COSC). The COSC focuses on providing and maintaining a safe and positive learning environment for students, faculty, staff and community.
A major consideration in the application of the Code of Student Conduct is cultivating a positive school climate to support academic achievement, promote fairness, civility, acceptance of diversity, and mutual respect. Toward that end, the range of inappropriate behavior is divided into five groups, along with both recommended and mandated corrective strategies.

The Code of Student Conduct addresses the role of the parents/guardians, the students, and school, but also focuses on core values and model student behavior, rights and responsibilities of students, addressing student behavior, and disciplinary procedures. Furthermore, teachers, counselors and administrators work to use a variety of progressive corrective or guidance strategies to correct the inappropriate behaviors.

Differences in age and maturity are recognized in determining the types of corrective strategies to be taken. However, the procedures outlined in the COSC apply to all students under the jurisdiction of Miami-Dade County Public Schools. The COSC is in force during regular school hours, while students are being transported on a school bus and at such times and places – including but not necessarily limited to school-sponsored events, field trips, athletic functions and other activities – where appropriate school administrators have jurisdiction over students.

Principals are authorized to take administrative action whenever a student's behavior away from school has a detrimental effect upon other students or on the orderly educational process. Types of behaviors range from acts that disrupt the orderly operation of the classroom, school functions, and extracurricular activities or approved transportation to the most serious acts of misconduct and violent actions that threaten life.

The Code of Student Conduct outlines expected student behavior and a multitude of corrective strategies should misconduct occur.

The COSC addresses students' rights and responsibilities pertaining to the right to learn; attendance; students' records; grades; free speech, expression and assembly; and publications. It also outlines parents' rights in regard to assuring their child's opportunity for an education.

Students or parents having problems interpreting the COSC should address concerns through the school principal. Additionally, should the concerns not be resolved at the school level, an appeal can be made at the region office and subsequently to the District.

Parents/guardians can access the COSC in English, Spanish and Haitian-Creole on the M-DCPS' website at ehandbooks.dadeschools.net/policies/90/index.htm or they may request a copy from their child's school.

---
COLLEGE ASSISTANCE PROGRAM
The College Assistance Program (CAP), is a postsecondary advisory program in all senior high schools in Miami-Dade County. The specialized focus of the program enables CAP advisors to serve students more effectively because of their specific expertise in this field. It is one of the few college-help services in schools nationwide that initiates contact with the students. CAP advisors communicate effectively on behalf of students as a result of their special relationships with college representatives as well as local, state and national organizations.

CAP advisors serve as transition coaches to assist students in postsecondary planning. They host college forums and school-site college fairs, sponsor college visits, provide assistance with financial aid, college applications, college selection, academic advisement, test preparation, scholarship information, college essays, and support students and their families during all phases of the postsecondary planning process.
CAP works in collaboration with College Assistance Program, Inc. (CAP, Inc.), a nonprofit 501(c)(3) organization, to award thousands of dollars to college-bound students. CAP, Inc. grants are "last dollar" grants that meet the financial gap of students transitioning into postsecondary education.
The College Assistance Program provides high schools with collaborative resources which promote a college-going culture and ensure that every student has an attainable postsecondary plan.
For more information, students should contact their school's CAP advisor in the Student Services Department or call the Division of Student Services, at 305-995-7338.
---
WANT TO GO TO COLLEGE?
NATIONAL COLLEGE FAIR COMES TO MIAMI, SUNDAY, FEB. 26, 2017
South Florida students and parents can meet representatives from more than 200 colleges and universities at the 2017 Miami National College Fair from noon-4 p.m., Sunday, Feb. 26, 2017, at the DoubleTree by Hilton Miami Airport & Convention Center, 777 N.W. 72nd Ave., Miami.

Students, parents and others are invited to the free fair.

The event allows students and others to meet with more than 200 college representatives and have their questions answered. Information sessions on financial aid, college planning, admission, and testing requirements will also be offered in English, Spanish and Haitian-Creole.

Counseling and computer centers will allow students to access career interest surveys and information about college preparation, admissions and scholarships.

The National Association for College Admission Counseling (NACAC) and Miami-Dade County Public Schools are sponsors of the event. School Board Member Perla Tabares Hantman is co-chair of the National College Fair's local committee. Every year NACAC sponsors fairs in 48 cities across the country that attract more than 650,000 students and parents.

For more information, contact Martha Z. Harris, Administrative Director , at 305-995-7338; the College Fair Hotline at 305-995-1743; or visit www.nacacnet.org.
---
COMMUNITY SCHOOLS PROVIDE EDUCATIONAL
OPPORTUNITIES AT AFFORDABLE PRICES
Throughout the years, thousands of individuals have continued to take advantage of the broad educational opportunities offered through Miami-Dade County Public Schools' Community Education Program. Customized offerings have been created to satisfy the instructional needs of individuals or small community groups that want to sharpen or learn a completely new skill.

Miami-Dade County Public Schools operates 17 community schools and 21 adult education sites offering classes in just about every subject from yoga to foreign languages to photography – either free or at very affordable prices. Classes are available in the afternoon or evening to individuals or groups of all ages, skill levels and language capabilities.

For more information on the advantages of community education, call Victor Ferrante, Executive Director, at 305-817-0014, ext. 2500 or log on to www.dadecommunityschools.net.
---
COMPREHENSIVE STUDENT SERVICES PROGRAM MEETS STUDENTS' NEEDS
Supporting Services for Students and Families
The Division of Student Services implements the Comprehensive Student Services Program, serving students from Pre-K to adult. Through collaboration efforts with community agencies, students' academic, personal/social and career development needs are addressed through a team based approach. The team consists of school psychologists, school social workers, school counselors, student success coaches, Positive Behavior Support (PBS) coaches, College Assistance Program (CAP) advisors, To Reach Ultimate Success Together (TRUST) specialists and other mental health professionals that strive to continuously work to assure that the needs of the "whole child" are addressed.
School counselors are vital members of the education team. The connections and collaboration made between school counselors, military community, stakeholders and other agencies are the key to closing gaps that students may face to help them become successful adults. Established partnerships with healthcare community organizations also expand the bandwidth of related support available for students and families.

The Comprehensive Student Services Program supports student achievement through effective prevention, intervention, crisis response, and recovery services.

For more information, please contact Martha Z. Harris, Administrative Director, Division of Student Services, at 305-995-7338.
---
DADE PARTNERS
In 1978, Miami-Dade County Public Schools (M-DCPS) created the Dade Partners program to link business and community resources with area schools. The program invites businesses, community leaders, local agencies and nonprofits to become decision-makers and participants in Miami-Dade County public education.

Since its inception, Dade Partners has grown to more than 4,000 entities, which have formed over 4,200 partnerships between their organizations and our schools. These partners continue to share their expertise and provide our schools a multitude of resources, including mentorships, internships, classroom supplies and materials, as well as funding for teacher and student recognition events.
For more information about Dade Partners, please contact Lisa Thurber, District Director, Community Engagement, at 305-995-1265.
---
DIGITAL CONVERGENCE INITIATIVE
SENIOR HIGH SCHOOL MOBILE DEVICE CHECKOUT
One of the overriding goals of the Digital Convergence Initiative is to maximize the learning potential of all students in an effort to prepare them for a successful future as 21st century citizens. In an effort to do so, Miami-Dade County Public Schools (M-DCPS) is providing students with the experience of using various mobile devices. The use of these devices will aid in developing independent, self-initiated learners; provide for collaboration and communication between students and teachers; and extend student learning beyond the classroom.
For the 2016-17 school year, mobile devices are available for checkout by all District students in grades nine and ten. The devices will be distributed to students at the beginning of the school year, and students will have access to a collection of digital resources.
Schools will notify parents to inform them when devices will be distributed. In order to receive a mobile device, students and their parents must do the following:
Sign the Student Mobile Device Agreement (Required)
Pay the required $20 technology fee – students on reduced-price lunch pay $10 and those on free lunch pay $5.
Attend a Parent Orientation Meeting (Optional –If required by school site.)

The technology fee covers repair of device malfunction. It does NOT cover repair from neglect or abuse, loss or damage of the accessories (i.e., charger, case, keyboard, etc.), or replacement of the device.
The policies, procedures, and guidelines for mobile device checkout and use are available in a guide for parents located at http://digital.dadeschools.net under Parent Resources. For students that choose to use a personal device instead of school issued device, information is also provided regarding personal devices (BYOD).
For more information, parents should contact an administrator at their child's school or they may call Albert Pimienta, Instructional Technology Department, at 305-995-2295.
---
STUDENT DRESS CODE
Miami-Dade County Public Schools has a dress code for students that is strictly enforced. The dress code exists to ensure that a student's appearance does not disrupt health, safety, cleanliness or the learning environment. The Code of Student Conduct contains corrective strategies on addressing students who fail to adhere to the dress code.

A number of schools have adopted student uniforms in order to encourage students to improve their study habits and to identify more closely with their schools. All students in grades K-8 (elementary school, K-8 centers and middle schools) are required to participate in a mandatory school uniform program.

Parents wishing further information on school dress code regulations should refer to the Elementary and Secondary Code of Student Conduct located on the Miami-Dade County Public Schools' website: http://ehandbooks.dadeschools.net/policies/90/index.htm, or may also contact their child's school.
---


DUAL ENROLLMENT, ADVANCED ACADEMIC OPPORTUNITIES
Miami-Dade County Public Schools offers students at all levels a variety of programs to prepare students for postsecondary education in order to maximize each student's academic talents and interests. The Advanced Academic Programs described below provide accelerated mechanisms for students to take college level courses while still in high school.
Advanced Placement (AP)
Advanced Placement (AP) courses are available in all high schools, and enrollment is open to all students. Although some students enroll in AP courses as early as grade 9, most students begin taking AP courses in grades 10 and/or 11. These courses are challenging, providing college-level course work while students are still in high school. Towards the end of the school year, students participate in the AP exam, an examination that assesses student's knowledge in the specific content area. Scores range from one through five. Most colleges and universities will award students college credit for their AP course, if they have scored a three or above on the exam. This benefits students and parents, as students will not have to pay or take these courses over once they enter a post-secondary institution. AP courses are offered in the following subjects: Language Arts, Mathematics, Social Science, Science, Technology, Foreign Language, and the Arts.

International Baccalaureate (IB)
The International Baccalaureate offers K-12 programmes focusing on international education that develops the intellectual, personal, emotional and social skills needed to live, learn, and work in a rapidly globalizing world. IB has a hard-earned reputation for high standards of teaching, pedagogical leadership and student achievement in the form of international education and rigorous assessment. The Primary Years Programme (PYP), for ages 3-12, focuses on the development of the whole child, preparing students to become active, caring, lifelong learners. The Middle Years Programme (MYP), for ages 11-16, prepares students to undertake the Diploma Programme (DP). The DP, for ages 16-19, encourages students to seek the prestigious IB Diploma, recognized for its breadth and depth of knowledge, rigorous assessments, possible college credit, and advanced university recognition.
Cambridge International
Cambridge International Examinations is an organization that is part of the world-leading university, University of Cambridge. The Cambridge curriculum encourages students to become confident, responsible, reflective, innovative and engaged learners. In the Cambridge Primary Programme, students develop skills and understanding in English, mathematics, and science. In Cambridge Secondary 1, students further develop their skills in these core subject areas. In the Cambridge Secondary 2 and Advanced Programmes, students develop the deep understanding and thinking skills needed to be successful at the post-secondary level. Students work towards the prestigious Advanced International Certificate of Education (AICE) Diploma, an international curriculum and examination system that emphasizes the value of broad and balanced study. Alongside in-depth understanding of a variety of subjects, students also master a broader range of skills critical for success in university study and employment.

Dual Enrollment
Dual enrollment (DE) provides students the opportunity to enroll in college courses while still in high school. In Miami-Dade County Public Schools, DE is provided through Miami Dade College (MDC), University of Florida (UF), and Florida International University (FIU). Students who qualify may enroll in a college course, and the tuition and textbook cost is waived for the student. Most M-DCPS high schools offer DE courses on their campuses both during the school day and after school. Upon completion of the DE course, the credit earned can be used towards fulfillment of a high school graduation requirement, and can also be used as college credit. In order to qualify for dual enrollment, secondary students must have a 3.0 unweighted grade point average (GPA), must pass the Postsecondary Education Readiness Test (PERT) or achieve the required minimum score on the SAT or ACT, and meet all the criteria for admission to MDC or FIU. In order to receive high school credit for DE courses, students must submit the college transcripts to their high school counselor. For eligibility and availability of DE courses, students should speak with their high school counselor.
For additional information, contact Dr. Lisette Rodriguez, Executive Director, Department of Advanced Academic Programs, at 305-995-1934 or visit the department's website at http://advancedacademicprograms.dadeschools.net/.
---
EARLY CHILDHOOD EDUCATION SERVICES
Now Enrolling for the 2016-2017 Prekindergarten Programs at your Local School
Miami-Dade County Public Schools (M-DCPS) provides a number of comprehensive, developmentally appropriate educational programs for young children. The mission of each program includes the enhancement of the child's self-concept while providing a solid foundation for school interactions. It is believed that when these elements occur consistently and conscientiously, children will develop a life-long love for learning and achievement. All programs have been designed to meet the needs of the total child so that his/her maximum potential is reached.
Voluntary Prekindergarten (VPK) Program
The Voluntary Prekindergarten (VPK) Program is a legislatively authorized program designed to prepare every four-year-old in Florida for kindergarten and build the foundation for their educational success. The VPK Program provides each child with a high quality educational experience that includes high literacy standards, accountability, appropriate curricula, substantial instructional periods, a manageable class size, a certified teacher and a highly qualified paraprofessional.
M-DCPS offers the VPK Core Instructional Day from 8:20 a.m. to 11:20 a.m. The Prekindergarten Enrichment Program extends the instructional day until 1:50 p.m. through Title I funds or parent fees. Enrollment is based on a maximum class size of 20 students in the school year program, maintaining a ratio of one adult per 10 students at all times.
A child is eligible to register for the VPK Program if he/she attains the age of 4 on or before September 1st of the current school year. Effective July 1, 2016, 4-year-old children with birthdays from February 2nd through September 1st will be eligible to enroll in VPK that year or postpone it to the following school year. Parents must apply for their child's VPK Program Certificate of Eligibility (COE) at www.vpkhelp.org and submit the form along with all documents required for initial school entry.
Log on to the M-DCPS Attendance Services website for a list of required school registration documents. http://attendanceservices.dadeschools.net/reg_require.asp.
For more information, please contact the Department of Early Childhood Programs at 305-995-7632.
Early Head Start
Early Head Start (EHS) is a federally funded community-based program for low-income families with infants and toddlers. The EHS program supports the physical, social, emotional, cognitive, and language development of each child and empowers families in developing goals for themselves and their children.
EHS services are available, for income eligible pregnant women and infants and toddlers from birth to age three, at six school locations throughout Miami-Dade County. Applications for enrollment are accepted yearlong at EHS school locations. For more information, registration requirements, EHS applications and a listing of available program sites, visit our website at http://headstart.dadeschools.net/ or contact the Department of Early Childhood Programs, at 305-995-7689.
Head Start
Head Start (HS) is a Federal program for preschool children from low-income families. Children who attend HS participate in a variety of educational activities. They also receive free medical and dental care; have healthy meals and snacks; and enjoy playing indoors and outdoors in a safe and enriched learning environment. Children attending HS programs are between the ages of 3 and 5.
HS services are available, for income eligible children ages 3-5 and their families, at 34 school locations throughout Miami-Dade County. Applications for enrollment are accepted yearlong at HS school locations. For more information, registration requirements, HS applications and a full listing of program sites, visit our website at http://headstart.dadeschools.net/ or contact the Department of Early Childhood Programs, at 305-995-7689.
Pre-Kindergarten Program for Children with Disabilities
The Pre-Kindergarten Program for Children with Disabilities offers a variety of educational activities during the school day. The program school day runs from 8:20 a.m. to 1:50 p.m. for the full day programs and from 8:20 a.m. to 10:50 a.m. or 11:20 a.m. to 1:50 p.m. for the half-day programs, Monday through Friday.
The Pre-Kindergarten Program for Children with Disabilities daily routine includes the following activities: greeting time, phonological awareness, planning time, work time, clean up time, recall time, small group time, socialization/self-help, large group time, shared reading time, and outside time. This daily routine is implemented in the following program delivery models: Inclusion, LEAP Program for students with Autism Spectrum Disorder, Speech/Language Impaired and Reverse Mainstream. Additional specialized programs are available for students with Autism Spectrum Disorder, Intellectual Disabilities, Speech/Language Impairments and Deaf/Hard of Hearing.
For more information about our program, daily routine, and program delivery models, please visit our website at http://prekese.dadeschools.net or call the Pre-Kindergarten Program for Children with Disabilities at 305-271-5701.
---
EMERGENCY PROCEDURES


School Board policy requires students to have emergency contact information on file at their schools to ensure that parents and other designated individuals may be quickly notified in the event of an emergency regarding their children.
Parents fill out this information on a student data card when they enroll their children for the first time at a Miami-Dade County public school; it is then updated yearly. It is important, however, that parents update this information in writing during the school year should changes to names, telephone numbers or addresses occur. Additionally, the Parent Portal, one of M-DCPS's technology initiatives allows parents to go online and make changes to their email address.
When an emergency involves a student at school or during a school-authorized activity, school officials immediately notify one of the parents. If neither parent can be contacted, whoever is designated as an alternate contact listed on the student data card as the emergency contact will be called. Students will not be released to individuals who are not listed on the child's emergency card. In the event of a serious illness or injury, Fire/Rescue or police are called to the school. Therefore it is important that the student data card and contact numbers are kept up-to-date in case emergency responders need to speak with someone.
---
DEPARTMENT OF EXCEPTIONAL STUDENT EDUCATION


The Office of Exceptional Student Education (ESE) and Student Support serves children and families throughout the district by developing, coordinating and overseeing programs that support students with disabilities in order to insure that curriculum, instructional and behavioral practices are tailored to meet their educational needs.
ESE also administers comprehensive health services to promote and support screenings, trainings, and resources aimed at insuring the health and well being of M-DCPS students. The office is committed to enhancing academic success for all students by providing access to age appropriate school and community resources that will benefit the individual needs of each student. Specific programs and services include early identification and intervention, wellness/mental health counseling, psycho-educational evaluation and placement, transition support and truancy prevention. Five ESE Service Centers have been established throughout the district to facilitate parent access to diagnostic services and information.
The ESE Service Centers are located at:
ESE Service Center North
13835 N.W. 97th Avenue
Hialeah, FL 33018
305-827-3025
Kate Cadieux, Site Administrator


SE Service Center North Central
Westview Middle School
1901 N.W. 127th Street
Miami, FL 33167
Alfredia Robinson, Site Administrator

ESE Service Center South Central
6521 S.W. 62nd Avenue
South Miami, FL 33143
786-268-4757
Kathy Maguire, Site Administrator


ESE Service Center South
900 N.E. 23rd Avenue
Homestead, FL 33033 33030
305-242-8432
Helene Chait, Site Administrator


Florida Diagnostic and Learning Resources System/South (FDLRS)
6521 S.W. 62nd Avenue
South Miami, FL 33143
305-274-3501
Delsey Yancoskie, Administrator


For more information contact Ava Goldman, Administrative Director at 305-995-2037.
---
FACT SHEET
| | | |
| --- | --- | --- |
| Number of schools | Traditional | Charter |
| Elementary | 170 | 27 |
| K-8 Center | 47 | 37 |
| Middle | 49 | 23 |
| Senior High | 56 | 23 |
| Combination | 4 | 6 |
| Alternative/Specialized | 13 | 10 |
| TOTAL | 339 | 126 |

Student demographics

Hispanic

246,658
69.1%

Black

77,552
21.8%

White

25,946
7.3%

Other

6,342
1.8%

356,498

100%

Number of employees

Teachers
18,520
Full-time
33,677
Part-time
5,267
TOTAL employees
38,944

Base Salary for 10-month teacher with Bachelor's degree: $40,500 - $71,885

Master's degree s

upplement - $3,100
Specialist degree supplement- $5,150
Doctorate degree supplement - $7,200


2015-2016 District budget: $4.6 billion


Top 10 languages used as primary language by students

Spanish
187,583
Haitian-Creole
13,720
Portuguese
1,8,48
French
1,634
Russian
882
Chinese
705
Arabic
525
Italian
412
Creole
364
Vietnamese
347

Number of students with disabilities
and gifted students

Gifted
42,373
Special Education (SPED)
34,926
TOTAL Exceptional Student Education
77,299

Number of magnet programs/Choice Schools

500+

Schools

110

Total Enrollment: 215,054 or 60.3%

* Source: Assessment Research and Data Analysis, April 2016 Statistical Highlights.
---
THE MIAMI-DADE COUNTY FAIR & EXPOSITION
The Fair will open its doors on March 23, 2017, this year to showcase students' talents and provide families with 21 days of fun! The Fair also provides students with a $1,000 non-renewable scholarship to attend an accredited college, university or a Miami-Dade County Public Schools-certified trade school program. High school seniors or Adult/Vocational students must apply at their school sites. All recipients will be honored at a dinner ceremony at The Fair.
The Walter B. Arnold Youth Hall of Fame award offered by The Fair was created to recognize students in grades 6-12 to reward their outstanding service to their school and/or community. All finalists are honored at a dinner ceremony at The Fair and receive a $100 and a plaque. Inductees to The Youth Hall of Fame receive $1,000 each and their portrait will hang in their honor on the Youth Wall of Fame at The Fair. Students must apply at their schools.

For more information on these and other Miami-Dade County Fair & Exposition projects, exhibits and opportunities please log onto The Fair website at www.fairexpo.com, or contact Diana Venturini, Director, Office of Community Engagement at Miami-Dade County Public Schools at 305-995-1367.
---
FALL REGISTRATION

Admission, Registration and Immunization Requirements
Miami-Dade County's public schools will open their doors Monday, August 22 to start the 2016-2017 school year.

All children who have reached the age of six or who will be six years old by February 1st of any year or who are between the ages of 6 and 16, except as otherwise provided in Florida law, are required to attend school regularly during the entire school term. All children enrolling in a District school shall meet the immunization requirements by state law, and provide evidence of a physical examination.

The following documents are to be provided upon initial registration:
Students transferring from out of state, other districts in Florida, or who are foreign born, must adhere to the same admission, and entrance requirements for registration.
All students are assigned to attend the school in the district where their parents/legal guardians reside, unless the child has received an assignment to another school through a Parent Choice Student Transfer, or through Miami-Dade County Public Schools' School Choice & Parental Options. To find your neighborhood's area schools, you may access www.dadeschools.net, select Schools, Find your Neighborhood School or click on the 2016-2017 Initial Entry Registration Procedures Handbook: (http://ehandbooks.dadeschools.net/policies/44.pdf).
Although there is no cut-off date for registering, students are urged to register early to avoid processing delays and to ensure they can attend school on opening day.
---
FLORIDA KIDCARE: CHILD HEALTH INSURANCE YOU CAN AFFORD!
Florida KidCare is comprehensive health insurance for children from birth to age 18, who are uninsured. Any family can apply; the amount paid is based on income and family size. Most families pay $15 or $20 each month or nothing at all. Many non-citizen children may qualify.

Many of our students may be eligible for health insurance through Florida KidCare, even if one or both parents are working.
Services include: doctors visits, check-ups and shots, prescriptions, mental health, hospital and surgery, vision and hearing, dental, and emergencies.

There are four programs in Florida KidCare: Medicaid, Healthy Kids, Medikids, and Children's Medical Services.
Through a partnership with Florida KidCare, Miami-Dade County Public Schools is now providing information about the program and application assistance in our schools. Families may speak with their school's KidCare Liaison or call The Parent Academy KidCare help line at 305-995-1207.

Parents may also apply online at http://www.healthykids.org and click "Apply Online Now."

For more assistance, call Florida KidCare 1-888-540-5437 (toll free).

---
FOREIGN LANGUAGE PROGRAMS

Miami-Dade County Public Schools (M-DCPS) provides an equitable and accessible curriculum in every school for all students. The district offers a diversified K-12 language program that provides multiple pathways to biliteracy to meet the individual needs of all students.
Spanish World Language 2-5
Spanish World Language is a language program designed to help participants become functionally literate in Spanish. The program provides for the systematic development of language learning in all areas: listening, speaking, reading, and writing; and fosters awareness and understanding of the cultures in which that language is spoken.
Bilingual School Organization (BISO) K-8
The Bilingual School Organization (BISO) schools offer a school-wide dual language program model. This program serves those students who are especially interested in developing their bilingual and biliterate proficiency in English and one other language. BISO schools follow an instructional schedule where 60 percent of the day is devoted to instruction in or through English and 40 percent of the day is devoted to instruction in or through the language other than English.
International Education (IE) K-12
The International Education (IE) Program immerses students in multicultural education, as well as, an emphasis on learning a second language. These programs, which are delivered in various, successful curricular designs, prepare students to thrive in a fast-changing global society and economy.
International Studies (IS) K-12
The International Studies (IS) program is the result of the collaborative efforts of M-DCPS and the education ministries of France, Germany, Italy and Spain. Students pursue an academic curriculum with an international focus that addresses rigorous standards of both US and European Union (EU) educational systems. At the elementary level, the program is delivered in an extended day model where students receive up to three hours of instruction in the language of choice working at a level commensurate with that of their peers in Europe. At the secondary level students pursue studies in literature, mathematics, and the social sciences in the target language and are encouraged to work at the highest levels in Honors and Advanced Placement (AP) courses in English. This program offers students the opportunity to receive dual recognition for their studies.
Extended Foreign Language (EFL) K-8
The Extended Foreign Language (EFL) instruction in the curriculum content areas is delivered in or through both languages. Schools wishing to implement the program determine the language other than English to be instructed and the amount of instructional time delivered in and through that language. Schools may choose to offer from one to two hours of instruction in the target language. At the secondary level students pursue studies in literature, mathematics, social sciences, or science in the target language. Secondary programs offer instruction from two to three periods in the target language.
Foreign Language 6-12
The Foreign Language is an elective program at the secondary level. Course offerings range from the middle school sequence through a six-year, high school foreign language course sequence in 13 languages.
English for Speakers of Other Languages (ESOL) K-12
English for Speakers of Other Languages (ESOL) is a Language Arts program required for students who are limited English proficient and classified as English Language Learners (ELLs). The program targets grade level instruction, as well as, increasing their English language proficiency supporting their ability to meet the same challenging State academic content and student academic standards as non-ELLs.
---
FOUNDATION FOR NEW EDUCATION INITIATIVES, INC.
As a direct support organization for Miami-Dade County Public Schools (M-DCPS), The Foundation for New Education Initiatives, Inc., has opened new worlds of opportunity, innovation, motivation and academic success for M-DCPS students.

The School Board of Miami-Dade County, Florida created the Foundation in 2008 to enhance student achievement and community engagement by supporting The Parent Academy and other M-DCPS initiatives.
For more information about the Foundation's mission and the scope of education initiatives it supports, please contact Ann de las Pozas, Executive Director, at 305-995-7317 or visit www.giveourstudentstheworld.org.
---
FREE AND REDUCED-PRICE MEALS
Miami-Dade County Public Schools (M-DCPS) serves nutritious meals every day. All meals must meet the criteria established by the U.S. Department of Agriculture. Breakfast is FREE for students at all Miami-Dade public schools each school day.

To apply for free or reduced-price lunch, households must complete an application either online at http://nutrition.dadeschools.net or by returning a hard copy to the school where the youngest child attends. Complete only one application per household and applications may be submitted at any time during the year. Applications are available at the main office of each school in English, Spanish and Creole. The information provided on the application will be used for the purpose of determining eligibility and may be verified at any time during the school year.
Households that receive SNAP (Supplemental Nutrition Assistance Program) or TANF (Temporary Assistance to Needy Families) are required to list on the application the case number. Skip section 3 on the application. Free meal benefits will be extended to all children in a household when the application lists a SNAP/TANF number.
Foster children will receive free benefits regardless of the child's personal income or the income of the household. Foster students are not required to complete an application in order to receive lunch at no charge.

All other households must provide the following information listed on the application:
Names of all students in household – provide their student ID number, date of birth and name of the school they attend;
Names of all household members;
Total household income listed by gross amount received, type of income (e.g., wages, child support, etc.) and how often the income is received by each household member;
Signature of an adult household member certifying the information provided is correct; and
Last four digits of the social security number of the adult signing the application. If this household member does not have a social security number the word "NONE" should be written or an X must be placed in the box "No SSN."
Students may pre-pay for lunch online at www.PayPams.com, or in the school cafeteria with a check or cash. Information on PayPayms will be sent home along with the free/reduced-price meal application pamphlet on the first day of school. Full-price elementary school lunch is $2.25. Full-price middle and senior high school lunch is $2.50. Reduced-price lunch, at all grade levels, costs 40 cents a day.
---
GRADUATION REQUIREMENTS
Miami-Dade County Public Schools' (M-DCPS) students entering 9th grade may choose from one of four state-approved options to earn a standard diploma.
24-credit program*
18-credit, Academically Challenging Curriculum to Enhance Learning (ACCEL) option
An International Baccalaureate (IB) curriculum
An Advanced International Certificate of Education (AICE) curriculum
*Additionally, there are two options for students with disabilities, which may be completed within the 24-credit program. For additional information on exceptional student education programs, visit the Bureau of Exceptional Education and Student Services web page.
All diploma options require students to earn a passing score on the Grade 10 English Language Arts Florida Standards Assessment or either the College Board SAT or the ACT.
Students must also earn a passing score on the Algebra 1 End-of-Course. (EOC) assessment or receive a comparative score on the Postsecondary Education Readiness Test (PERT).
Students are required to complete at least one online senior high school course in order to graduate.
Students should also meet with their school counselor to ensure that they have accurate information about the required courses and tests for graduation, as well as other important information that students need during high school and as they make their post-secondary plan.
For more detailed information regarding the requirements for different diplomas, click on the links below for the Florida Department of Education's Academic Advisement Fliers – "What Students and Parents Need to Know." The fliers are available in three languages.
Academic Advisement Fliers: What Students and Parents Need to Know: (see http://www.fldoe.org/academics/graduation-requirements for cohort specific requirements)
Students Entering Grade Nine in the 2013-2014 School Year
If you need more specific information regarding this new legislation, please contact your child's school counselor and/or administrators. Working together, parents and M-DCPS school personnel can truly make a difference for our students.
---
HEALTH CARE, STATE-REQUIRED IMMUNIZATIONS

Children scheduled to enter pre-Kindergarten through 12th grade for the 2016-2017 school year need to be properly immunized or they will not be allowed to enter school.

The state's school immunization program requires all students attending kindergarten through 12th grade to receive a second dose of the MMR vaccine.

All children entering pre-Kindergarten through 12th grade must complete a hepatitis B vaccine series in addition to the already required immunizations for diphtheria, pertussis, tetanus, polio, measles, mumps, rubella and varicella.

All children entering, attending or transferring into pre-Kindergarten or grades 9, 10, 11 or 12 in Florida are required to have one dose of the varicella (chicken pox) vaccine or a history, documented on a Florida Certification of Immunization Form or Florida shots document of varicella disease. This requirement also applies to students retained in pre-kindergarten or grades 9, 10, 11 and 12.

All children entering, attending or transferring into Kindergarten and grades 1, 2, 3, 4, 5, 6, 7 and 8 are required to have two doses of the varicella (chicken pox) vaccine or a history documented on DH Form 680 (Florida Certification of Immunization Form). This requirement also applies to students retained in Kindergarten and grades 1, 2, 3, 4, 5, 6, 7 and 8.

All children entering, attending or transferring into 7th grade in Florida are required to have the Tdap vaccine documented on a DH Form 680, or Florida shots document.

Children may attend school if they are in the process of completing their immunization series and have a valid temporary medical exemption form on file at the school. Only the Florida Department of Health Certificate of Immunization, DH Form 680, or Florida shots document may be accepted as verification for immunization compliance.

Parents/guardians are encouraged to contact their health care provider to schedule an appointment for children affected by the school immunization requirement. Required immunizations are covered under most health insurance policies.

Children whose parents cannot afford to pay for vaccines may receive free immunizations, including Flu Mist under the Vaccines For Children program, which provides free vaccines at county health department centers, Federally qualified Health Centers and specific school sites. For more information, contact the Special Immunization Program Office of the Miami-Dade County Department of Health at 786-845-0550, or dial 211 and ask for immunization providers in your area. Further information about schools that will be offering free vaccines, including Flu Mist, throughout the year will be forthcoming.

Miami-Dade's public schools provide various health screenings under the supervision of school or health-care personnel.

Vision screenings will be conducted annually for students in grades Kindergarten, 1, 3, 6, and new students to Florida in grades 2, 4 and 5.
Hearing screenings will be conducted annually for students in grades Kindergarten, 1, 6, and new students to Florida in grades 3, 4 and 5.

Parents of students who fail any of the screenings or appear to have a vision or hearing problem will be advised to seek care from their health care provider.

The Florida Heiken Children's Vision Program provides comprehensive eye exams and eyewear to low-income students. It works by taking vision care to schools in one of four mobile eye care vans.

Each year, students in grade 6 are screened for scoliosis.

When students have long-term or chronic illnesses or disabilities that require maintenance type medication, school personnel may assist students in the administration or dispensing of the medication when the medication schedule cannot be adjusted to provide for administration at home.

A parent or guardian must sign a consent form, and a licensed health care provider must sign a written treatment plan and authorization that explains the necessity for the medication. When a change in medication is required, the parent or guardian and the physician must submit new authorization forms. The principal will lock up medication in a designated area.

For more information, contact Wilma Steiner, Director, Office of Exceptional Student Education and Student Support, Comprehensive Health Services, at 305-805-4600.
---
HEALTH CONNECT IN OUR SCHOOLS (HCiOS)
The Children's Trust, Miami-Dade County Public Schools and the Miami-Dade County Health Department, along with community partners, developed "Health Connect in Our Schools" (HCiOS) during school year 2005-2006 to support student health and mental health issues in Miami-Dade County schools.
Teams of professionals, including school social workers and nurses, will be stationed at over 145 schools during the 2016-2017 school year. The aim of HCiOS is to connect students to a permanent medical/mental health site outside of the school setting where prevention and the promotion of overall health lead students and their families to healthier lifestyles, while improving student achievement.

For more information, contact Wilma Steiner, Director, Comprehensive Health Services, at 305-805-4600.
---
PROJECT UPSTART – HOMELESS ASSISTANCE PROGRAM
Project UP-START, the Homeless Education Program for Miami-Dade County Public Schools, has been serving families and students living in transition since 1992 under the Division of Student Services. Project UP-START supports students who lack fixed, regular, and adequate nighttime residence and are living in the following categories:
Emergency homeless shelters or transitional housing
Shared housing due to loss of housing or economic hardship (doubled-up)
In public places, cars, parks, substandard housing, or campgrounds
In motels or hotels due to economic hardship
Project UP-START adheres to the Department of Education's McKinney Vento law by assisting families with the following services:
Immediate school enrollment
Transportation requests to the school-of-origin
After-school tutoring at select shelters sites
Immediate free lunch
Homeless awareness activities year-round
Case management/referrals for families to access to community partners
Above and beyond these federal mandates, Project UP-START provides assistance to homeless students, such as school supplies, backpacks, uniforms, food, clothing, and more. These services are made available through the UP-START Shop, which is supported, by our Office of Community Engagement, South Florida Youth Foundation, and our Superintendent's Foundation for New Education Initiatives. The UP-START Shop is utilized throughout the school year for students and families, such as for back-to-school, the holidays, and prom season.

For more information, please contact Debra Albo-Steiger, Project Manager, at 305-995-7318.
---
SCHOOL HOURS

Miami-Dade County's public schools will open their doors Monday, August 22 to start the 2016-2017 school year.
Pre-kindergarten, kindergarten and first-grade students will attend school from 8:20 a.m. to 1:50 p.m.; and 2nd-through-8th-graders will attend school from 8:35 a.m. to 3:05 p.m. in elementary schools and K-8 Centers. On Wednesdays, all elementary and K-8 students will be dismissed at 1:50 p.m.
Please inquire with your child's school to confirm opening and dismissal times, since various schools have different bell schedules.
Middle school hours will be from 9:10 a.m. to 3:50 p.m. Senior high school hours will be from 7:20 a.m. to 2:20 p.m. Some elementary, middle and senior high schools as well as some special K-8 and alternative-education centers will operate on individual schedules.
Parents should telephone their children's schools for those hours. Various middle schools operate on senior high school hours. Please inquire with your child's school to confirm beginning/dismissal.
---
IMPORTANT DATES IN 2016-2017 SCHOOL YEAR
HOLIDAYS

Monday, Sept. 5 - Labor Day
Friday, Nov. 11 - Veterans Day
Thursday, Nov. 24 - Thanksgiving Day
Monday, Jan. 16 - Observance of Dr. Martin Luther King's birthday
Monday, Feb. 20 - All Presidents Day
Monday, May 29 - Memorial Day

TEACHER PLANNING DAYS

Thursday, Aug. 18
Friday, Aug. 19
Tuesday, Aug. 30 – Professional Development Day
Monday, Oct. 3
Wednesday, Oct. 12
Tuesday, Nov. 8 - Professional Development Day
Wednesday, Nov. 23
Monday, Jan. 23
Friday, March 24
Friday, June 9

RECESS DAYS

Friday, Nov. 25 - Thanksgiving Recess
Monday, Dec. 26 through Friday, Jan 6 - Winter Recess
Monday, April 10 through Friday, April 14 - Spring Recess
---
INTERNSHIPS


Internship Programs (HEIP) serve as an opportunity to engage business and community leaders to expand learning through internships that connect to career academies and students' collegiate field of interest.

Students participate during their junior or senior year and have the opportunity to apply their academic foundations in real world settings.
Internship placements take place in business, computer science, engineering, public relations, marketing, law & politics, journalism, medical and many other industries.
To learn more about the internship programs contact Lisa Thurber, District Director, Office of Community Engagement, at 305-995-1265.
---
K-12 LITERACY PROGRAM
Miami-Dade County Public Schools has one of the nation's most comprehensive reading plans for all students in Kindergarten through grade 12, incorporating requirements of the state's Just Read, Florida! office.

The District's K-12 Comprehensive Research-Based Reading Plan (K-12 CRRP) calls for instruction in the six essential elements of reading: phonics, phonemic awareness, fluency, vocabulary, and comprehension and oral language. Assessments include initial, screening, progress monitoring and diagnostic.
Developed by staff with the assistance of an Ad Hoc Reading Committee, the CRRP has been identified at national and state levels as an exemplary reading plan that has resulted in significant student increases in student achievement in reading.
This state-mandated program, includes the following strategies and components:
90 minutes of daily language arts reading instruction for Kindergarten (K) to 5th grade and 30 minutes of writing instruction;
Emphasis on daily, systematic and explicit phonics instruction in K to 3rd grade;
Intensive Reading Enrichment is offered for students who are close to proficiency;
Assessment of students' reading proficiencies, using screening, progress monitoring and diagnostic assessment as needed;
Immediate, intensive intervention is provided as needed at all grade levels to accelerate reading achievement;
Reading coaches and reading contacts support at selected schools.
Key elements of the plan also include extensive professional development for teachers at all levels, a structured approach to reading instruction, and an emphasis on reading across all areas of the curriculum with expectations clearly identified at each grade level guided by Language Arts Florida Standards. Systematic support is provided by the school-site administrator, reading coach, the Reading Leadership Team, and district personnel who synchronize effective implementation of the plan.

The K-12 CRRP is supported by a wide variety of community organizations, higher education institutions and local agencies.

For more information, contact the Department of English Language Arts at 305-995-3122 or visit the department's website at http://languageartsreading.dadeschools.net/.
---
THE K–12 MATHEMATICS CURRICULUM
The K-12 Mathematics Curriculum is designed to drive classroom instruction that will help students to understand and use mathematics to reason, communicate, and solve problems necessary for success in a technological world.
The required program of study for Mathematics in M-DCPS reflects state and district requirements, including the Mathematics Florida Standards (MAFS), as contained in the M-DCPS District Pacing Guides.
The mathematics curriculum goals and requirements include the following components:
In grades K-5, 60 minutes of consecutive, and uninterrupted, daily instruction in mathematics is part of the required program of study;
Students with disabilities are required to have the same instructional time as their non-disabled peers;
In grades 6-8, students must successfully complete three middle grades or higher-level mathematics courses to be promoted to high school from eighth grade;
For students entering 9th grade in 2016-2017, four credits of mathematics are required. Students must earn one credit in Algebra I and one credit in Geometry and pass the statewide, standardized FSA Algebra I EOC assessment, or earn a comparative score on the Postsecondary Education Readiness Test (PERT)*, in order to earn a standard high school diploma;

* New concordant and comparative scores will be established for the new assessment once a sufficient number of students have participated in both the new assessments and the alternate assessment(s) to conduct the concordant/comparative score study.

Students will be encouraged to participate in mathematics competitions such as the DCCTM Elementary Math Bowl, MATHCOUNTS, Middlementary Math Bonanza, Mu Alpha Theta, and the SECME math challenge (a component of the M-DCPS STEM Expo) to assist them with the growth and expansion of critical-thinking and problem-solving skills.
M-DCPS Department of Mathematics is in partnership with local universities and informal mathematics institutions to provide programs that enhance professional development for teachers and design competitions and outreach programs, as well as internship and mathematics experiences.
For more information, contact Michelle R. White, Executive Director, Department of Mathematics and Science, at 305-995-1939 or visit the department's website at http://math.dadeschools.net/index.html.


---
K-12 SCIENCE CURRICULUM
Miami-Dade County Public Schools' (M-DCPS) K-12 science curriculum helps students achieve the science literacy necessary for success in post-secondary education and in the workplace.
Students will be encouraged to participate in science competitions, to include school-site and District science fairs, and the Miami-Dade STEM (Science, Technology, Engineering and Mathematics) Expo to assist them with the growth and expansion of scientific thinking and engineering application.


Science websites with resources for parents, students, and teachers are accessible at http://science.dadeschools.net.
The Department of Science (DoS) has developed a science plan that provides a structured approach to improve science teaching and learning and to transform instructional practices that focus on concept formation and problem solving, through inquiry-based, hands-on activities, and technology integration.

The DoS is in partnership with local universities and informal science institutions to bring programs that enhance professional development for teachers; support student STEM design competitions; sponsor family outreach programs; and provide internships and science experiences, in general.

For more information, please contact Dr. Ava D. Rosales, Executive Director, Department of Mathematics and Science, at 305-995-1939 or visit the department's website at http://science.dadeschools.net/.
---
THE K-12 SOCIAL SCIENCES CURRICULUM

Miami-Dade County Public Schools' (M-DCPS) K-12 Social Sciences Curriculum prepares students to be knowledgeable, informed, and active citizens in an increasingly diverse community, nation and interdependent world. Social science programs exist to promote civic competence and ensure that the values and ideals that have shaped our democratic republic continue to be instilled in our youth.
Students are encouraged to participate in social science competitions some of which include: We the People, Citizen and the Constitution, Middle and Senior High School Mock Trials, Middle and Senior High School Model United Nations, Elementary, Middle, and Senior High School Geography and History Bees, Theodore Gibson Oratorical Competition, and multiple opportunities to enhance students' writing skills through year-long essay contests.
Annually the Department of Social Sciences produces instructional resources related to: Constitution Day, Patriot Day, Celebrate Freedom Week, Hispanic Heritage Month, Black History Month, Women's History Month, Character Education, Haitian History Month, Asian Pacific Heritage Month, and Caribbean American Heritage Month.
Additional resources also exist to support student acquisition of skills and knowledge related to local history and financial literacy.
Activities that support learning in social sciences that can be accomplished at home are providing opportunities for students to analyze primary and secondary sources of information such as historical texts, political cartoons, infographics, and current events.
The Department of Social Sciences' website, http://socialsciences.dadeschools.net, provides a wealth of information for students supporting the K-12 social sciences instructional program.
For more information, please contact Robert C. Brazofsky, Executive Director, Department of Social Sciences, at 305-995-1982 or via email, rbrazofsky@dadeschools.net or visit the department's website at http://socialsciences.dadeschools.net/.
---
LIFELINE ASSISTANCE TELEPHONE PROGRAM IN FLORIDA
Communication between parents and school personnel is vital to a student's success. However, for some parents keeping in touch via telephone is impossible because they can't afford the service. Fortunately, the Lifeline Assistance program is designed to ensure that all residents of Florida have access to telephone service and connections in their homes.
Lifeline, which is part of the federal Universal Service Program, is designed for low-income households to obtain at least a $9.25 credit on their monthly phone bills or receive a free Lifeline cell phone and monthly minutes.
Enrollment is easy for eligible applicants. Parents qualify if their children are enrolled in the National School Lunch program's free lunch program. They may also qualify based on a public benefit program or income eligibility.
Lifeline brochures and application forms are available in English, Spanish and Creole on the Florida Public Service Commission's (PSC) homepage: http://www.floridapsc.com/consumerassistance/lifelineAssistance.
For more information, applicants may call their local telephone companies, the Office of Public Counsel at 1-800-540-7039 or PSC at 1-800-342-3552.
---
MIAMI-DADE COUNTY SCHOOL BOARD


The School Board of Miami-Dade County, Florida exercises legislative authority over the school system and determines policy in accordance with Florida laws. Each elected official of the nine-member board represents a specific district within the county.

The School Board generally holds its regular meeting once each month on a Wednesday at 11 a.m. in the first-floor auditorium of the School Board Administration Building (SBAB), 1450 N.E. Second Ave. Approved dates are posted in the Citizen Information Center, SBAB Room 102, and on Miami-Dade County Public Schools' website: www.dadeschools.net/schoolboard/meetings/schedule.asp. Meetings are open to the public and are broadcast live on WLRN-TV Channel 17 and on WLRN-FM 91.3 as well as webcast on www.wlrn.org.

Interested citizens may address the board on matters listed on the agenda or topics not listed on the agenda by filing a written request with the Citizen Information Center by 4:30 p.m. on the Monday before the meeting. Citizens will be heard on matters on the consent agenda or not on the Board agenda at the regularly scheduled meeting of the Board each month at the public hearing, which shall begin no later than approximately 6:30 p.m. The Chair may begin calling speakers who are present immediately following the conclusion of the regular agenda. The public hearing shall not conclude before 4:30 p.m. unless all of the speakers signed up to speak are present and have been given the opportunity to speak.

Deadlines and procedures, which differ when the Monday deadline is not met, can be obtained by contacting the Citizen Information Center at 305-995-1128. Anyone wishing the service of either a Spanish or Haitian-Creole interpreter when speaking before the Board must request that service in their written request to speak.
Forms to request for appearance before the School Board are available online at cic.dadeschools.net at all Regional Centers and at the Citizen Information Center. The fax number is 305-995-1151. Completed forms may also be sent via email to: Request4appearance@dadeschools.net.
School Board members' offices are located at the School Board Administration Building. Board members may be contacted at 305-995-1334.
Members of The School Board of Miami-Dade County, Florida:
Chair – Perla Tabares Hantman (District 4)
Vice Chair – Dr. Dorothy Bendross-Mindingall (District 2)
Susie V. Castillo (District 5)
Dr. Lawrence Feldman (District 9)
Dr. Wilbert "Tee" Holloway (District 1)
Dr. Martin Karp (District 3)
Lubby Navarro (District 7)
Raquel Regalado (District 6)
Dr. Marta Pérez Wurzt (District 8)


---
THE PARENT ACADEMY
Helping Parents Help Their Children Succeed In School


Miami-Dade County Public Schools created The Parent Academy to bridge the gap between home and school by connecting parents to valuable resources and information, which answers questions on topics that impact children's lives, including helping children learn, parenting skills, financial management, and health and wellness.

The Parent Academy supports parents in becoming more involved in their children's education by providing free, year-round workshops at public schools, libraries, parks, colleges, private businesses and neighborhood centers across the county. Parents have the opportunity to participate in workshops that are aligned to their needs and convenient to their homes and workplaces.

The Parent Academy curriculum helps bring parents more skills, knowledge and confidence to champion their children's education.

The Parent Academy partners with community organizations to present exciting family learning events that encourages the entire family to learn together. The themed events are held monthly at fun, educational and culturally enriching museums and local attractions. The events combine academics, exploration and discovery while promoting positive parent-child interactions. Upcoming events and workshop offerings are listed on The Parent Academy website.

For additional information, please call The Parent Academy at 305-995-2680 or visit our web site at theparentacademy.dadeschools.net.
---
PARENT INVOLVEMENT: THE KEY TO STUDENT SUCCESS
As students head back to class, parents are full of hope for their children's success. The most important thing parents can do is to become involved in their children's education.


Parents can obtain educational information, community resources, announcements, calendars of activities and workshops at their school or by accessing the Frequently Asked Questions guide at:
www.engagemiamidade.net/ - !frequently-asked-questions-guide/c1jtm.

Many reports are provided via the Parent Portal throughout the year to assist parents in monitoring their student's success, as well as the overall performance of the school. The School Board policy on parental involvement (2111 – Parent Involvement – A Home-School District Partnership) delineates the rights and responsibilities of parents as they work with the school to ensure student success.
Some other important steps that every parent should take include:
Helping your child develop good study habits, providing your child with a quiet, well-lit area and a desk or table to do homework each evening;
Making sure your child is ready to learn by being well rested, fed and emotionally prepared to study every day;
Providing encouragement and guidance so that your child is able to resolve challenging homework and social problems on his or her own; and
Maintaining contact with your child's teachers, sending written notes or email messages, and arranging for telephone conversations or in-person conferences. The school office personnel, assistant principal or counselor will assist in arranging these meetings.
For further information, parents should contact the school administration, the Office of Community Engagement at 305-995-1265 or visit www.engagemiamidade.net.


---
Miami-Dade County Public Schools presents two radio programs for the Haitian Creole community members: Radyo Lekòl on WLRN-FM 93.1, and a Radyo Lekòl on WSRF-AM 1580. Both programs are about education news.
The WLRN program airs on Monday - Friday at 9:06 p.m. The WSRF program airs Wednesdays at 10:30 a.m.
For more information, call Haitian Affairs in the Office of Communications, Carline Faustin, Director/Host, at 305-995-1188 or Simone Degraff, Media Relations Specialist/Host, at 305-995-4247.


---
REGION OFFICES
Miami-Dade County Public Schools is subdivided into three regions. Each region consists of a region superintendent and staff responsible for providing support and assistance to parents and students. Parents' questions or issues regarding their child's school that are not resolved at the school level may be addressed to a Region Center director. If the parents are not satisfied with the outcome, they may appeal the decision to the Region Center region superintendent. Questions relating to boundaries, attendance and transfer policies can be answered at the Region Center. Addresses and telephone numbers of these offices are:
NORTH REGION OFFICE
733 East 57th St.
Hialeah, FL 33013
305-572-2800

Region Superintendent:
Jose Bueno
Region Administrative Directors:
Sally J. Alayon
Dr. Verena Cabrera
Andy J. Pierre-Louis
Dr. Charmyn M. Kriton

CENTRAL REGION OFFICE
5005 N.W. 112nd Avenue Doral, FL 33178 305-499-5050

Region Superintendent:
Dr. Albert Payne

Region Administrative Directors:
Dr. Jacques Bentolila
Dr. Janice Cruse-Sanchez
Lourdes P. Gimenez
Amelia P. Leth
Michael A. Lewis
Annamarie Moreiras

SOUTH REGION OFFICE
18180 S.W. 122nd Avenue
Miami, FL 33177
305-252-3041


Region Superintendent:
Barbara A. Mendizábal

Region Directors:
Lucy C. Iturrey
Ana C. Othon
Leonard Ruan
Anna L. Rodriguez
Reva A. Vangates

ADULT/VOCATIONAL/ALTERNATIVE EDUCATION AND COMMUNITY SCHOOL
1450 N.E. 2nd Ave., 8th floor
Miami, FL 33132

Assistant Superintendent:
Robert Gornto

Administrative Directors:
Dr. Reginald H. Johnson – Adult/Vocational/Community School
Luis E. Diaz – Alternative Education
NOTE: Region Offices do not support charter schools. Questions on issues regarding charter schools should be directed to the Office of Charter School Support at 305-995-1403 or cso@dadeschools.net.Each Region Office oversees senior high schools and their respective feeder-pattern schools. The senior high schools within each Region Office are listed below:
NORTH REGION OFFICE

CENTRAL REGION

American Senior High
Barbara Goleman Senior High
Hialeah Gardens Senior High
Hialeah Senior High
Hialeah-Miami Lakes Senior High
Dr. Michael M. Krop Senior High
Jose Marti MAST 6-12 Academy
MAST @ FIU Biscayne Bay Campus
Miami Beach Senior High
Miami Lakes Educational Center
Alonzo & Tracy Mourning Senior High
Miami Carol City Senior High
Miami Norland Senior High
North Miami Beach Senior High
North Miami Senior High
Robert Renick Educational Center
Westland Hialeah Senior High
Coral Gables Senior High
Design & Architecture Senior High
International Studies Preparatory Academy
iPreparatory Academy
Law Enforcement Officers Memorial High
Maritime & Science Technology Academy (MAST)
Miami Central Senior High
Miami Coral Park Senior High
Miami Edison Senior High
Miami Jackson Senior High
Miami Northwestern Senior High
Miami Senior High School
Miami Springs Senior High
New World School of the Arts
Ronald W. Reagan/Doral Senior High
South Miami Senior High
William H. Turner Technical Arts High
Booker T. Washington Senior High
Young Men's Preparatory Academy
Young Women's Preparatory Academy
iTech@Thomas A. Edison Educational Center
SOUTH REGION OFFICE

Academy for Advanced Academies (AAA)
Bio-Tech@Richmond Heights
G. Holmes Braddock Senior High
Center for International Education/Cambridge School
Coral Reef Senior High
Cutler Bay High School
John A. Ferguson Senior High
Homestead Senior High
MAST @ Homestead
Arthur & Polly Mays Conservatory of the Arts
Miami Killian Senior High
Miami Arts Studio 6-12 @ Zelda Glazer


Miami Palmetto Senior High
Miami Southridge Senior High
Miami Sunset Senior High
Robert Morgan Educational Center
School for Advanced Studies - North
School for Advanced Studies - South
School for Advanced Studies - Wolfson
School for Advanced Studies - Homestead
South Dade Senior High
Southwest Miami Senior High
TERRA Environmental Research Institute
Felix Varela Senior High
---
SCHOOL SAFETY
Safety and security is of paramount importance to Miami-Dade County Public Schools (M-DCPS). Equally important is the correct resource information on how to report crimes and other issues that may impact our school community.
MDCPS's Anonymous Tips Reporting System is called "Be Safe," which includes texting, as well as web-based and phone support for the anonymous reporting of school safety concerns. The "Be Safe" reporting system allows students, staff, parents or the public to anonymously report incidents involving crimes, weapons, drug violations or other safety concerns in schools; thus reducing fear of retribution and preventing additional incidents.
"Be Safe" can be used to address any crime, disorder, or disruptive behavior and is a particularly effective prevention tool to encourage students and others to report incidents that threaten the security of the school environment.
"Be Safe" is available using any of the following three options:
WEB-BASED Reporting: Links have been placed on the dadeschools.net pages that will redirect the user to BeSafe.dadeschools.net. An anonymous reporting form can be completed and submitted at this time. Direct access: http://besafe.dadeschools.net.
TEXTING: Using cell phones, a text message can be sent to 274637 (CRIMES) with the text message beginning with the keyword "BESAFE;" followed by the anonymous tip.
PHONE Reporting: 305-995-COPS (2677) OR 305-4POLICE (765423).
There are also several drop boxes located at school sites whereby students can report crimes and other incidents and remain anonymous. M-DCPS and the school police also accept anonymous tips in person, and pledge to always protect the identity of those wishing to come forward with information regarding safety in our schools.
Through the District's partnership with Miami-Dade Crime Stoppers and other organizations allows the public to dial 305-471-TIPS (8477), access www.crimestoppersmiami.com, the mobile application "Tip Submit" or via the School Police website: http://mdspolice.com/miami-dade-schools-police-be-safe/ to disclose information while remaining anonymous. Tipsters may be eligible for cash rewards.
See Something, Say Something
The nationwide "If You See Something, Say Something" public awareness campaign – is a simple and effective program to raise public awareness of suspicious activities. You can report that behavior or activity to local law enforcement at 305-995-COPS (2677) or call 855-FLA-SAFE (352-7233). In case of emergency call 9-1-1.
Additionally, parents and caregivers driving within school safety zones or in neighborhoods near schools play an important role in enhancing safety near schools by following safe driving practices. At arrival and dismissal times, drivers are often in a hurry and distracted. This tendency can lead to unsafe conditions for students and others walking, bicycling and driving in the area, so please be aware of your surroundings and obey all traffic rules when driving in school zones. Please refrain from texting and watch your speed.
To report truancy, members of the community may call 305-371-SKIP (7547). The hotlines are answered by trained personnel, who record the reported information and ensure a prompt response by the Miami-Dade Schools Police Department or other appropriate law enforcement agencies.
M-DCPS has a comprehensive Emergency Operation Plan that provides school-level personnel with guidelines and procedures to address a variety of critical incidents that may occur in schools. In addition, the school system has a District Critical Incident Response Team (DCIRT) that is available to assist schools with any critical incident. The DCIRT meets the standards of the National Incident Management System.
Additional information is available on our website at mdspolice.com.


---
STANDARDIZED TESTING
The achievement and progress of students in Miami-Dade County Public Schools (M-DCPS) are measured each year with the help of district, state and national standardized tests. Some of the major tests are listed below.

The Florida Standards Assessments (FSA) replaced the Florida Comprehensive Assessment Test (FCAT) 2.0 Assessments for Reading and Mathematics in 2014-2015. The assessments measure each student's progress and achievement on the Florida Standards.

The following FSA assessments will be administered:
English Language Arts (ELA) in grades 3-10 to include Reading, Language, and Listening; a Writing component also is included in grades 4-11
Mathematics in grades 3-8
Algebra 1 EOC
Algebra 2 EOC
Geometry EOC
The new tests provide a more authentic assessment of the FSA, because they include more than multiple-choice questions. Students are asked to create graphs, interact with test content and write and respond in different ways than on traditional tests. New question types assess students' higher-order thinking skills in keeping with the higher expectations of the FSA.

Additionally, the Next Generation Sunshine State Standards (NGSSS) will continue to be assessed by the FCAT 2.0 Science in Grades 5 and 8; FCAT 2.0 Reading Retake; Algebra 1 EOC Retake; Biology 1 EOC; Civics EOC; and US History EOC.

The FSA and NGSSS EOC assessments in Algebra 1, Algebra 2, Biology 1, Civics, Geometry, and U.S. History are calculated as 30 percent of the student's final course grade. These assessments are administered to students enrolled in the EOC eligible courses regardless of grade level.

Graduation test requirements vary, based on when a student entered grade 9 (the student's cohort). Detailed information on graduation requirements, by cohort, may be found on the Florida Department of Education's website (http://www.fldoe.org/academics/graduation-requirements).

Students who entered 9th grade in 2012-13, must earn a passing score on the FCAT 2.0 Reading graduation test to meet the requirements for a standard high school diploma. Students who do not earn a passing Reading score will have additional opportunities to retake it in the fall and spring.
Students who entered 9th grade in the 2013-14 cohort and beyond must earn a passing score on the FSA ELA assessment as a high school graduation test requirement, and also have the opportunity to retake the assessment, if they do not earn a passing score.
Students may also apply a passing concordant score on the ACT or SAT to meet the high school graduation test requirements in Reading (FCAT 2.0) or ELA (FSA).
The Postsecondary Education Readiness Test (PERT) is a college readiness assessment. Students may apply a passing comparative score on the mathematics portion of PERT to meet the high school graduation test requirements in Algebra 1.
The Stanford Achievement Test 10th Edition (SAT-10) is a nationally normed test used to compare local students' performance with that of students in the nation. In April, the SAT-10 will be administered to kindergarten, 1st- and 2nd-grade students to assess reading and mathematics skills.

The state's Access for ELLs 2.0 is a four-skill English-language proficiency assessment that will be administered in March/April to all students in grades K-12 classified as English Language Learners (ELL). Access for ELLs measures students' ability to listen, read, write and speak English, and the results provide information about students' strengths and weaknesses in English and their overall progress over time.

The Grade 3 Reading Student Portfolio measures students' proficiency in selected state standards in reading. The portfolio will be administered to students in grade 3 throughout the second semester of the school year.

The District's Interim Assessment tests will be given to students between the grades of 3-10 in fall and winter. These tests, designed to measure Florida's standards and benchmarks in reading (grades 3-10), mathematics (grades 3-8), science (grades 5, 8), and in all EOC eligible courses (Algebra 1, Algebra 2, Biology 1, Civics, Geometry, and US History) will be used by teachers to identify students' strengths and weaknesses to target instruction, and to monitor students' progress.

All kindergarten students are assessed for school readiness during the first 30 days of school as part of the state's Florida Kindergarten Readiness Screener (FLKRS). FLKRS measures early literacy skills that are needed for success in kindergarten.

Florida Assessments for Instruction in Reading (FAIR) and iReady assess students' progress in acquiring critical reading and mathematics, and are administered in the fall, winter and spring. iReady, which also has an instructional component, is administered to all students in grades K-8. FAIR is administered to selected students in grades 9 - 12.

Students also have the option of participating in the following programs offered by The College Board and ACT, Inc.:
The PSAT will be administered to all students in grade 10 and to interested students in 9th and 11th grade in October. The PSAT provides practice for the SAT and is also the qualifying exam for the National Merit Scholarship program. In an attempt to build college readiness and to support more rigorous course selection among Florida's high school students, the state of Florida has formed a partnership with The College Board to pay test fees for all 10th-grade students to participate in the PSAT.

The SAT and the ACT are optional college-entrance tests that students may take at scheduled times throughout the school year. Students taking the SAT or ACT can request that their scores be sent to the colleges or universities of their choice.
Test results are made available in a timely fashion to students and their families. Results of district and state testing programs are sent home with students by the respective schools and posted on the District's Parent Portal. Parents needing assistance in interpreting these scores should contact their children's teachers or guidance counselors.

For more information about these and other tests, check the testing calendar on the district's website at www.dadeschools.net. Additional information about each testing program is available at http://oada.dadeschools.net/TestChairInfo/InfoForTestChair.asp.
---
STUDENT RECORDS AND CONFIDENTIAL INFORMATION


The Family Educational Rights and Privacy Act and section 1002.22, Florida Statutes, protect the privacy of, and guarantees parents, guardians and students access to information contained in student educational records. The parent is guaranteed the right to challenge the accuracy of these records.
These laws provide that without the prior consent of the parent, guardian or eligible student, a student's records may not be released except in accordance with the provisions listed in the above-cited laws. The laws provide certain exceptions to the prior consent requirement to the release of student records, which include, but are not limited to, school officials with a legitimate educational interest and lawfully issued subpoenas and court orders. The laws also allow parents and students over the age of 18, who challenge the accuracy of these records, to request a hearing. If the requested change is denied at the school level, an appeal may be made to the Region Superintendent. If the request is denied at the region level, an appeal may be made to the Division of Student Services. To ensure compliance with these laws, the school system has published detailed instructions for maintaining and releasing student records. These instructions may be found in the Student Educational Records Manual, which is incorporated by reference in School Board Policy 8330.
Each school must provide to the parents, guardians or eligible students annual notice in writing of their right to inspect and review student records. Once a student reaches 18 years of age or is attending an institution of post-secondary education, the permission or consent required of, and the rights accorded to, the parents shall thereafter be required of and accorded to the student only, unless the student qualifies as a dependent under the law.
Students should contact their school registrar if they wish to send transcripts to colleges or scholarship services.
---
SCHOOL TRANSPORTATION

Miami-Dade County Public Schools will transport more than 60,000 students a day this school year, using a fleet of 1,300 buses on nearly 1,100 school-bus routes. The service is for students who live more than two miles from their assigned school, and for special needs students.
Before school begins, parents of all students eligible for bus transportation will receive a postcard from the District identifying the student's bus stop and times of pickup and delivery.
Information on student bus assignments also will be posted on the Parent Portal at www.dadeschools.net beginning Thursday, August 11, 2016. This information will be updated every night. Parents are encouraged to check it throughout the school year to obtain the most current information on their child's bus assignment.
Parents interested in determining their child's transportation eligibility should contact their child's school for information.
---
DISTRICT'S UNITED WAY EMPLOYEE, STUDENT CAMPAIGNS LEAD NATION

Celebrating 42 years of partnership, Miami-Dade County Public Schools employees and students have contributed over $34 million to the United Way and lead the nation in school system-run campaigns.
For many students, participating in the campaign becomes a meaningful learning experience. This year's United Way Campaigns run from October 3 to 31.
The United Way helps children and youth succeed in school and stay off the streets, ensures care and companionship for our elderly, gives families the tools they need to stay together, helps people stay healthy and well, promoting economic independence, and reaching out fast in the face of emergencies.
For more information, please contact Diana Venturini, Director, Office of Community Engagement, at 305-995-1367.
---
SCHOOL VOLUNTEER PROGRAM
The School Volunteer Program consists of reliable talented volunteers and mentors that serve in our schools to support the District's goal of student achievement. Volunteers work under the direction of the Principal and/or school volunteer liaison and are considered our partners in education. Before beginning services, all volunteers must register through the M-DCPS portal in which a complete comprehensive background search is conducted. There are many volunteer activities to choose from such as:
Classroom Assistant - helping a classroom teacher with individual classroom needs.
Tutor - work with small groups in the classroom under the direction of the teacher to assist with academic tutorial work.
Chaperone – assists teachers and students for field trips.
Club Assistant – include school booster clubs and other school related organizations.
Listener/Oyentes - an adult friend to a child, under the direction of a school counselor.
Mentor - volunteers who are placed one-on-one with students or in small groups. Their role is to provide a support system for the students.
To register as a school site school volunteer, contact your school's front office and speak to the School Volunteer Liaison or visit our website at www.dadeschools.net and register through the parent or community portal.

For information on becoming a mentor or certified volunteer please call 305-995-2995.
---
WLRN PUBLIC TV, RADIO SERVE SOUTH FLORIDA COMMUNITY


WLRN Public Radio and Television is a multifaceted enterprise licensed to the Miami-Dade School Board with television, radio and instructional media properties. Broadcast media include (PBS) affiliates WLRN-TV 17 and (NPR) affiliates WLRN-FM 91.3, WKWM-FM 91.5 (serving the Florida Keys) and 101.9 FM, NPR for the Palm Beaches.
WLRN-TV has a monthly viewing audience of more than 530,000 households in the Miami/Ft. Lauderdale market, with viewership extending from lower Palm Beach County to Key West. WLRN is South Florida's leading PBS Ready to Learn station airing twelve hours of award-winning children's programming daily. WLRN-TV also presents the best of the PBS nationally recognized series to compliment locally produced and acquired content. Our prime time schedule features an eclectic array of nature, history, mystery, British programs, and WLRN original documentary specials to address the diverse interests of the South Florida community. WLRN-TV continues to broadcasts award-winning PBS signature programs, such as Nature, Nova, American Experience and Antique Roadshow.
Additionally, WLRN-TV produces award-winning television documentaries that impact South Florida and distributes this content nationally to other PBS stations. Original documentaries include award winners: Deep City: The Birth of the Miami Sound, a story about two musical geniuses, Willie Clarke and Johnny Pearsall, who created the first black-owned record label in Florida called Deep City Records during the mid-60's and Treblinka's Last Witness, a compelling and emotional film that gives a first-hand account by last-known survivor Samuel Willenberg, about his life during the Holocaust and as a Jewish inmate in Treblinka, one of three Aktion Reinhard Death Camps. Viewers can watch out for the upcoming documentary Wynwood Walls, a one-hour film that tells the story of street artists who converge on Miami city's Wynwood neighborhood to color and compete during Art Basel each December.
WLRN has added short stories, scheduled between regular programming, that bring to light the unique history, culture and nature that make South Florida so special. Viewers can now enjoy highly produced Florida stories that will be integrated seamlessly into the schedule giving them uninterrupted, quality storytelling. Film shorts included:

The Fort On The River, an in-depth look at how Fort Lauderdale has evolved from its development of a Fort along the New River near the end of the Second Seminole War to becoming a paradise being dubbed as the "Venice of America."
Ten Thousand Islands, host Rey Becerra takes us on a trip through the Ten Thousand Islands, a labyrinth of water and mangroves located in the Everglades National Park. We explore the islands' delicate ecosystems, which not only harbor an abundance of life, but the shallow waters also serve as nursery grounds for countless marine species.
Plight of the Plume Birds
In the mid-19th century the wading birds of the Everglades came close to extinction as plume hunters slaughtered them for the rapacious millinery industry. Today, the birds still struggle to recover in the face of new man-made threats.
Key West Wreckers
During the golden age of sail, over 100 ships per day passed by Key West. The waters they were sailing were well known as some of the most treacherous in the world. On average, at least one ship per week would wreck somewhere along the Florida Reef. These disasters spawned a thriving industry in the Keys where wreckers made a good living by salvaging the beleaguered ships and their valuable cargo and crew.

Many of WLRN's documentaries and short films can be watched online at http://video.wlrn.org.

WLRN-FM 91.3, Florida's top-rated NPR station, serves a weekly audience of more than 350,000 from Palm Beach to Key West, providing programs such as Morning Edition, All Things Considered and A Prairie Home Companion. WKWM-FM 91.5 is the NPR station serving the Florida Keys.
The mission of WLRN/Miami Herald News states that "News is Our Future." As such, WLRN/Miami Herald News is now the prime mover of locally originating content on WLRN. As news services across Florida continue to decline, WLRN continues as the news station of record in South Florida.
News and talk programs from public radio national distributors NPR, American Public Media, Public Radio International, independent station WNYC and The Public Radio Exchange form the core of our programming, but our own productions such as Topical Currents, The Florida Roundup, The Sunshine Economy program and our Latin America Report, in concert with our flagship music programs, Evening Jazz, Folk and Acoustic Music, and The Night Train emanate from and directly serve our South Florida community.

WLRN Radio also broadcasts in HD radio digital format with two programming streams: 91.3-1, a simulcast of the main channel programming, and 91.3-2, called "Classical 24" that features classical music programming. Both streams are available online at www.wlrn.org.

WLRN-FM also provides one of the country's largest Radio Reading Services — a 24-hour, 7-day-a-week service to South Florida's visually impaired residents.

WLRN Instructional Television (ITV) programs and maintains the district's closed circuit television network that provides students and teachers with 12 channels of instructional content directly accessible to the classroom.

For additional information regarding WLRN Public Radio and Television, please call 305-995-1717 or visit www.wlrn.org.