Are you Ready to Race for Education?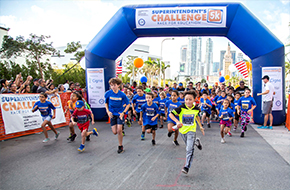 What do you get when wellness and education come together? The 4th Annual Superintendent's 5K Challenge to support Miami-Dade County Public Schools! Join thousands of students, parents, educators and community supporters on Saturday April 13, 2019 at 7 a.m. at Museum Park for a morning of running, walking and friendly competition to benefit our local public schools.

Love and Kindness Day 2019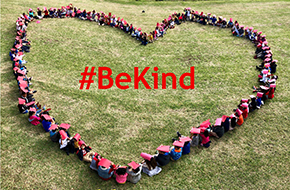 February 14, 2019, marked the one year since the horrific tragedy at Marjory Stoneman Douglas High School (MSDHS) took place. In solidarity with MSDHS, Miami-Dade County Public Schools (M-DCPS) started the day with a districtwide moment of silence at 10:17 a.m. and created events that honored the 17 lives lost during that terrible day, placing focus on the importance of love, kindness and support.

Advancing Toward College and Career Readiness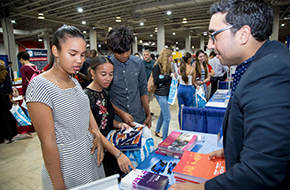 As M-DCPS students inch ever closer to the college application process, becoming knowledgeable about college and career readiness can propel them toward a variety of opportunities for an excellent postsecondary education. Understanding what college can offer and what they are looking for will place students at the forefront of this exciting transition.

iNspiration @MDCPS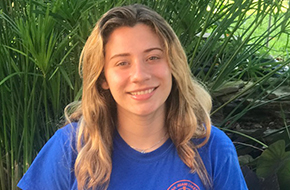 A true warrior like her high school's mascot. A scholarly, honest and humble student committed to overcoming all obstacles, Denisse has perfect attendance, maintains a rigorous academic load, is a high-ranking officer in JROTC and, best of all, has one of the brightest smiles in all of M-DCPS.
Name: Denisse Pino

School: 12th-grade student at Hialeah-Miami Lakes Senior High School (HML)

Accomplishments: Born in the U.S. to parents who in 1992 reached Florida on a raft from Cuba, Denisse received much love and joy in childhood. But at age five, everything changed with her parents divorcing. Living without a father affected her not only emotionally but economically. Even with his child support, Denisse and her mother have never earned enough to maintain a stable home—moving from one place to another, dwelling in small rooms, shabby houses, or trailers. Despite all the hardships she has taken almost every honors, AP, and dual enrollment class offered at HML while achieving the rank of Lieutenant Colonel in JROTC and achieving medals for attendance, leadership and scholarly excellence.


iNspiration @MDCPS

Oliver Diez is a proud M-DCPS graduate who is in his 20th year at Palmetto Elementary School, where he teaches General Music. Recently, he was selected as the 2020 Francisco R. Walker Miami-Dade County Public Schools Teacher of the Year. Diez has a deep understanding of the importance of music in the lives of his students. He has had fourth and fifth graders chosen for both All-State Elementary Chorus and All-State Orff Ensemble (2006-2019), as well as for Superintendent's Honors Festival.
Name: Oliver Diez

Occupation: Music Teacher at Palmetto Elementary School

Accomplishments: Olivier Diez has established an active music program at Palmetto Elementary, which consists of a Beginning Band, Concert Band, Jazz Combo, a Drumline, a Chorus, and two levels of String Orchestra. All this has been accomplished before and after school hours. His former students have received several accolades such as being named All State musicians, participants for the National Youth Orchestra in New York City, and a recipient of the 2015 National Band Association Outstanding Jazz Student Award.


Stay iNformed and Connected

There is nothing greater and more inspirational than witnessing the sheer joy on a child's face or the twinkle of excitement in their eyes when they grasp a new learning concept or idea. It's magical and it is the motivation that drives our work each day in Miami-Dade County Public Schools. Ensuring that students succeed both in and beyond the classroom requires individual and collective support from the entire community. Our school district boasts some of the best and brightest teachers in the nation who are extremely skilled at what they do. Each day they make instruction and learning come alive for students. But the work of supporting students academically and keeping them focused lies not only with teachers but with the community that believes in the power of education. The power of education helps prepare students for careers at home and abroad. The power of education encourages students to stay in school and graduate. The power of education makes students aware of the possibilities available to them. The power of education produces vibrant, thriving communities for families to live and flourish. Miami-Dade County Public Schools offers many opportunities for the community to be a part of the power of education through support and advocacy year-round. Here are just a few opportunities to get involved:
Encourage a high school junior or senior to participate in the Superintendent's Student Innovation Challenge. This is an opportunity for students to identify real-world problems and leverage their knowledge, passion and creativity to develop innovative solutions to large-scale issues currently facing our society. Thousands of dollars in scholarships will be awarded to students. Parent/guardians, students, and teachers may access information regarding the challenge, including rules for entry and important deadlines, by visiting http://challenge.dadeschools.net
Register for the 4th Annual Superintendent's 5K Challenge – A Race for Education. The race will support Miami-Dade's public schools through the Foundation for New Education Initiatives. This April 13th event will benefit local schools. The Foundation will donate a percentage of race proceeds to participating schools based on the number of participants each school team registers. Support your school and race for education. For more information, visit http://www.giveourstudentstheworld.org.
Remind students that social media can be a fun tool for learning and communicating with family and friends and should not be used to disrupt the school day or for hoax threats. We can all play a role in educating youth about the appropriate and responsible use of social media.

Alberto M. Carvalho
Superintendent
iNfact
M-DCPS has been selected as the recipient of the 2018 Cambridge District of the Year Award, recognized for its exceptionally strong commitment to expanding access and delivering a high-quality Cambridge education with equally strong performance, as shown by students' achievements.
Year after year, M-DCPS students and employees give more to United Way than anyone else in the country, raising $1,484,055 during the 2018-2019 #MDCPSLivesUnited campaign, working together to create a #StrongerMiami.
Superintendent Alberto M. Carvalho was honored with the 2019 National Association for Bilingual Education (NABE) Superintendent of the Year Award. School Board Chair Perla Tabares Hantman, was also recognized by NABE with the Long-Life Educator Award.
On January 31st, 2019, thousands of M-DCPS students between the ages of 8-18 participated in the annual Take Our Sons and Daughters to Work Day, learning about professionalism, responsibility and their parent's profession. #TODASTW
Aspiring journalists listen to insight and advice from our panel of media experts at the annual Social Media Student Journalism Forum. #MDCPSConnects
This year, M-DCPS developed the #EliminateCigs outreach campaign to educate all stakeholders, including students, parents/guardians, employees, and community members on the dangers of vaping and e-cigarettes.
iChoose M-DCPS

Miami Killian Senior High School

Dr. W. Kent Fuchs, University of Florida President

"I was fortunate to attend Miami Killian Senior High School and to graduate in 1973. It was at Killian where I developed a love for science. It was also at Killian where I grew in my appreciation for classmates from a wide spectrum of backgrounds and interests."