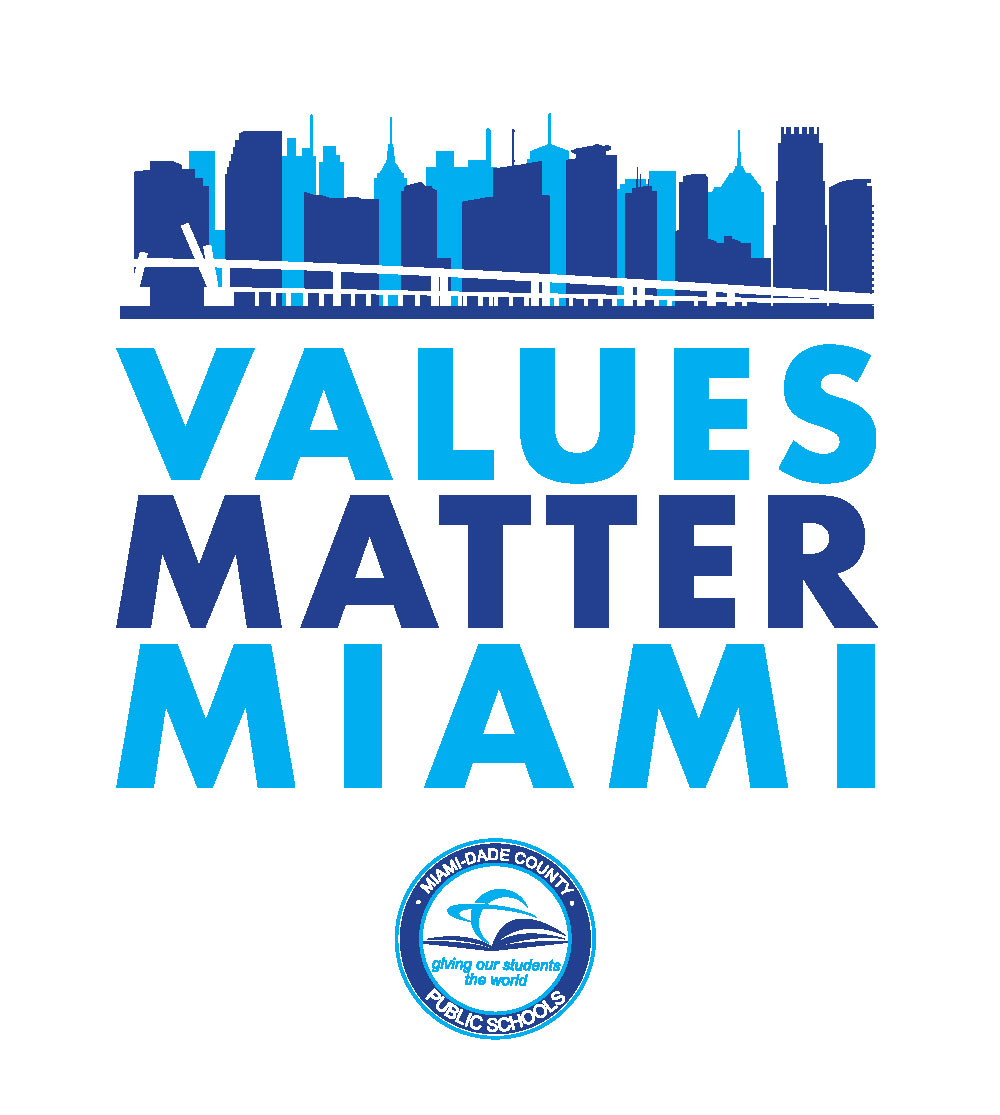 FOR IMMEDIATE RELEASE
Friday, May 22, 2020
M-DCPS, Miami Dolphins Celebrate Values Matter Miami 2020 Awards Winners
Miami-Dade County Public Schools (M-DCPS), in collaboration with the Miami Dolphins, proudly celebrated the recipients of the fourth annual Values Matter Miami 2020 Awards with a two-day virtual recognition that announced winners on Twitter on May 21 and May 22, 2020.
The Values Matter Miami awards are an opportunity to celebrate the values-based education that M-DCPS provides for students. Over the last five years, this initiative has made tremendous progress as evidenced by improved school culture and student behavior. The ceremony is the culmination of this year's effort to teach, reinforce and celebrate behaviors that align with the District's nine core values.
"I want to congratulate all of this year's winners," said Schools Superintendent Alberto M. Carvalho. "Values Matter Miami promotes and recognizes exemplary behavior and is part of our ongoing effort to empower students to make positive decisions based on core values, enabling them to make lasting contributions to our community."

Throughout the 2019-2020 school year, M-DCPS' Division of Student Services partnered with the Miami Dolphins to feature players, alumni, cheerleaders, and staff members in monthly PSAs, highlighting each value associated with the program. For this year's awards ceremony, Miami Dolphins players Eric Rowe and Preston Williams, alumni John Offerdahl and Shawn Wooden, cheerleaders Shayla and Yelina, personnel and M-DCPS District staff created video announcements of the winning students, staff, and schools. Each winning school also has a Values Matter Miami banner placed on campus. This year's award winners were chosen from a pool of more than 4,500 nominations.
"The Miami Dolphins are proud to work in partnership with M-DCPS and celebrate the students, educators and schools that have been positive role models in their communities," said Miami Dolphins Vice Chairman and CEO Tom Garfinkel. "The core values emphasized by Values Matter Miami are imperative to a healthy educational environment and directly align with our efforts to inspire an educated South Florida."
Listed below for each Core Value are two winning students, a staff member and a school winner:
CITIZENSHIP
Marco Mejia, 5th grade, Biscayne Beach Elementary
Abigail Rodriguez, 6th grade, Hammocks Middle
David Osborne, Reading Coach, Ben Sheppard Elementary
School - International Studies Preparatory Academy                                      
COOPERATION
Madison Garcia, Kindergarten, Coral Reef Elementary
Leo Occelien, 7th grade, Jan Mann Educational Center
Isabel Andres, Paraprofessional, Redondo Elementary
School - Miami Southridge Senior High


FAIRNESS
Fabian Perez-Crespo, 5th grade, Miami Springs Elementary
Isaiah Brown, 6th grade, Norland Middle
Lisa Nesenman, Counselor, Brucie Ball Educational Center
School - M.A. Milam K-8 Center
HONESTY
Daniel Calderon, 2nd grade, Palm Springs North Elementary
Tobias Castro, 6th grade, Dr. Rolando Espinosa K-8 Center
Ola Porter, Teacher, Flamingo Elementary
School - Homestead Middle
INTEGRITY
Martin Cruz, 2nd grade, Oliver Hoover Elementary;
Kevin Fernandez, 12th grade, South Miami Senior High
Maria Rodriguez, Geometry Teacher, John I. Smith K-8 Center
School - Kensington Park Elementary
KINDNESS
Vaniah Dixon, Pre-Kindergarten, Frederick Douglass Elementary
Dante Stone, 6th grade, Jane S. Roberts K-8 Center
Andrea Spivak, Teacher, Miami Palmetto Senior High
School - Kendale Lakes Elementary
PURSUIT OF EXCELLENCE
James Serrantes, 3rd grade, Emerson Elementary
Nikola Desnica, 11th grade, MAST@ FIU Biscayne Bay Campus
Rolney Duverney, Music Teacher, North Miami Elementary
School - Southside Preparatory Academy
RESPECT
Christina Chery, 4th grade, Hibiscus Elementary
Julia Ortega, 6th grade, Downtown Doral Charter School
Ricardo Sanchez, Custodian, Flagami Elementary
School - Miami Shores Elementary
RESPONSIBILITY
Stella Williams, 5th grade, Sunset Elementary
Carlie St. Fluer, 10th grade, North Miami Beach Senior High
Nowkeya Grant, FLVS Paraprofessional, C.O.P.E. Center North
School - Lake Stevens Middle
For the most up-to-date information, please download the Dadeschools mobile app to your iPhone or Android device. Follow us on Twitter @mdcps and @miamisup, on Instagram @miamischools and @miamisup, and on Facebook at MiamiSchools and AlbertoCarvalho