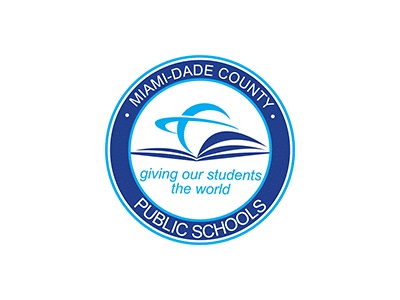 FOR IMMEDIATE RELEASE
Wednesday, June 3, 2020
Year in Review at M-DCPS: Turning Challenges into Opportunities
Due to the global outbreak of COVID-19, the 2019-2020 school year brought with it the unprecedented long-term closure of schools that led to the swift transition to distance learning. For Miami-Dade County Public Schools (M-DCPS), alongside the entire community and nation, 2020 has been a year of challenges, yet it has also been a time to show how much can be accomplished when a school system and its educators, students, parents and the community work together for the benefit of our children.
Although the community's focus has understandably been on COVID-19 since March, M-DCPS also accomplished many noteworthy achievements this school year. These include being designated an "A" district for the second year in a row by the Florida Department of Education; ranking number one in the nation in fourth grade reading and math on the Nation's Report Card; and leading the state in the number of quality high schools ranked by U.S. News and World Report. These highlights are further detailed below.
M-DCPS also served as an example around the nation for its success in rapidly shifting operations and delivery of academics due to school closures caused by the pandemic. The District employed a series of strategies to ensure the needs of all students, especially of those who are most vulnerable or at risk of falling behind, were addressed.
Distance Learning
The shift from classrooms to virtual and online instruction happened almost overnight, and still, M-DCPS teachers, students and parents successfully adapted to enable valuable learning.
The District reaffirmed its commitment to ensuring all students are connected and to date, more than 119,000 devices, including 9,000 phones with Wi-Fi that can be used as hotspots for connectivity, are in students' hands. M-DCPS staff members conducted direct outreach to students, including home visits to reach out to those who had not engaged in distance learning. By the end of the school year, nearly 100 percent of students had connectivity. Over the summer, with the exception of graduating seniors, all M-DCPS students may keep their District devices to continue learning.
Daily attendance rates during distance learning reached an impressive 93 percent, which is comparable to in-person attendance rates at the same time last school year.
M-DCPS' Instructional Continuity Plan (ICP) was implemented with the expectation that students would continue to progress in their learning, with the consultation and guidance of their teachers. The District provided teachers with extensive online professional development to support this shift to distance learning.
ICP 2.0 expanded on the previous plan with the objective of providing additional guidance and support for an extended period of closures, the return to tracking attendance, and an outline for grading, which aimed to be compassionate towards students and their families. Students and parents can expect to receive the year-end report cards on June 15, 2020 via the portal and dadeschools mobile app.
The District also established a Distance Learning Helpline, which provided ongoing academic support in English, Spanish, and Haitian-Creole to students, families, and teachers, and answered more than 16,000 calls.
Securing Opportunities for Academic Recovery (SOAR)
While M-DCPS has worked diligently to ensure a smooth transition from classroom to home-based learning, a considerable academic regression is likely to occur due to the dramatic shift in learning environments, specifically for students who were previously struggling academically. It is difficult to speculate on what missing months in the schoolhouse may mean for student achievement, yet research on summer learning loss has provided important insight on how to address some potential impacts of this extended pause in traditional classroom instruction once students return to school.
The Securing Opportunities for Academic Recovery (SOAR) plan is the District's newly developed strategic initiative to mitigate learning loss for some of its most fragile students. SOAR will provide students with opportunities for summer reading, remediation, credit/course recovery, and extended school year services; offer virtual test preparation and tutoring to additional students who missed specific assessments; and to open schools early, contingent on guidelines issued by federal and state public health authorities, specifically for students demonstrating low levels of academic performance, students with disabilities, and English language learners. These initiatives will allow for intense instruction on the skills needed in core academic areas for their new grade level, so all students are poised to be academically successful.
The District is also planning to expand the number of schools that participate in the extended school day program, and to begin Saturday school earlier in the year to maximize instructional time. If schools must remain closed during this phase, these plans will be converted to a virtual model. The SOAR plan can be found at soar.dadeschools.net.
Meal Distributions
Since the first day schools closed, March 16, M-DCPS has distributed nearly four million "grab-and-go" student meals throughout the district to families in need. M-DCPS employees answered the call to assist during this time of strain in our community, passing out meals at select school sites throughout the county. The same level of distribution will continue at the current 50 school sites throughout the summer months, on Tuesdays and Fridays from 10 a.m. to 1 p.m.
The District also partnered with individual donors, local organizations, and restaurants to provide thousands of additional meals to children and families. With the dollars donated, food is purchased from restaurants, supporting the hospitality industry and the local economy while delivering hot meals and bags of fresh produce to families. Since March 25, more than 41,000 hot meals have been delivered in the county's most fragile communities through the Family Meals On-the-Go program. More than $1.1 million has been raised for this initiative.
Facility Improvements and Sanitization
School closures have enabled M-DCPS to accelerate construction projects and maintenance activities before students and teachers return to the classroom. Construction has been accelerated at 39 school sites, with approximately 300-530 workers on the job daily, facilitating steady employment for various contractors. There are also several projects out to bid, generating additional job opportunities, with high goals for local, minority and small business utilization. Safety has been, and will continue to be, the District's top concern. Stringent protocols have been put in place to follow public health guidelines, prioritizing the health and wellbeing of all personnel on our sites.
As of May 13, M-DCPS has completed 229 main projects and 627 accelerated projects, totaling 856 projects. Expenditures totaled $795 million, with $60.4 million under contract.
M-DCPS has also been diligently focused on maintenance activities and sanitization at school sites across the District, with employees working in full force while also following social distancing guidelines and utilizing personal protection equipment. These efforts will continue over the summer months.
Contingency Plans for Reopening Schools

Even before the end of the 2019-2020 school year, the District has been hard at work planning for the return to the classroom in the fall while ensuring the safety of students and staff. More than 100,000 parents/guardians completed an online survey, providing direct feedback on aspects of reopening schools, including staggered schedules, transportation and student hygiene practices.
A workgroup of medical, logistics and education experts will also review recommendations for a return to school, with the understanding that these may change over the summer months depending on how the pandemic evolves. The options being considered include:
Density reduction and operational design efficiencies of schools: strategic leveraging of existing square footage to maximize social distancing and safety recommendations related to the use of gymnasiums, cafeterias and other large common areas.
Transportation: addition and modification of bus routes to allow for social distancing.
Hybrid/Blended Learning Models: a blended physical return-to-school model that accounts for the likely preference of some parents to continue distance learning once schools reopen; staggered start and transition class times; efforts to reduce density in hallways/common areas through scheduling and one-way corridors; and additional outdoor classroom options.
Protocols for Wellness, Health Screenings, Health Reporting: provision and usage of Personal Protective Equipment (PPE), as appropriate; daily temperature checks before entering school buses and school buildings; reporting of illness by students and their familes, and employees; vaccination requirements; personal hygiene protocol including mandatory handwashing schedules; and enhanced social-emotional and mental health supports for students.
The District will present its reopening recommendations to the School Board in June 2020.
Mental Health Services
This school year saw an expansion of the Department of Mental Health Services, which was established in 2018 to coordinate and facilitate services between schools and community agencies and ensure students, who are referred for mental health care, are accessing services. This department assists anyone who may feel overwhelmed or unable to cope with his/her emotions. Help is available in English, Spanish and Haitian-Creole via the assistance line.
During school closures, coordinators conducted virtual check-ins and wellness visits with students and their families. Additionally, the Miami-Dade Schools Police Department conducted wellness checks, facilitating the referral of students for services, as needed.
The District's Mental Health Awareness Training also proved beneficial during this time as staff, parents and students have reached out to refer a student based on something they noticed and believed to be concerning through text, writing, virtual or phone communication.
Parent Resources
The M-DCPS Parent Academy offers and continues to develop resources for families to support their children in English, Spanish and Haitian-Creole. These resources include a Virtual Campus that features pre-recorded webinars on how to use various online programs; Family Matters, which provides guidance on topics like mental health, vaping, and online learning resources; Virtual Family Fund, which includes links to enriching family activities; and School Meals to assist families in locating the closest M-DCPS meal distribution site. Visit www.parentacademymiami.com for these resources and more.
Virtual Graduations and Class of 2020 Student Recognition Campaign
Public health guidelines led to the necessary cancellation of in-person graduation ceremonies this school year; however District staff developed a plan to uphold the dignity of honoring M-DCPS graduates. Graduations will take place in a blended format, with virtual graduations beginning June 8, streamed online and on WLRN Channel 17, followed by in-person senior recognition activities at schools in late summer or winter. The schedule of ceremonies and streaming can be accessed at classof2020.dadeschools.net. Many schools hosted drive-through cap and gown distribution celebration events, and on June 18, 2020, all high schools will participate in M-DCPS' Diploma Distribution Day.
The District also launched a social media and media outreach campaign to honor seniors, culminating in a community-wide M-DCPS Senior Recognition Day on May 20. Various social media activities took place, including the unveiling of a video with congratulatory messages from celebrities and athletes with local ties. Television, radio, and online media outlets also recognized students, featuring more than 100 seniors on different platforms, and are distributing special issues dedicated to M-DCPS' Class of 2020.
Schools were also encouraged to recognize students who are transitioning from Kindergarten, 5th or 8th grade on social media, and many hosted a variety of virtual and drive-through celebrations for these students.
2019-2020 Highlights:
As mentioned above, in the months prior to the school closures, M-DCPS also attained many noteworthy achievements:
Two-time A-Rated School District: For the second time in the history of Florida School Performance Grades, M-DCPS once again achieved a district-wide grade of "A," and for the third year in a row, there are no "F"-rated schools. Forty-seven percent of the District's schools received "A" ratings in 2019, compared to 36 percent statewide.
M-DCPS Students Continue to Shine on National Assessment: NAEP-TUDA is widely considered the Nation's Report Card and gold standard of assessments. Once again, Miami-Dade's students obtained remarkable achievements. This year, Miami-Dade's fourth graders were ranked number one in both Reading and Mathematics.
M-DCPS Schools Rank High in U.S. News & World Report: The multi-platform news publisher released its 2020 Best High Schools rankings of nearly 18,000 public high schools, out of a review of more than 24,000 in all 50 states and the District of Columbia. M-DCPS led Florida once again with 133 schools on the list, including four high schools among the top 100 in the nation, and nine in the top 20 for the state.
M-DCPS Choice and Magnet Programs Once Again Garner National Attention: For the ninth straight year, M-DCPS received more national Magnet Merit Awards than any other district. In total, M-DCPS received 67 awards for the 2019-2020 award cycle, exceeding last year's total by nine additional awards. Choice programs also had the highest number of Distinguished academies in the nation, as recognized by the National Academy Foundation.
New Academic Programs and Initiatives: The school year began with the roll out of 130 innovative, academic programs and initiatives designed to benefit students, employees, parents and the community. These included an emphasis on sustainable operations, such as solar panels, water bottle-filling stations, and elimination of plastic straws; innovative partnerships with notable entities, such as Zoo Miami, the Biscayne Nature Center, and Verizon; and increased Coding, STEAM and Career and Technical Education programs. The District also launched an additional 86 choice options that allowed students to engage in a relevant and rigorous way including, Magnet Program Re-envisioning, iBot, Verizon Innovative, iQuest Academy and zSpace.
Inspirational Educators: Vanessa M. Valle, an English Language Arts teacher at Hialeah Gardens Senior High School, was named the 2021 Francisco R. Walker Miami-Dade County Teacher of the Year. Kalyn Lee, a teacher at Miami Carol City Senior High School, is the 2020 Rookie Teacher of the Year. Rafael A. Villalobos, the charismatic and innovative leader of John A. Ferguson Senior High has been named the 2020 Principal of the Year. Lamar Johnson, an assistant principal at Jesse J. McCrary, Jr. Elementary, was named Assistant Principal of the Year.
Alumni Hall of Fame Inductions: Five distinguished leaders were inducted into the M-DCPS Alumni Hall of Fame. Oscar winners for the movie Moonlight, Barry Jenkins, graduate of Miami Northwestern and Tarell Alvin McCraney, alumnus of New World School of the Arts; "Soul Man" and only Miamian in the Rock and Roll Hall of Fame, Booker T. Washington graduate Sam Moore; Miami Beach Senior alumni, Stephen M. Ross, owner of the Miami Dolphins and Hard Rock Stadium and Mitch Kaplan, owner of Miami's Books & Books and founder of the Miami International Book Fair.
New Music and Arts Facilities: Several schools unveiled new facilities, including Miami Arts Studio at Zelda Glazer, which opened a new performing arts theater that served as the location for a district-wide benefit concert for the Bahamas. The school also opened music labs, a dance studio, and a TV production room. Norland Middle School unveiled a new black box theater and courtyard, and Caribbean Elementary and Myrtle Grove K-8 Center were each equipped with new 5,000-square-foot art and music suites.
Safe Learning Environment:  The Miami-Dade Schools Police Department (M-DSPD) increased the number of school resource officers to more than 450, improved surveillance efforts with security cameras, reduced the number of school entry points, and strengthened protocols related to securing schools and classrooms in the event of an on-campus threat.
Values Matter Miami Teams Up with Miami Dolphins: M-DCPS partnered with the Miami Dolphins to support Values Matter Miami, the District's values education initiative. The partnership incuded on-field recognition of exemplary students who embody the District's core values at Miami Dolphins home games, various PSAs recorded and promoted by Miami Dolphins players and staff, and a district-wide student cleat design competition, which led to Values Matter Miami cleats being worn by a Dolphins player on a nationally-televised game.
Historic State Championship Wins: Three M-DCPS senior high schools, Booker T. Washington, Miami Central, and Miami Northwestern won state football championships.
M-DCPS hosted a championship parade to celebrate the historic number of state football championships won in various classifications by a total of five high schools across Miami-Dade County.
Support from the Super Bowl: Super Bowl LIV brought a host of athletes and celebrities, philanthropic organizations, and corporations to South Florida. Many of those partnered with the District to provide support for various initiatives, including the renovation of Traz Powell Stadium, athletic fields and facilities at Miami Beach and Miami Edison senior highs, and the opportunity for student journalists to report alongside local, national and international news outlets from "Media Row" at the NFL Experience, to name just a few.
Excellence in Financial Accountability: Moody's gave M-DCPS a very strong rating in meeting financial commitments. For the 34th consecutive year, M-DCPS was awarded the Certificate of Achievement for Excellence in Financial Reporting by the Government Finance Officers Association of the U.S. & Canada (GFOA) for its Comprehensive Annual Financial Report. Additionally, the Budget Department received the Award for Best Practices in School Budgeting from the GFOA.
Despite the historic challenges faced in the 2019-2020 school year due to the global pandemic, M-DCPS remained firm to its core values and commitment to excellence, demonstrating that no matter the circumstances, we are truly giving our students the world.
For the most up-to-date information, please download the Dadeschools mobile app to your iPhone or Android device. Follow us on Twitter @mdcps and @miamisup, on Instagram @miamischools and @miamisup, and on Facebook at MiamiSchools and AlbertoCarvalho