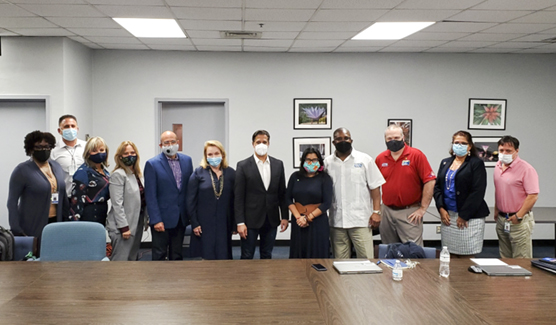 FOR IMMEDIATE RELEASE
Tuesday, June 16, 2020
M-DCPS Reaches Agreement with Teachers Union
Today, Miami-Dade County Public Schools (M-DCPS) reached a tentative agreement with the United Teachers of Dade (UTD), which highlights the District's appreciation for its educators.
"Despite the economic challenges this country is facing, Miami-Dade County Public Schools is once again demonstrating its unwavering commitment to teachers with an agreement that honors their work in and out of the classroom," said Schools Superintendent Alberto M. Carvalho. "Through the supportive leadership of our School Board, we are able to provide our educators with a long-term solution that offers them peace of mind during these uncertain times."
                Schools Superintendent Alberto M. Carvalho bumps elbows with UTD President Karla Hernandez-Mats after a tentative agreement is reached.
Today's agreement with the UTD continues to establish how funds raised by the voter-endorsed Secure Our Future Referendum, and contingent on the Governor's approval of the Teacher Salary Increase Allocation, will benefit educational staff at M-DCPS.  
Referendum eligible full-time instructional personnel, as defined by Section 1012.01, Florida Statutes, will benefit from:
•         A new minimum teacher starting salary of $47,500
•         An increase to all unit teachers whose base salary is below $47,500 to ensure their new base is above the new starting salary of $47,500
•         A 2.5 percent stipend
•         An average of 15.3 percent retirement-accruing supplement
•         A 2.0 - 4.33 percent increase overall (referendum and base) compared to 2019-2020
School support personnel ineligible under the referendum will receive a three percent salary adjustment.
"Our hardworking educators are the backbone of our school system, as evidenced by their dedication to providing a seamless transition to online learning this school year. It is our duty and responsibility to ensure they receive the compensation package they so justly deserve," said School Board Chair Perla Tabares Hantman.
All employees will be offered three open access plans under the Employee Benefit Program, one of which is provided at no cost to employees. The agreement will go to the union's membership for ratification and to the School Board for approval.
For the most up-to-date information, please download the Dadeschools mobile app to your iPhone or Android device. Follow us on Twitter @mdcps and @miamisup, on Instagram @miamischools and @miamisup, and on Facebook at MiamiSchools and AlbertoCarvalho