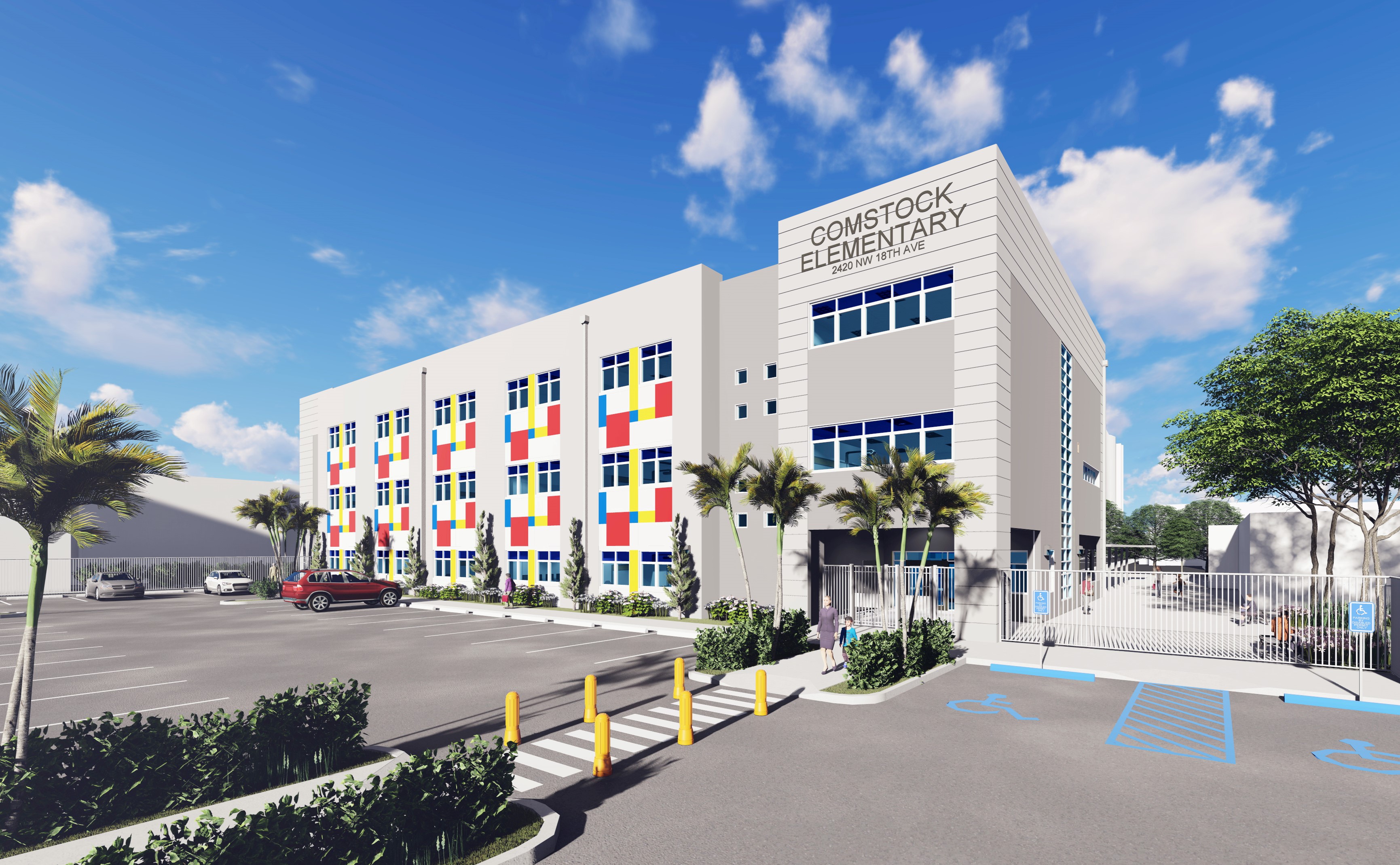 FOR IMMEDIATE RELEASE
Wednesday, July 15, 2020
School Board Approves GOB Construction Award for New Building Replacement at Comstock Elementary School
Proposed Utilization Exceeds Established Goals for Small Business Enterprise (SBE) and Minority/Women Business Enterprise (M/WBE).
Construction will soon begin on the building replacement and renovations project at Comstock Elementary School after the Miami-Dade County School Board approved the construction award for the General Obligation Bond (GOB) project, valued at $13.9 million, during its regular monthly meeting. Miami-Dade County Public Schools has been expediting construction projects while schools have been closed, due to COVID-19, following all CDC guidelines and prioritizing health and safety.
T & G Constructors (T & G) was commissioned as the Construction Management entity to deliver the new three-story, 38,000 square-foot building addition and renovations of the existing site located at 2420 N.W. 18th Avenue in Miami. The addition will include 27 classrooms along with art and music suites, a media center, and administration offices.
Comstock Elementary was built in 1925, with additions subsequently constructed, and currently comprised of eight permanent buildings situated on approximately 7.8 acres of land. Among the renovations to the existing site are the following: new building addition, demolition of Building 5, new covered walkways throughout the property, new parking spaces and a new generator.
The $13.9 million project is scheduled to be completed by August 2021 and will have 625 permanent student stations, upon completion of this phase.
T & G will use a total sub-Contractor Small/Micro Business Enterprise (S/MBE) participation of 15% for construction management and 20.51% for construction. They will use a total participation of 24.13% M/WBE, African-American Subcontractors.  
All design and construction shall be in compliance with State Requirements for Educational Facilities, the Florida Building Code, National Fire Protection Association, Florida Fire Prevention Code (Life Safety Code), barrier-free design guidelines, Florida Statutes and M-DCPS Design Standards and District policies.
In 2012, voters overwhelmingly approved the GOB to renovate, remodel and replace schools, expand student capacity, enhance safety and provide technology upgrades. To see the current projects, visit Capital Improvements at @MDCPSCapital on Twitter or use #GOBProgress.
For the most up-to-date information, please download the Dadeschools mobile app to your iPhone or Android device. Follow us on Twitter @mdcps and @miamisup, on Instagram @miamischools and @miamisup, and on Facebook at MiamiSchools and AlbertoCarvalho
TOP CAPTION: Rendering of Comstock Elementary' s new building addition by architect firm Laura M Perez & Associates.