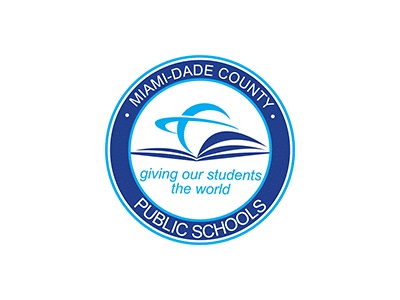 FOR IMMEDIATE RELEASE
Tuesday, July 28, 2020
Enroll Your Child in an A-Rated School System on July 29!
M-DCPS offers diverse programs for students of all ages, including its youngest learners.
Miami-Dade County Public Schools (M-DCPS) has a proven track record of academic excellence and high-quality teachers and administrators who are committed to teaching the whole child. The District prioritizes the health, safety and wellbeing of students and employees and continues to upgrade or modernize schools, equipping them with 21st century technology. With the upcoming academic year right around the corner, M-DCPS wants to ensure parents know how to enroll first-time students at M-DCPS.
M-DCPS is following all public health precautions due to COVID-19. Whether the school year begins in the physical schoolhouse or through M-DCPS' innovative distance learning plan, My School Online, don't miss the chance to join one of the highest performing urban school districts in the nation. Click here to learn how M-DCPS continues to deliver on its promise to give students the world. To view the latest on the M-DCPS reopening plan, visit reopening.dadeschools.net.
How to Begin Registration at M-DCPS:
Students must be five years old on or before September 1st of any year, to register for kindergarten. All children who are between the ages of 6 and 16, except as otherwise provided in Florida law, are required to attend school regularly during the entire school term. All children enrolling in a District school must meet the immunization requirements under state law and provide evidence of a physical medical examination.
During the summer, schools are open Monday through Friday from 9 a.m. to 1 p.m. for registration. In addition, to facilitate in-person registration for parents who have been unable to complete the process remotely, a districtwide "Enroll in M-DCPS Day" is scheduled for Wednesday, July 29, 2020, at all schools.
For information on what is needed and which documents are to be provided upon initial registration, please visit attendanceservices.dadeschools.net/. Students transferring from out of state, other districts in Florida, or who were not born in the United States, must adhere to the same admission and entrance requirements for registration.
All students are assigned to attend the school in the district where their parents or legal guardians reside. To find your neighborhood's area schools, visit www.dadeschools.net/guidek-12.
If you wish to choose a different school for your child and would like to request a transfer, you may do so through a Parent Choice Student Transfer, a Controlled Open Enrollment Transfer or through M-DCPS' School Choice & Parental Options. More information about these options may be obtained by visiting: attendanceservices.dadeschools.net/.
Although there is no cut-off date for registering, M-DCPS wants to ensure all students are ready to start on the first day of school. Families are urged to register early to avoid processing delays and to ensure they can attend school on opening day. As your child embarks on this new journey, M-DCPS wants to make sure he/she doesn't miss a thing. Parents are encouraged to keep their contact information current and update their phone numbers and email addresses at their child's school, to ensure they receive important notifications from the District. Parents may also opt-in to receiving emergency text messages by texting "Y" to 67587.
For the most up-to-date information, please download the Dadeschools mobile app to your iPhone or Android device. Follow us on Twitter @mdcps and @miamisup, on Instagram @miamischools and @miamisup, and on Facebook at MiamiSchools and AlbertoCarvalho
CLICK THE LINKS BELOW FOR ADDITIONAL INFORMATION
New Student Registration Guide