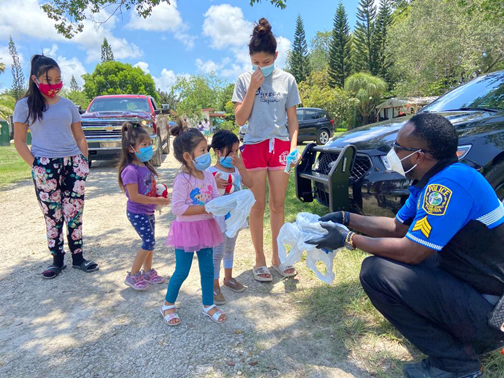 FOR IMMEDIATE RELEASE
Friday, December 18, 2020
M-DCPS, Partners Maintain Month-long Food Distribution Lifeline
Ever since COVID-19 forced the closure of schools and businesses earlier this year, Miami-Dade County Public Schools (M-DCPS) has stood with the community through every step of this crisis, maintaining a lifeline of food distribution for students and families in need.

Many families rely on school-provided meals as one of the only consistent sources of healthy food for their children. From breakfasts, lunches, dinners, grab-and-go, produce and other bulk meal items, M-DCPS has not wavered in its commitment to support students and families, providing more than 12 million free meals since the closure of schools in March.

As 2020 is coming to a close, M-DCPS continues to respond to the community's needs by ensuring students have food security during the two-week Winter Recess. On Wednesday, M-DCPS distributed 1.2 million meal items, enough for 12 breakfasts and 12 lunches for 40,000 students.

Through the Family Meals-on-the-Go program, M-DCPS has partnered with individual donors, local organizations such as the Miami Dolphins, and local restaurateurs who donate funds to purchase food from local restaurants. This initiative supports the hospitality industry and local economy while delivering hundreds of thousands of hot meals and bags of fresh produce to families in need. Since its inception, donors have contributed more than $1.1 million, providing for the purchase of more than 115,000 hot meals.
Dominos Pizza was one of the partners that donated meals to our students in need.



In addition to the ongoing meal distributions at school sites, M-DCPS partner organizations – Share Your Heart, Farm Share and Feeding South Florida – are assisting in efforts to ensure no child or family goes hungry.

Pictured: left-right, Miami Dolphins Senior Vice President of Alumni Relations Nat Moore; Miami Dolphins Vice Chairman and CEO Tom Garfinkel;
M-DCPS Superintendent Alberto M. Carvalho; Jason Jenkins, Miami Dolphins Senior Vice President, Communications and Community Affairs;
and Jesse Marks, Executive Director of the Miami Dolphins Foundation prepare to hand out meals.


For the most up-to-date information, please download the Dadeschools mobile app to your iPhone or Android device. Follow us on Twitter @mdcps and @miamisup, on Instagram @miamischools and @miamisup, and on Facebook at MiamiSchools and AlbertoCarvalho
 
TOP CAPTION: Miami-Dade Schools Police Officer was among the hundreds of employees who helped distribute meals throughout the year.