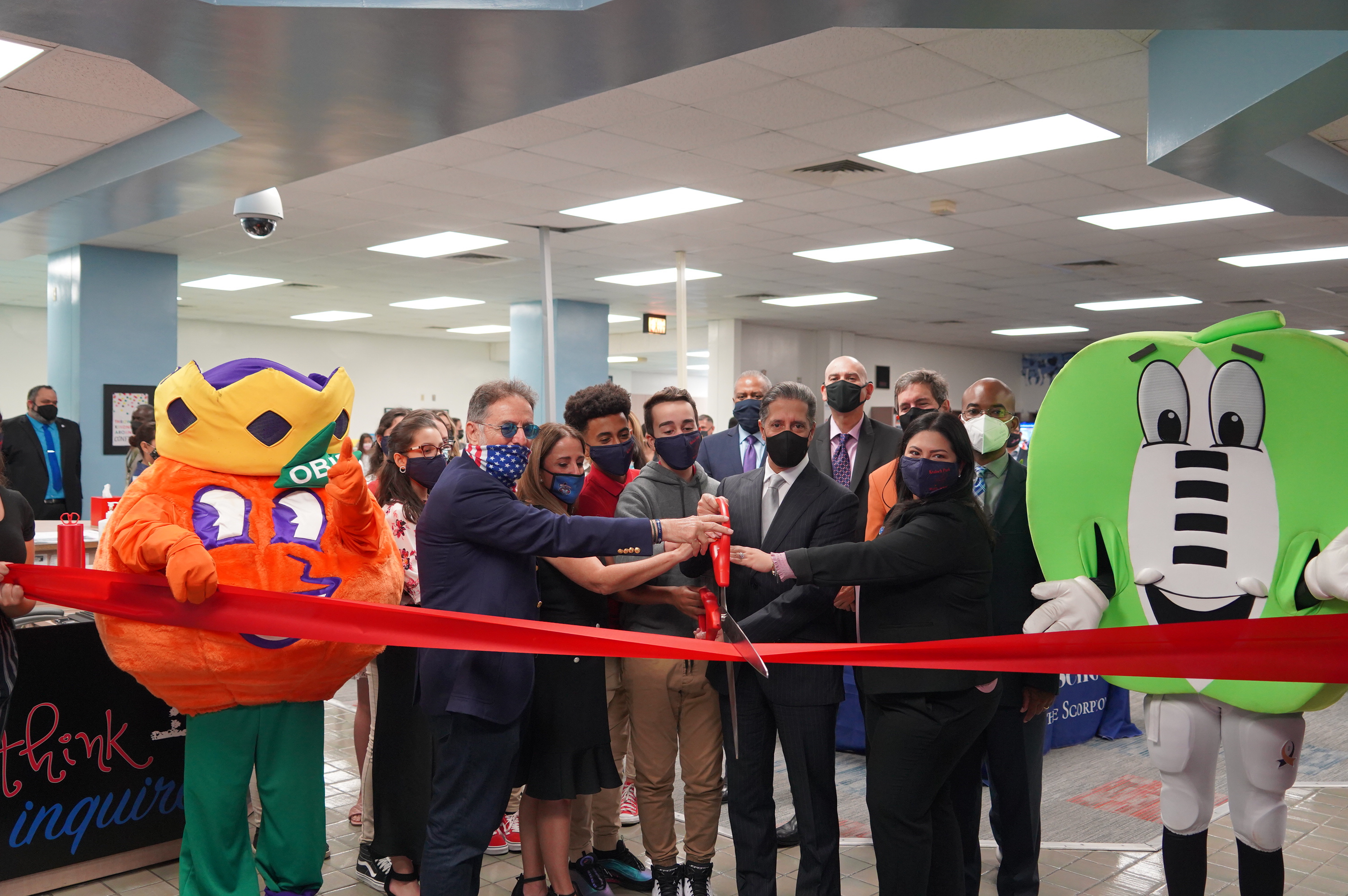 FOR IMMEDIATE RELEASE
Thursday, April 29, 2021
CONTACT: Daisy Gonzalez-Diego
Miami-Dade County Public Schools
305-995-2060
Innovative Media Center Unveiled at Kinloch Park Middle School
A new, technology-rich media center was unveiled at Kinloch Park Middle School this morning, complete with virtual reality (VR) equipment, roaming desks, a robotics section, a new Promethean board and more than a dozen computer stations.
Kinloch Park is one of 16 Miami-Dade public middle schools having its media centers transformed into enriched innovation spaces through a $2 million partnership between Miami-Dade County Public Schools, the College Football Playoff Foundation and the 2021 College Football Playoff National Championship Game Host Committee (CFPNCG).
The partners will continue to unveil new projects throughout the year in support of the District's Middle School Redesign (MSR) initiative, intended to meet the unique social, emotional and academic needs of teachers and their students.
"It's very exciting," 8th-grader Mariana Peñaloza Alba said about the novel media center. "I immediately felt comfortable walking into the space and felt as though it provides an opportunity for students and teachers to communicate and have fun learning experiences."
Kinloch Park Middle School students try out the new Veative VR devices.
For the most up-to-date information, please download the Dadeschools Mobile App to your iPhone or Android device. Follow us on Twitter @mdcps and @miamisup, on Instagram @miamischools and @miamisup, and on Facebook at MiamiSchools and AlbertoCarvalho.
TOP  CAPTION: 
Mascots
"Obie" and "Extra Yard" hold the ribbon being cut by (left-to-right) Thomas G. Abraham, chairman of the Anthony R. Abraham Foundation; Kinloch Park Middle Principal Sylvia Coto-Gonzalez, Kinloch Park Middle students, Schools Superintendent Alberto M. Carvalho and School Board member Christi Fraga.