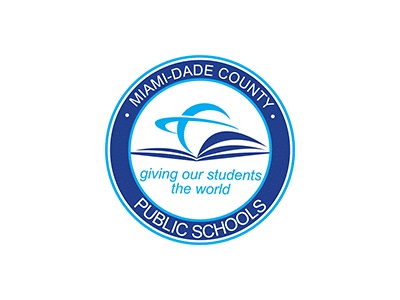 FOR IMMEDIATE RELEASE
Friday, August 20, 2021
New, Renovated Schools Ready for M-DCPS Students for 2021-2022 School Year
Beyond the usual excitement of starting a new school year, students, employees, parents and community members can look forward to Miami-Dade County Public Schools' (M-DCPS) many new and modernized buildings during the 2021-2022 school year.

Improvements to M-DCPS facilities, including renovating, remodeling and replacing schools, expanding student capacity, enhancing safety and providing technology upgrades, are made possible with capital funds and General Obligation Bonds (GOB). As of June 22, 2021, GOB expenditures totaled approximately $889 million. This includes $95 million for technology and $794 million for facilities, with another $85 million contracted.
Temporary Herbert A. Ammons Middle -– the $24 million project includes a new 59,225 sq. foot, 750-student station, two-story facility featuring seven kindergarten classrooms each with an individual restroom; 20 primary classrooms, eight with individual restrooms, 10 intermediate classrooms, and two K-5 classrooms. The school will also house an art classroom and music/performance platform, a media center (with a director's office, reading room, media resource, audiovisual storage, and closed-circuit television (CCTV)), dining/multipurpose room, a full-production kitchen and serving areas.
Georgia Jones-Ayers Middle School - the $4 million project includes site area asphalt paving, PE shelter, demolition of portables, exterior paint, life safety upgrades, fire alarms, a new corridor that allows for fresh air circulation, locker room renovation, HVAC system and new computer labs.
Toni Bilbao Preparatory Academy Middle School addition - the $11.8 million project includes construction of a three-story building with 454-student stations, with all required connecting covered walkways; 47 new parking spaces and related drainage and landscaping.
Comstock Elementary - the $14 million project includes a new, three-story, 38,140-sq.-foot classroom building with covered walkways, landscaping, grading and drainage; selective demolition; a new parking area, emergency generator, Energy Management System (EMS), and fire alarm system with connections to all existing campus facilities. New security cameras will connect with the existing system. All campus exteriors will be repaired and prepared for painting and exterior painting.


Coral Gables Senior High School Phase I & II - the $26 million project includes a new 357-student station, two-story addition comprised of two art labs, kiln room, student restrooms, two staff restrooms, two social studies classrooms, gymnastics/dance room, dining and serving area, covered dining area, four computer labs, resource room, drafting and design. Phase II will consist of upgrades to all windows, flooring, ceiling, lighting and HVAC system throughout the campus.


Lillie C. Evans K-8 Center – this $2.6 million project includes the renovation of the selective ground-level classroom buildings with new flooring and student service center millwork, interior painting, the remodeling of restrooms to adhere to ADA requirements, selective exterior painting, a new hydraulic elevator building structure and new HVAC system in the cafeteria.
Fairlawn Elementary - this $1.2 million project includes the construction of a new two-story, 1,500-sq.-foot, two-classroom building addition with new flooring, new LED lighting, two Promethean boards, new furniture fixtures and new storage cabinets. Replacement of the air handler unit (AHU) in the existing dining area. The addition will be attached to an existing building through an existing covered walkway and stairs.
Joella C. Good Elementary - the $4.9 million scope of work includes a new fire alarm system, aluminum-covered walkway connecting the parent drop-off area to the main school building, a digital marquee sign and security cameras; resealing and re-stripping the staff/visitors parking lot, main entrance bus drop-off, and the parent drop off area; resurfacing and re-stripping of basketball courts; selective upgrade of perimeter fencing, window and HVAC system repair and replacement.
MAST @ FIU - Unveiling this fall, the $19.7 million Marine Academy of Science and Technology (MAST) at Florida International University (FIU) is the only public high school in Florida with a collaborative partnership with a public university. ?This brand-new facility will feature 640 new student stations, a unique wetland research area, environmental labs and an open classroom with canoes and boat storage.


Miami Edison Senior - the $4.4 million project includes restroom renovations, HVAC system improvements on three stories of the main building and upgrades to the existing parking lot.
Miami Palmetto Senior High Phase III - the $53.1 million project includes partial replacement and renovation of an approximately 134,000 sq.-foot, multi-story facility with 101 new student stations. The building will have general purpose classrooms, skills labs, art, music and dance studios, vocational labs, an administration office, support spaces, covered walkways and parking. Also included in the project is a new one-story art/music/dance studio and little theatre, new hardcourts, a playfield and dining courtyard.
Ojus Elementary Phase III - the $1.8 million project includes partial window and ceiling replacement; lighting replacement in classrooms and administration office; remodeling existing student restrooms to adhere to ADA requirements; exterior door replacement; student restroom renovations; partial exterior painting, new ADA entry ramp, and emergency lighting.
Palm Springs North Elementary - the $13.5 million project includes a 24,500-sq-foot, two-story building with eight primary classrooms, 17 intermediate classrooms, a media center, covered walkways, a parking area and courtyard.


Pine Villa Elementary Phase II - the $2.3 million project includes the demolition of 11 portables and Building 5.,remodeling of student restrooms, replacement of windows, exhaust fans, window AC units, drinking fountains, grease trap, vinyl composition & carpet flooring, as well as the repair of the public address system and upgrading of the kindergarten-play area surface. Also added were fire alarm & security alarm systems; selective paint throughout the campus including the PE shelter, basketball court re-striping, basketball court equipment upgrade; building window replacement, HVAC system replacement, and partial roof work


Poinciana Park Elementary - this $2.9 million project includes a covered walkway, play court resurfacing, fence repair, sanitary sewerage replacement, repair/replacement of fire alarms, security alarms, flooring, ceiling, kitchen HVAC system, exhaust hood and stage curtain, electrical upgrades & repair.


Richmond Heights Middle – the $4.3 million project includes campus-wide HVAC system upgrades, unit ventilators, air-handling units, rooftop units electrical upgrades, replacement of existing light fixtures in stairways, and of the main electrical distribution panel and panel board.
Southwest Miami Senior - the $16.3 million project includes campus-wide window replacement, restroom renovations and installation of a parent drop-off area. Additionally, there are improvements throughout to cooling towers, electrical, lighting, drainage, refinishing and interior/exterior paint. The gymnasium has received a new AHU, chiller and cooling tower.

Sunset Elementary Phase I of II - to advance the most critical scope items throughout the facility, the $2.9 million project includes renovation of classrooms, student restrooms, window, flooring, lighting, interior paint and HVAC replacement, a new clinic, a new kitchen HVAC system, and exterior paint in Buildings 2 and 3.
Nathan B. Young Elementary - this $4.2 million project includes selective window replacement, interior and exterior painting, door replacement, single and student restroom ADA renovations, new cameras, new HVAC system in kitchen, and teacher's lounge.
The District-established Small/Micro Business Enterprise (S/MBE) utilization goals were met or exceeded by the architects and contractors on these projects with highly diverse sub-consultant and sub-contractor teams. This was further strengthened by a strong commitment to local workforce utilization.
Continued fidelity to the implementation of the GOB program and the District's steady commitment to inclusivity and diversity in its procurement process are positively impacting the quality of the educational environment and the local economy.
For the most up-to-date information, please download the Dadeschools Mobile App to your iPhone or Android device.  Follow us on Twitter @mdcps and @miamisup, on Instagram @miamischools and @miamisup, and on Facebook at MiamiSchools and AlbertoCarvalho.