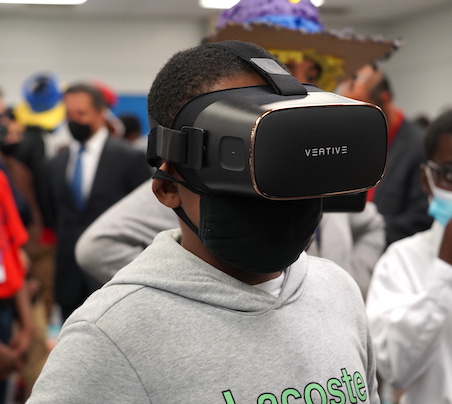 FOR IMMEDIATE RELEASE
Thursday, September 23, 2021
Jose de Diego Middle School Unveils Innovative Space Media Center
A ribbon-cutting ceremony was held this morning to unveil a new, technology-rich media center at Jose de Diego Middle School in Miami's Wynwood neighborhood. The school is the latest Miami-Dade County Public Schools (M-DCPS) campus taking part in the Middle School Redesign (MSR) initiative, which modernizes spaces with new virtual reality (VR) equipment, Promethean boards, a robotics section and more than a dozen computer stations.
Jose de Diego is one of 16 Miami-Dade public middle schools having its media centers transformed into enriched innovation spaces through a $2 million partnership between
M-DCPS, the College Football Playoff Foundation and the 2021 College Football Playoff National Championship Game Host Committee (CFPNCG).
Schools Superintendent Alberto M. Carvalho, School Board Member Dr. Dorothy Bendross-Mindingall, and Jose de Diego Middle Principal Keith B. Parrimore were joined by Adolfo Henriquez of the Orange Bowl Committee and Thomas Abraham, Chair of the Anthony Abraham Foundation to officially unveil the media center.
Superintendent Carvalho, center, and Board Member Dr. Bendross-Mindingall cut the ribbon, with partners Thomas Abraham, chairman of the Anthony R. Abraham Foundation, Adolfo Henriquez of the Orange Bowl Committee and Jose de Diego Principal Keith B. Parrimore, officially opening the new media center as students and District officials look on.


Eighth-grader Ethan Dean, who hosted the ceremony and gave the student greetings, was thrilled with the new media center, "I love it! It used to be kind of plain and dull and now they've brought a lot of color into it and it's actually great for the new kids that can have a place to learn, grow and excel."
Michael Dominguez, an 8th grader leading the audience in the Pledge of Allegiance, had nothing but praise for the new space and Jose de Diego Middle. "I feel like the school got what it needed. This school is great, I've had wonderful years. It's amazing and my experience has been amazing – a 10 out of 10!
The partners will continue to unveil new projects throughout the year in support of the District's MSR initiative, which is intended to meet teachers and students unique social, emotional and academic needs.
For the most up-to-date information, please download the Dadeschools Mobile App to your iPhone or Android device. Follow us on Twitter @mdcps and @miamisup, on Instagram @miamischools and @miamisup, and on Facebook at MiamiSchools and AlbertoCarvalho.
TOP CAPTION:  Sixth-grader Michael Decius tries out one of the new Veative VR goggles.