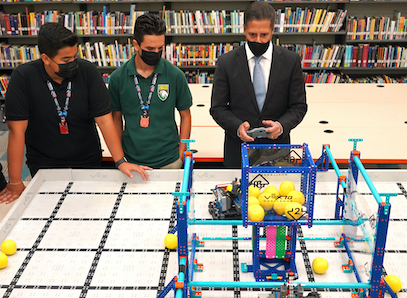 FOR IMMEDIATE RELEASE
Thursday, October 14, 2021
Lawton Chiles Middle School Unveils Innovative Space Media Center
A ribbon-cutting ceremony was held this morning to unveil a new, technology-rich media center at Lawton Chiles Middle School. The school is the latest Miami-Dade County Public Schools (M-DCPS) campus taking part in the Middle School Redesign (MSR) initiative, which modernizes spaces with bright colors, new comfortable furniture, virtual reality (VR) equipment, Promethean boards, a robotics section and more than a dozen computer stations.
This initiative is made possible thanks to a $2 million partnership with M-DCPS, the College Football Playoff Foundation and the 2021 College Football Playoff National Championship Game Host Committee.
Eighth-grader Kennedy Granville, one of the students who spoke during the ceremony, had nothing but praise for the new media center, "I think future Eagles will have a complete and new innovation space to be themselves, to learn and to do pretty much everything."
Schools Superintendent Alberto M. Carvalho and Lawton Chiles Middle Principal Stephanie M. Tudor were joined by Orange Bowl Committee (OBC) President-Elect Frank Gonzalez, OBC CEO Eric Poms and Thomas Abraham, Chair of the Anthony Abraham Foundation to officially unveil the media center.
Pictured left-right Dr. Verena Cabrera, North Region Superintendent; Chief of Staff Jose Bueno; Ana Lara, School Board Aide to Chair Perla Tabares Hantman; Community member; OBC President-Elect Frank Gonzalez; Schools Superintendent Alberto M. Carvalho; Thomas Abraham, Chairman of the Anthony R. Abraham Foundation; Lawton Chiles Middle School students; Principal Stephanie M. Tudor; and OBC mascot "Obie."

The Lawton Chiles Middle faculty also praised the new innovative space. "This is an amazing space that will be well used," said Science and Robotics instructor Patricia Bennett. "Technology is the new up and coming! My students use it for research, to watch and learn and then do the engineering process. Every time they see something new and exciting, they go and try it. They are amazing children and I know this will be put to very good use."
The partners will continue to unveil new projects throughout the year in support of the District's MSR initiative, which is intended to meet the unique social, emotional and academic needs of teachers and students.
For the most up-to-date information, please download the Dadeschools Mobile App to your iPhone or Android device. Follow us on Twitter @mdcps and @miamisup, on Instagram @miamischools and @miamisup, and on Facebook at MiamiSchools and AlbertoCarvalho.
TOP CAPTION: Daniel Caraballo, left, and Lawrence Lorenzo, both in 8th grade and the Robotics Club medalists, look on as Superintendent Alberto M. Carvalho maneuvers a robot catapult.