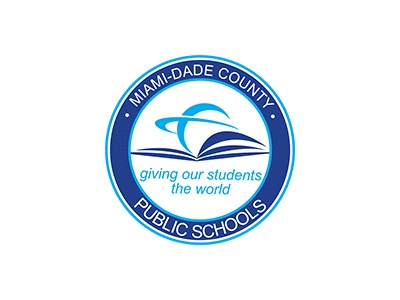 FOR IMMEDIATE RELEASE
Thursday, October 21, 2021
School Board Commissions Two Architectural Firms, Awards Construction Contracts for Three GOB Projects Valued at $27.7 Million
At its regular monthly meeting, the Miami-Dade School Board commissioned two architectural firms and awarded a construction company to complete three General Obligation Bond (GOB) projects valued at approximately $27.7 million.

Frederick Douglass Elementary - Alleguez Architecture, Inc. was commissioned as the architect/engineer of record to design a new one-story, eight-classroom addition at Frederick Douglass Elementary with 144 student stations. Located in Historic Overtown, Douglass Elementary was built in 1958 and is comprised of three permanent buildings, two of which will be demolished. The new addition will be designed to support a future second floor. The existing playground will be relocated, and the basketball court will be recoated and restriped.
Total project allocation - $5.4 million Completion – November 2023
This was a Sheltered Market solicitation for Small/ Micro Business Enterprise (S/MBE) prime firms, with a mandatory Minority/Women Business Enterprise (M/WBE) sub-consultant goal of 6 percent.


Total sub-consultant M/WBE participation: 36.86 percent
West Lakes Preparatory Academy - Silva Architects, LLC has been commissioned to complete Phase 3 renovations and remodeling at West Lakes Preparatory Academy, a K-8 located in the northwest area of Hialeah. Built in 2016, West Lakes Prep is adding middle school grades.
The scope of work includes remodeling Building 5 into 12 middle school classrooms and labs to create 287 new student stations. A secondary dining and serving area, including serving lines, will be created as well as a stage with lighting and sound systems for the cafetorium. An existing elementary school basketball court will be reconfigured into a middle school basketball court. Physical education lockers will be renovated with new ceiling and plumbing fixtures, and the teachers' lounge will be renovated and expanded. A new addition will be constructed to connect Buildings 5 and 6.
Total project allocation - $11 million Completion – January 2024
Total sub-consultant S/MBE participation: 30 percent
Total sub-consultant M/WBE participation: 6.6 percent


Norland Middle School - Florida Lemark Corporation was awarded the construction contract for the renovation/addition project at Norland Middle School. Located in Miami Gardens, Norland Middle was built in 1959. The existing school had additions constructed afterwards and currently comprises 11 permanent buildings with a capacity of 1,449 student stations.
The proposed scope of work for this project includes replacement of the fire alarm system throughout the facility, the HVAC/Cooling Tower with a new Emergency Management System in select buildings, campus-wide exterior painting, and new ADA-compliant, drinking fountain waters. The cafetorium kitchen will be converted to a full-cooking kitchen with new serving lines, and the auditorium will have new flooring, seating, lighting/sound systems, theater curtains and a wheelchair lift. Additionally, the facility will have miscellaneous electrical upgrades throughout.
Total project allocation - $11.3 million Completion – June 2023
Total sub-consultant S/MBE participation: 22.39 percent
Total sub-consultant M/WBE participation: 10.46 percent

Voters overwhelmingly approved the GOB in 2012 to renovate, remodel and replace schools; expand student capacity; enhance safety; and provide technology upgrades.
For the most up-to-date information, please download the Dadeschools Mobile App to your iPhone or Android device. Follow us on Twitter @mdcps and @miamisup, on Instagram @miamischools and @miamisup, and on Facebook at MiamiSchools and AlbertoCarvalho.