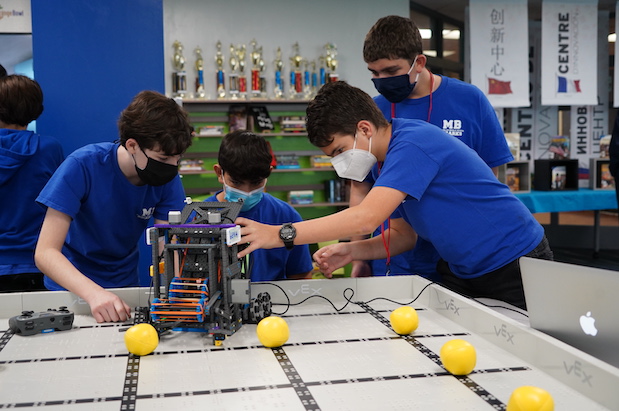 FOR IMMEDIATE RELEASE
Monday, November 22, 2021
'Innovative Space' Media Center Unveiled at Miami Beach Nautilus Middle School
A ribbon-cutting ceremony was held this morning to unveil a new, technology-rich media center at Miami Beach Nautilus Middle School. The school is the latest Miami-Dade County Public Schools (M-DCPS) campus taking part in the Middle School Redesign (MSR) initiative, which modernizes spaces with bright colors, new comfortable furniture, virtual reality (VR) equipment, Promethean boards, a robotics section and more than a dozen computer stations.
This initiative is made possible thanks to a $2 million partnership between M-DCPS, the College Football Playoff Foundation and the 2021 College Football Playoff National Championship Game Host Committee.
Many of the robotics students were very excited by the new media center. "Having the innovation center opened up a lot of opportunities and it lets us do robotics in here," said Simon Paley, who's in the 8th grade. "Before, our only option was a club, but now we have an actual class. We can have several practices at the same time to try out the different robots."
Schools Superintendent Alberto M. Carvalho, School Board Member Lucia Baez-Geller and Nautilus Middle School Principal Mary V. Murphy were joined by Orange Bowl Committee CEO Eric Poms, Orange Bowl Committee member Adolfo Henriques, and College Football Playoff Foundation Executive Director Britton Banowsky, to officially unveil the media center.
Pictured center with scissors: Nautilus Principal Murphy, Board Member Baez-Geller and Superintendent Carvalho, are joined by partners and district staff, school faculty, student and "Obie" the Orange Bowl mascot to officially open the new media center.
Eighth-grade student Tessa Lake thought the media center was very unique for many reasons. "I think it's made special by the people who worked so hard to get to where we are today. It's very important because this media center looks very nice, it looks very modern and the colors they used are just so amazing. I love how it's very organized and spacious," she said. "I feel very lucky. My brother is an incoming sixth grader, so he'll get to spend three years here with this new media center, so that's very cool."
The partners will continue to unveil new projects throughout the year in support of the District's MSR initiative, which is intended to meet the unique social, emotional and academic needs of teachers and students.
For the most up-to-date information, please download the Dadeschools Mobile App to your iPhone or Android device. Follow us on Twitter @mdcps and @miamisup, on Instagram @miamischools and @miamisup, and on Facebook at MiamiSchools and AlbertoCarvalho.
TOP: 
Members of the Miami Beach Nautilus Middle School Robotics class work on their robot.