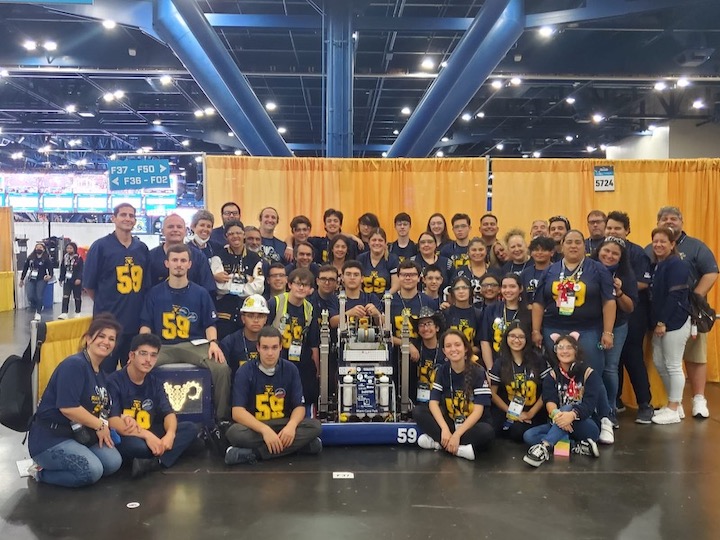 FOR IMMEDIATE RELEASE
Tuesday, May 3, 2022
Miami Coral Park Senior High Wins Quality Award at annual FIRST® Robotics Competition World Championship
Miami Coral Park Senior High's robotics team, RamTech 59, was among 450 teams from more than 40 countries to participate in a four-day, annual FIRST® Robotics Competition World Championships in Houston, recently.

RamTech 59 was part of the Carver Division, one of six divisions each made up of 75 teams, and finished in 8th place. The team also was awarded the Quality Award, which celebrates machine robustness in concept and fabrication.


FIRST®, a robotics community that prepares young people for the future, hosted more than 35,000 students, coaches and fans at the world's largest celebration of science, technology, engineering, and math.  The event also celebrated the conclusion of the 2021-2022 robotics season, FIRST® FORWARDSM presented by Qualcomm.

The FIRST® Robotics Competition provides students with more opportunities and experiences than just the robot builds. The competition offers powerful mentorship relationships between young people and STEM professionals, which helps students gain confidence to explore the innovation process while they learn valuable teamwork and problem-solving skills. Students form global friendships and learn to apply their knowledge to improve our world. They learn to respect and embrace each other's differences.  FIRST® provides more than $80 million in scholarships every year.


For the most up-to-date information, please download the Dadeschools Mobile App to your iPhone or Android device. Follow us on Twitter @mdcps and @suptdotres, on Instagram @miamischools and @suptdotres, and on Facebook at MiamiSchools.
TOP CAPTION: Miami Coral Park Senior High's RamTech59 robotics team.